Born with Six Toes, Born for Gold - Swapna Barman Conquers the Path of Pain at Asian Games
Physical disabilities couldn't tame her, the brightest woman athlete of the moment! Swapna touched a million dollar dream in women's heptathlon.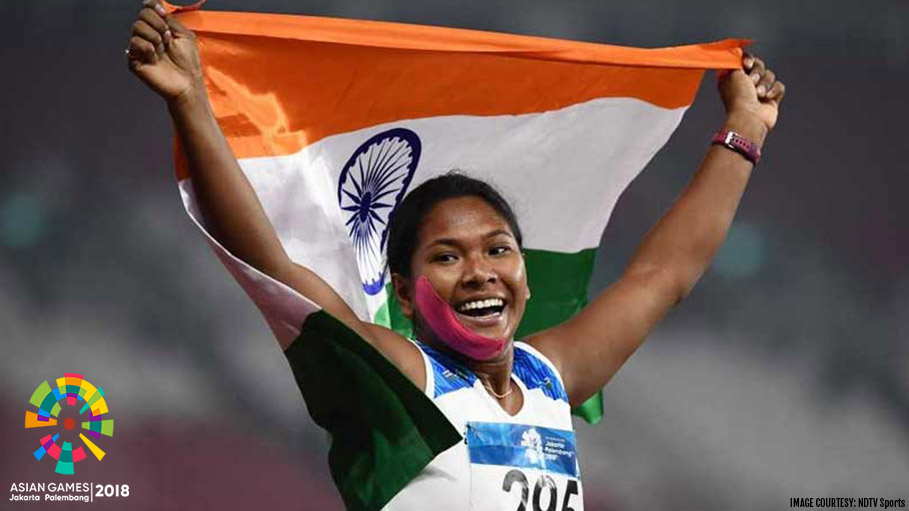 No pair of shoes fits her golden feet, she has to deal with a disc bulge in her back, and the Jakarta Asian Games welcomed her with more pain, severe toothache due to an abscessed molar. Opening her mouth for just a simple smile has been quite some challenge. Yet, Swapna Barman broke all barriers to become the first Indian Heptathlete to win gold at the Asian Games. And undoubtedly, at this moment, she is the greatest woman athlete of the Asian Games 2018!
Heptathlon that consists of seven events namely, 100 metres hurdles, High jump, Shot put.200 metres, Long jump, Javelin throw and 800 metres, Swapna was already leading with 50 points before she went on for the final event. The young sportswoman struck the gold with a total of 6012 points, 72 points ahead of the rest.
The regular shoes we wear are crafted for five fingers, for a single foot. But an unusual winning spirit like Swapna hasn't yet found the pair that fits her right. Being born with six toes, slipping into the common shoes is painful for Swapna. It hurts while she runs in shoes, and the trouble increases with spikes.
Swapna and pain, have been in a companionship all through her growing years. And poverty made her journey even more difficult, even more excruciating, but helped carving out a true sportsman out of a Jalpaiguri girl. A girl, who is made of determination and consistency. Her coach described her willpower saying, "She was determined and she had a mental toughness that poor kids have. You can't teach that."
Swapna Barman's father is a rickshaw puller, mother works at a tea garden and her brother cuts wood. Swapna always knew, she has to support her family. Her father somewhere had heard, sports quota opens doors to job opportunities, hence Swapna started her fight with her conditions, against the fate, for a future!
The pink tape over her jaw didn't feel like pain after her victory quite surely! Her pain gave her power, the power to master disabilities, the power to declare "It's nothing I will go ahead and compete,", the power to change the destiny!
21-year-old Swapna Barman sets a golden ideal on the international front, that don't let your troubles let you down, or don't succumb to the ill fate. Allow them to empower you, let the knee injuries take a higher leap, the ached tooth make the jaws more stubborn, six toes set your eyes for nothing less than the gold!
Can we now please ask for a pair of Swapna Special Shoes everyone?
Get our hottest stories delivered to your inbox.
Sign up for Scrabbl Newsletters to get personalized updates on top stories and viral hits.