Enterprises are Mastering Nextgen Best Practices of Trending AI and ML for Profits
Nextgen best practices encompass the topmost possible methodologies to rethink your processes for the future, leveraging transformative technologies like artificial intelligence (AI) and machine learning (ML) to enhance your processes and make them smarter to spearhead exponential growth for your business.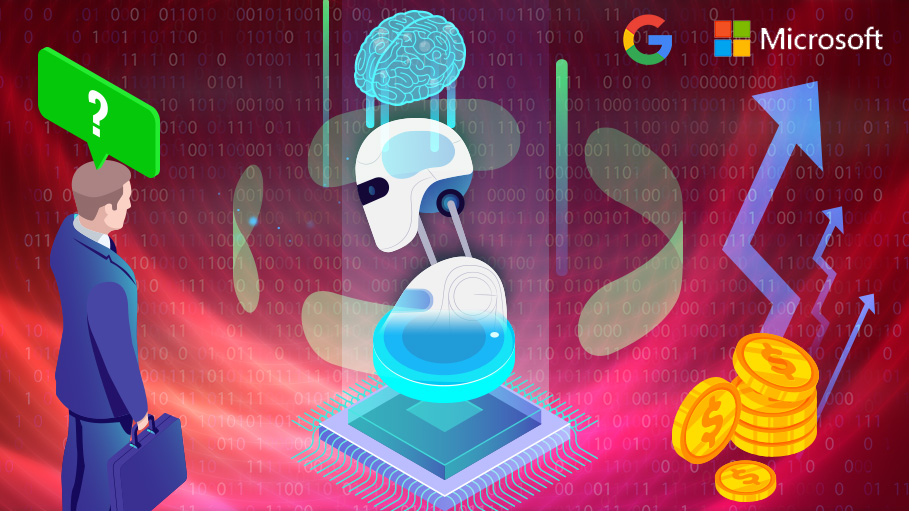 Over the past decade, emerging technologies took us through several layers of evolution, touching every domain, platform and business. Last two to three years we experienced severe forms of technology disruption impacting not only the industries but also daily work and life of individuals. Analysts believe this year and the next one to two will be more of settling down before finally reaching the plateau status quo due to certain behavioral dynamics observed amongst techno-savvy enterprises.
For more technical insights, follow me @Asamanyakm.
If you too are part of a growing organization, you must have witnessed how the IT team is under constant pressure to ensure that enterprise level applications function at maximum efficiency.
Top management demands that the systems must meet increasing service-level expectations in terms of performance, availability and security. In fact, if you are part of the leadership team, you're probably already anticipating that this challenge is only going to get more massive to tackle. You may not be having sufficient skill set internally and budgetary constraints maybe adding up to the dilemma of getting the right talent. Also in a responsible position, you maybe supporting several initiatives, cloud migrations, application integrations, digital transformation and strategic projects. Let me tell you, there are many rowing boats along the same river as you, which implies you are not alone. However, all the above challenges can be easily overcome if you learn to leverage the NextGen Best Practices (NGBP).
Progressing nations are going for paperless environment and enterprises are encouraging digitization. The pace at which business scenario is changing with technological growth and innovation, there is clear indication that the processes which worked in the past, popularly tagged as best practices, are obsolete and have paved way for NextGen best practices. These practices are not an improved version of the existing ones as NGB practices encompass the best possible methodologies to rethink your processes for the future, leveraging transformative technologies like artificial intelligence (AI) and machine learning (ML) to enhance your processes and make them smarter. Technology leaders like Google, Microsoft, Apple and Amazon are leveraging AI-powered nextgen best practices to support, maintain and enhance their infrastructure, detect system incidents, speed up resolution, achieve service-level targets today as well as build scalability for tomorrow. Through this post, I will share a few use cases, which if considered in implementation, will go a long way to benefit your organization.

Smart Handling of Infrastructure

For smooth and secured operation of any organization, it needs to have strong monitoring of systems and applications in place. Most of the monitoring tools available in the market today, send out a notification to the concerned team every time, in case of any deviation noticed or threshold exceeded. Since your team relies on a plethora of unintelligent, legacy monitoring tools to watch over your expanding landscape of systems, applications and solution stack layers, your team is hard pressed with notification, the large majority of which they probably ignore reflexively or miss due to the volume. This is despite the risk of dismissing consequential warnings or prematurely acting on the wrong notification, either one of which can negatively affect team productivity and service levels, not to forget about the bigger impact on enterprise business.
So even if you have a team of human resources dedicated to maintain the health and sanity of your system environment as well as applications, it is neither effective nor time-efficient, also involve a substantial amount of risk. Organizations are now embarking upon an intelligent journey by deploying AI and ML tools for smart detection of anomalies in enterprise systems, applications and solutions. These tools trigger notification only when any important event occurs or a deviation or threat is detected. Technology giants, Google and Microsoft are organizing seminars for corporates to understand the NextGen Best Practices of implementing intelligent tools so that manpower can be better utilized in areas that need cognitive thinking and intellectual decision making.

Evolving technologies like Artificial Intelligence and Machine Learning are being used to learn from and profile system behaviour. AI and ML tools are automatically defining and adjusting thresholds dynamically that trigger notifications based on statistical deviations from expected behaviour. AI is also being used to prioritize and score these inconsistencies, considering factors like inconsistency magnitude, frequency and clustering. This allows your team to manage by exception, giving time and attention only to true deviations that deserve more profound investigation.

Deciphering System Data Intelligently

You must have witnessed how challenging it is for team to perform RCA (Root Cause Analysis) of system performance issues. Finding the root cause is extremely necessary in order to apply quick fixes as well as get systems up and running again. In organizations following orthodox and outdated methodologies, root cause isolation is utterly painful and excessively tedious due to serious lack of an efficient method to make sense of the huge volume as well as variety of system performance data coming in from different monitoring tools. Also, your team's expertise is in different organizational verticals including that of your outsourcing partners, so they find themselves banking upon outdated knowledge, making it tough to drive quickly to a fruitful result-oriented analysis.
Comparing with the specified limitations, AI and ML tools have the capability to automatically decipher your system data to bring into context the incident analysis. It helps to isolate root causes quickly and diminishes ongoing dependencies on specialist knowledge, that may not be exactly relevant. AI and ML have proved to possess the potential to zero down probable root causes by applying algorithms to determine metric correlation, simultaneous occurrence of incidents as well as recurring effects based on time-series and log analysis. Further, these evolving technologies are being used to generate a limited, curated set of recommended remediation measures which are making a significant contribution in defining nextgen best practices.

Establishing Effective Processes by Abolishing Trial And Error Mechanism

Even today organizations depend on trial and error mechanism to resolve even high severity incidents or fix defects, which usually consumes a mammoth amount of time and team effort. There is no way to define any improvement or predict any effective result in this approach. This is the reason that is driving growing organizations to embrace AI/ML tools for proactive remediation of incidents. The mail/chat exchanges that happen during manual issue resolution, are being mined to create closed-circle learning, ensuring that information about what worked and what failed, is actually fed back into the knowledge repository, so that through continuous learning and improvement, automated recommendations enhance over time.

The application of artificial intelligence and machine learning technologies to your business and management processes are going to lay the foundation of nextgen best practices for your organization. These NGB practices are being widely adopted and organizations are experiencing exponential growth in terms of business expansion and better ROI. If you as a decision maker, take a small step in this direction, it will help to reset your expectations in terms of immense possibilities. After all artificial or adaptive intelligence is where the future is.

For more technical insights, follow me @Asamanyakm.
Get our hottest stories delivered to your inbox.
Sign up for Scrabbl Newsletters to get personalized updates on top stories and viral hits.