Forbes World's Billionaires List - Amazon Founder Jeff Bezos Tops Followed by Bill Gates while Donald Trump Slides Down
Forbes magazine published the much awaited World's Billionaires list a few hours back and Amazon founder Jeff Bezos tops this year with a record fortune of $122 billion while Donald Trump slips over 200 places.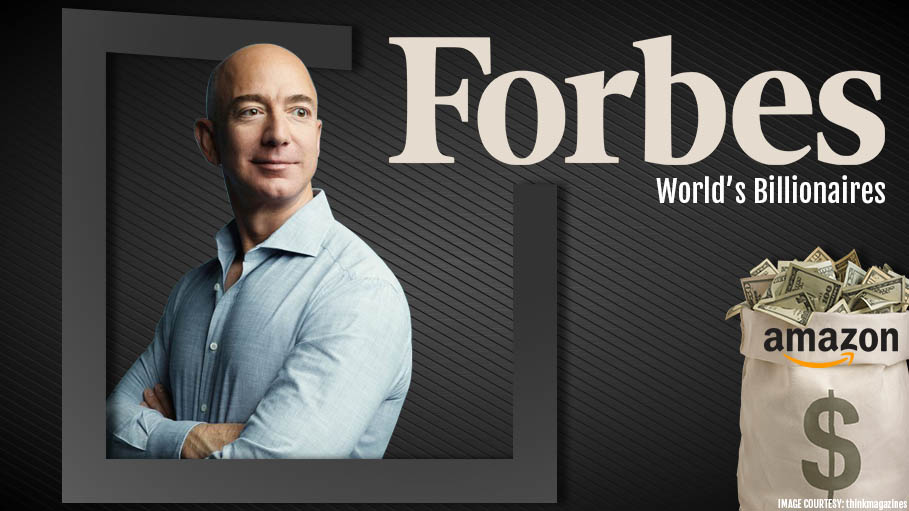 Forbes magazine published the much awaited World's Billionaires list a few hours back and Amazon founder Jeff Bezos tops this year with a record fortune of $122 billion while Donald Trump slips over 200 places. Jeff's fortune increased by $39.2 billion in 2017, the largest up move in anyone's net worth recorded by Forbes last year, dethroning philanthropist and Microsoft co-founder Bill Gates, whose net worth is calculated at $90 billion. According to Forbes, while Bill has headed the world's billionaires list 18 times over the last 24 years, the gap between his fortune and that of Jeff, referred to as the "Centibillionaire" is the largest between the first two toppers since 2001. Jeff Bezos and Bill Gates are trailed by American investor Warren Buffet with an estimated fortune of $84 billion. With this announcement, Amazon CEO Jeff Bezos has become the first $100 billion magnate to top Forbes' annual rankings of the world's richest people. He is the only person to appear in the Forbes list with a 12-figure fortune.

Rise of Amazon and Jeff Bezos
Jeff Bezos captured the top rank for the first time since Forbes began compiling its list in 1987. Most of Jeff's property is tied up in Amazon stock, which soared 59 percent during the period tracked by Forbes. Jeff has used a shard of his wealth to buy The Washington Post, and to finance Blue Origin, a manufacturer of rockets that aim to sell flights into space.
In a short span, Amazon has expanded beyond its bookselling origin to become the most powerful retailer of almost everything under the sun. It now even sells groceries in physical stores after its $13.7 billion acquisition of Whole Foods Markets last year.
Amazon has also built a network of data centers that provides cloud computing services, hosts the online services of other companies, and produces award-winning shows that compete against traditional TV networks. More recently, Amazon launched its new venture into health care in a partnership involving Berkshire Hathaway and its CEO, Warren Buffett, whose $84 billion fortune ranks third on the Forbes list.
Mark Zuckerberg gets the Fifth Spot
The fourth position is taken up by Frenchman Bernard Arnault, the head of LVMH Moet Hennessy Louis Vuitton SE, with a net worth of $72 billion, moving up seven positions and Europe's richest person.
Facebook founder Mark Zuckerberg occupies the fifth position in the list, with a net worth of $71 billion.
Spaniard Amancio Ortega, the founder of clothes retailer Zara, dropped to the sixth place after losing $1.3 billion, his fortune now calculated at $70 billion.

Decline of US President Donald Trump
The magazine also reported that US President Donald Trump's net worth is $3.1 billion, the $400 million loss he suffered over the past year resulting in a plunge of more than 200 places in the ranking from 544th to 766th. In 2017, Trump's net worth was calculated by Forbes to be $3.5 billion, some $1 billion less than it had been on the 2016 Billionaires List.
Mukesh Ambani Ranks Nineteenth
According to Forbes' 2018 'World's Billionaires' list, Reliance Industries chairman Mukesh Ambani's wealth surged a whopping 72.84% to $40.1 billion, making him the richest Indian for the 11th year in a row, highest among the 119 Indian billionaires on the list. Ambani ranked 19th in the list, up from 33rd position in 2017.

The Forbes World's Billionaires list includes 2,208 people from all over the world whose fortunes are calculated to be at least $1 billion. This year's list included 259 new billionaires, while the names of 121 people who had made the list on previous occasions were dropped due to losses. Indian jeweller Nirav Modi is among the drop-offs from the list, along with Papa John's Pizza founder John Schnatter, Christoffel Wiese of South Africa, and Saudi Arabia's Prince Alwaleed Bin Talal Al Saud.


Get our hottest stories delivered to your inbox.
Sign up for Scrabbl Newsletters to get personalized updates on top stories and viral hits.