George Bush Sr. Regrets Missing His Hometown Parade after Being Hospitalized
The former US President has missed the Memorial Day parade in his vacation hometown.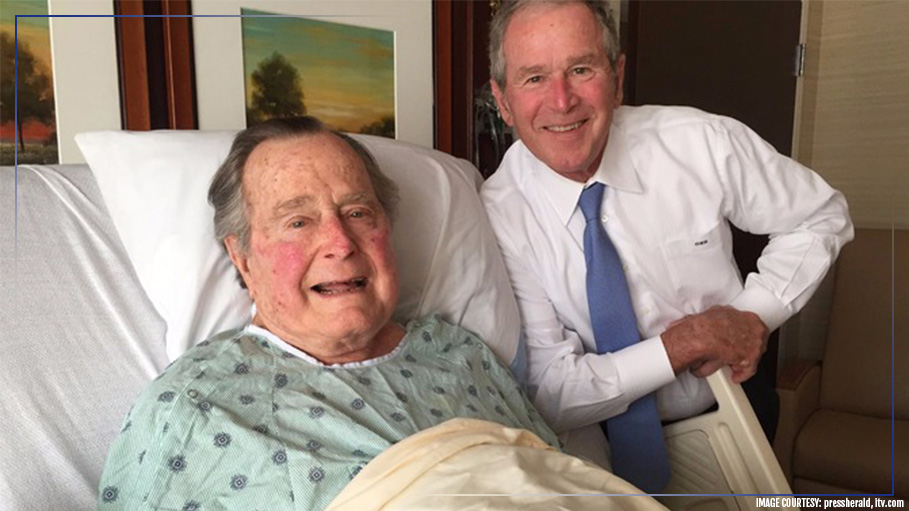 George Bush Senior has admitted that he missed being part of the hometown parade after he was hospitalized. Bush was hospitalized in a healthcare facility in Maine after he suffered from low blood pressure and fatigue.
George Bush Senior has missed the annual Memorial Day parade in his vacation hometown in Kennebunkport, Maine for the first time in years. He couldn't be a part of the event after he was hospitalized due to fatigue and low blood pressure. Mr. Bush along with Mrs. Bush loved visiting Kennebunkport every summer. "Very much regret missing the Memorial Day parade today in Kennebunkport." Mr. Bush tweeted on Monday. Am forever grateful not only to those patriots who made the ultimate sacrifice for our Nation — but also the Gold Star families whose heritage is imbued with their honor and heroism," Bush concluded his tweet.
Even the attendees missed Bush's presence and expressed their sadness on his absence. They took the opportunity to remember Barbara Bush, 92, who passed away on April 17 this year. The event marks the first parade that took place since the passing away of Mrs. Bush. The people of Kennebunkport loved interacting with the Bush family during this specific celebration. They gave the former President a Hero's welcome by lining the streets and waving American flags on May 20.
The former President's condition is stable
Bush is still under observation in Biddeford's Southern Maine Healthcare facility where he was admitted. Mr.Bush, 93, will remain in the hospital for a few more days, albeit his condition is said to be stable. Spokesman Jim McGrath said, "The former president is awake and alert, and not in any discomfort."
Three weeks back George Bush was admitted in a hospital in Houston, Texas for the treatment of an infection that had spread to his blood. Bush had fallen sick immediately after his wife was laid to rest. Doctors suggested that his wife's passing away affected his health. The longest living President in U.S. history also has vascular Parkinsonism which is a form of Parkinson's disease.
A day before being released from the Houston hospital, the hospital announced that it named one of its atriums after the former President and the first lady. Bush was quite moved by the hospital's gesture and the support of the nurses and hospital staff. Yet, he humorously expressed that the moment he'll receive the green signal from the authorities, he'll be happy to move out of its premises. Even at this ripe old age, the 41st President doesn't fail to show us his positive outlook, courage, and eagerness to enjoy life. We would like to wish the inspiring President good health in the days to follow.

Get our hottest stories delivered to your inbox.
Sign up for Scrabbl Newsletters to get personalized updates on top stories and viral hits.