Germany Can Be a Huge Market for Indian Organic Products
With regard to Indo-German trade, Dr. Michael Feiner said that Germany is a good trading partner of India and the two countries have balanced trade.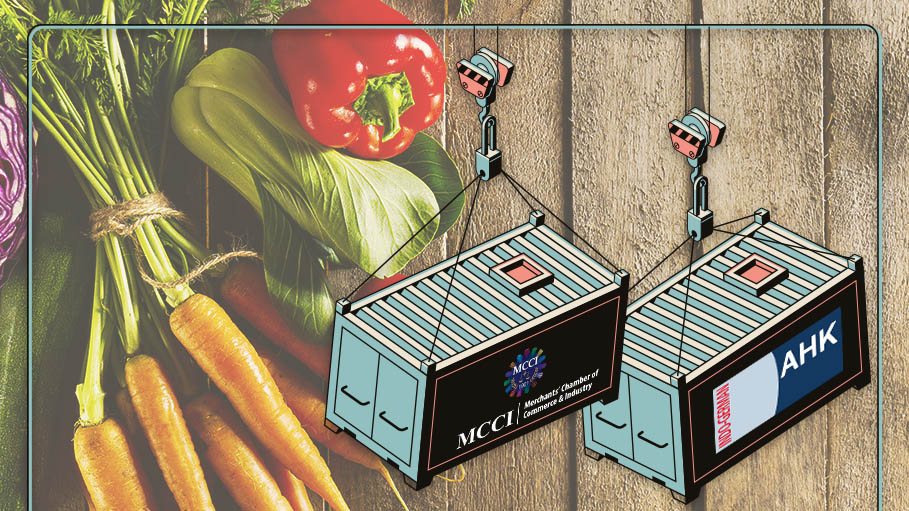 MCCI and Indo-German Chamber of Commerce (ERC) jointly organized a Special Session on 'Trade & Bilateral Relations between India & Germany' recently. Dr. Michael Feiner, Consul General of the Federal Republic of Germany in Kolkata addressed the gathering. Ms. Bandana Pokhriyal, IAS, Officer on Special Duty, Department of Industry, Commerce & Enterprises, Government of West Bengal spoke on the occasion. Mr. Nari Kalwani, Chairman, Indo-German Chamber of Commerce (ERC) addressed the gathering. Mr. Mahesh Keyal, Chairman, Standing Committee on Foreign Trade, MCCI also spoke on the occasion.
With regard to Indo-German trade, Dr. Michael Feiner said that Germany is a good trading partner of India and the two countries have balanced trade. As India is the 24th largest trading partner of German, there is a lot of scope for growth in trade between the two countries.
With regard to the relationship between West Bengal and Germany, Dr. Feiner said that the outlook is looking upward but the gradient should be steeper. Germany can be a huge market for organic products from West Bengal and North East. There is scope in logistics and IT. A very small part may be 3 p.c. or 4 p.c. of total German investments in India comes to West Bengal as investors typically invest in areas where there is a track record of success.
Among other issues, Dr. Feiner said that the number of Indian students has recently tripled to 18,000 in German and tertiary education is free in Germany. Germany holds many trade fairs such as the one in Hanover and Indian businessmen can consider such fairs as a good way for contacting German customers. Lufthansa has no plans of introducing a Kolkata to Europe flight in the medium term, due to its profit motivation.
Ms. Bandana Pokhriyal, IAS said that the robust industrial infrastructure in West Bengal includes 200 industrial parks in diverse sectors of the economy. Some promising sectors in West Bengal include energy (natural gas), mines and logistics. The Dedicated Freight Corridors will make operations seamless in West Bengal. The artisans in the State are excellent with their work.
Ms. Pokhriyal said that anyone with a query regarding investment in West Bengal can contact her office.
Mr. Nari Kalwani said that Germany is a large market and Germans are willing to pay higher prices for good products. It should be remembered that German buyers are strict about quality and timeliness. If the commitment is there, then German buyers believe in long term relations.
Mr. Mahesh Keyal made a presentation and described the competitive advantages of the Indian economy.
Earlier, Mr. Vishal Jhajharia, President, MCCI in his welcome address said that India and Germany have a 'Strategic Partnership' since 2001, which has been further strengthened following the formation of the intergovernmental consultations (IGC) in 2011 at the level of head of governments, which allows for a comprehensive review of cooperation and identification of areas of engagement. Interestingly, India is one of a select group of countries with which Germany has such a dialogue mechanism.
Numerous high-level visits and exchanges go on to prove that India and Germany value each other significantly as partners in global geopolitics and trade.
India's total trade with Germany increased from USD 15 billion in 2007-08 to USD 21.98 billion in 2017-18, reaching a peak in 2011-12 at USD 23 billion. In 2017-18, India's exports were worth USD 8.68 billion to Germany and imports were worth USD 13.29 billion. Germany is currently India's largest trading partner in Europe and eighth largest trading partner overall, with total trade standing at USD 16.02 billion in 2018-19 (April - Nov). India was on the 26th position in Germany's global trade during 2017. Germany is the 7th largest foreign direct investor in India and Germany's total FDI in India from April 2000 until June 2018 amounted to USD 10.99 billion. There are more than 1,700 German companies active in India and over 600 Indo-German Joint Ventures in operation. Indian corporate entities have invested over USD 7 billion in Germany. At present, as many as 200 Indian companies are operating in Germany.
India-Germany engineering trade was registered at USD 12.9 billion in 2017-18 compared to USD 10.6 billion in 2016-17 with a growth of 21 p.c., comprising a share percentage of almost 59 p.c. out of total trade. Engineering exports for April-December 2018-19 is valued at USD 2.49 billion compared to USD 2.23 billion during the same period last fiscal registering a growth of 8.4 p.c. and a share of 4.2 p.c. out of India's global engineering exports.
Get our hottest stories delivered to your inbox.
Sign up for Scrabbl Newsletters to get personalized updates on top stories and viral hits.