Google's new AMP Formats for Emails and News maybe an Attempt to Dominate the Content Market
Google just confirmed the launch of a galaxy of new open-source AMP (Accelerated Mobile Page) tools for developers this week, coming in two shades, AMP for Email and AMP for News/Stories.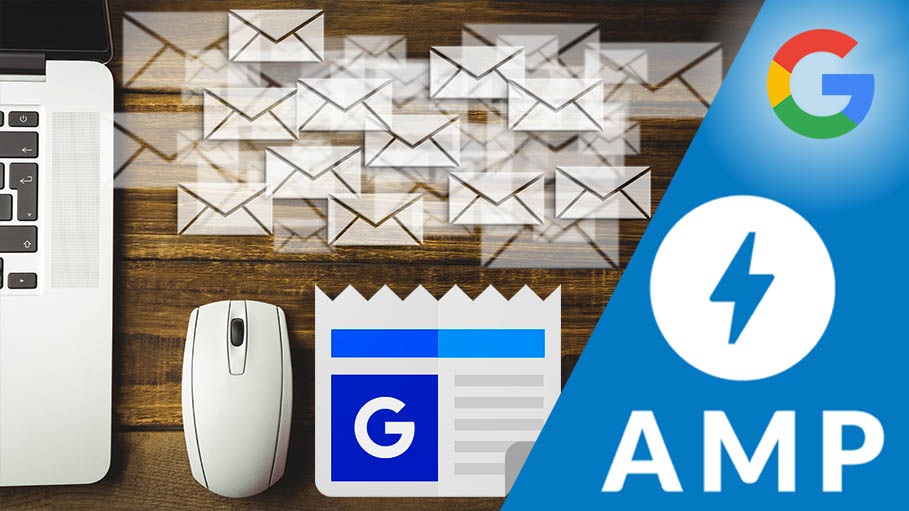 Google just confirmed the launch of a galaxy of new open-source AMP (Accelerated Mobile Page) tools for developers this week, coming in two shades, AMP for Email and AMP for News/Stories. While anyone who is a voracious reader of online news, might be already familiar with AMP articles, these new tools have the capacity to turn-around what people view and do online to Google's advantage, so it's worth taking a note and gaining some insights.

What do Users Achieve with AMP for Email?
According to the fast-growing tech media company Next Web, the open-source AMP for Email, in fact Gmail, allows sales and marketing professionals, newsletter editors, training institutions and others to include items like calendar appointments, fill out forms, or send RSVPs directly in a message. With Gmail on AMP, developers can create newer, more interactive and actionable email experiences, says Google. New tasks can be completed inside email, which means users will not have to leave the Gmail app or website for some of these interactions.The intent is for Google to offer more functionality for tasks that might have previously required clicking and navigating on to other websites or cloud applications. Other applications might include live-updating widgets with functions like scrolling through Pinterest or StumbleUpon posts directly in your Gmail inbox.
Is Google exerting its Market Power to Exercise More Control?
At the offset, AMP for email is nice stuff, but what's important is that Google has a head start on a new, more interactive type of email that it could stand to benefit immensely from. According to Google, AMP for Email will make it possible for information to be easily kept up-to-date, so emails never get stale and the content is accurate when a user looks at it. People leave email all the time to go to travel pages, online shopping, social media, and other places. Places that have created their own user environments, with their own analytics, their own processes that may or may not be beneficial or even visible to Google. Google intends to revolutionize all of that. However, if these daily tasks take place inside Gmail, Google exerts control over the intimate details, defining what other companies can and can't do inside the email system, rather than using the natural limitations of email, which are actual features, not defects or shortcomings.
Google intends to bring in dynamic content in emails. It's the company's entire business model for offering a free email service. Ads and trackers that adapt themselves to the content around them, the data they know about the viewer, and the latest pricing or promotions, maybe that's how Google wants to enhance your inbox. As of now "engaging, interactive, and actionable email experiences" is a Google initiative. But probably it maybe getting introduced to other email clients soon.


What is AMP for News/Stories all about?
Google launched its own AMP for News/Stories format in order to compete against social media platforms like Snapchat and Instagram. With this new feature, Google will offer image-driven news articles aimed at mobile phone and tablet users. AMP Stories, are similar to Snapchat Discover, slideshow-like widget which Google has begun integrating into search results. It's something very much similar to the kind of stuff Facebook has been trying to build with its Instant Articles over the years, and something that could potentially partially reshape the media landscape. According to the details provided by Google, the content initially comes from publisher-partners like CNN, The Washington Post, Conde Nast, Wired, and US People magazine and is designed to load much faster on mobile devices than conventional articles and videos. If you Search for a publication like People, CNN, or SBNation, and you might get served a sequence of slideshow content created by that partner. It could be a slideshow of a top-10 list, little moving images, or some other visually rich way of storytelling specifically designed for mobile.
Currently it's available in a kind of test format at g.co/ampstories for mobile browsers. For now, it's only running when users search for the names of certain publications. While technically anyone can create their own AMP articles using the open-source technology, Google really wants publishers to create these and mentioned in its blog post that it plans to bring AMP stories to more products across Google, and expand the ways they appear in Google Search. So eventually these could get rolled into regular mobile search results, displacing some of the current occupants of some of Google's most valuable areas and replacing them with AMP-powered slideshows.


What may be concerning for the content industry?
In the current scenario, the bulk of news consumption has gone online, more publishers are seeing their traffic come from a handful of sources, usually social media and search engines. Of those categories, Facebook and Google are by far the largest players, and just like Facebook before it, there's the chance that Google will try to push publishers into publishing in formats it has functional dominance over.
If you're, say, the SEO-dependent industry news source hotnews.com, say hot news isn't going viral on Facebook, and Google begins pushing hotfacts.com results in Google-optimized AMP formats above your old WordPress format, your decline in Google referral traffic might compel you to start making more slideshows. Either way, the terms of the this new game are increasingly set by Google, which controls somewhere in the neighborhood of 94 percent of mobile search. You and hotfacts.com are fighting for its patronage, or scraps like audience loyalty, which is not significant at all.
AMP format is open source. So you can still technically put an AMP slideshow page anywhere. The thing is that like noted above, everyone is using Google mobile search, so the open source part is window dressing compared to its network effect. The company clearly wants to steer users into clicking on new AMP Stories slideshows through premium Google placement, just like it's given priority placement to other kinds of AMP pages with Google-friendly restrictions on advertising.
Though the AMP format gives novel ways to tell immersive stories without the prohibitively high start-up costs, particularly for small publishers, AMP stories aim to make the production of stories as easy as possible from a technical perspective. It's a good initiative, though time will test and prove if it is easier to have formats designed around platforms' wants rather than readers' needs. Meanwhile, Google's quest for dominating the market will continue with new AMP formats for email and news/stories.
Get our hottest stories delivered to your inbox.
Sign up for Scrabbl Newsletters to get personalized updates on top stories and viral hits.