ICC Urges US Govt to Take Long Term View on US-India Business Relationship
The visit of ICC Delegation is at an opportune time since the US government on Monday announced that it would be cancelling the waivers from sanctions it had granted eight countries, including India.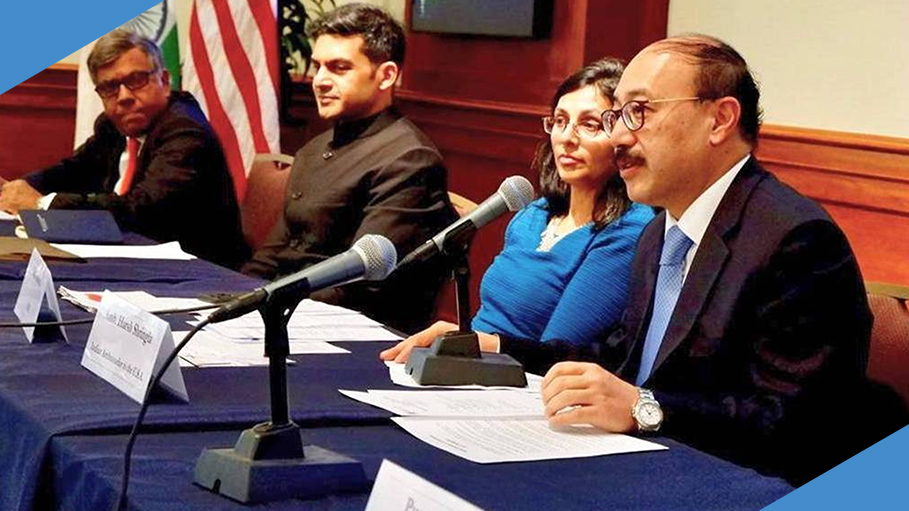 ICC Delegation led by President Rudra Chatterjee called on key US Government Authorities and attended Business Seminar organised by USIBC on the first day of their visit to the USA. Rudra Chatterjee raised few key issues like withdrawal of GSP (Generalized System of Preferences), Oil imports from Iran which are critical for Indian Economy and Indian companies exporting to the US.
Mr. Rudra Chatterjee opined at various meetings and business seminar that GSP provides duty-free access to certain Indian Goods to US market and these goods are further valued added and marketed by their US counterparts. While the withdrawal will impact Indian exporters severely, it will also impact importing US companies equally badly.
ICC urged to the US Federal Government to take a long term view on US-India Business relationship especially when the global economy is likely to get into recession during 2019 and the ongoing elections in India. ICC felt it would be a good idea to wait to discuss these issues with the new government during June or July.
The visit of ICC Delegation is at an opportune time since the US government on Monday announced that it would be cancelling the waivers from sanctions it had granted eight countries, including India. This, in turn, would allow them to import oil from Iran. Interestingly, post-revocation of this waiver, if any country violates the ban, it would face the US sanctions.
Mr. Rudra Chatterjee complimented the USA Government for according STA 1 status to India which is available to very few countries in the world and provides easy license regime and access to core defence and space technologies.
The delegation met at the Department of Commerce, USA with Mr. Ian Steff, Assistant Secretary for Global Markets and Director General of Foreign and Commercial Service, US Department of Commerce, Mr, Hartwig Schafer, VP South Asia and Ms. Aparna Subramani, ED, at World Bank and also met Mr. David Renz, Deputy Additional Secretary in Department of State, USA.
The Department of Commerce invited ICC members to first ever Trade Winds to be attended by about 350 US companies during early May 2019. A breakaway group of US Companies will also be visiting Kolkata to meet their counterparts. The Commerce Department also invited Indian Companies to join at their program known as Select US programme, during June 10 - 12, 2019.
The discussions at the World Bank Meeting focused on West Bengal and need to look at the State as the logistics and transportation hub. World Bank expressed its keenness to work with the Private sector in West Bengal. Focusing on infrastructure creation, easing of the regulatory regime, funding, etc to create value chains and quality jobs. Interestingly, India is the 7th largest stakeholder in the World Bank and the largest concessional financing recipient and contributes 11% of IFC's portfolio.
In the late afternoon, there was a Business Round Table organised by USIBC at their premises in Washington. Speaking at the programme, Mr. Swadesh Chatterjee mentioned that the increase in India's power and the need to balance the Chinese factor has actually altered the US India relations. The total understanding of India in the US has actually changed drastically. He spoke of USD 142 billion trade between 2 countries and USD 15 billion in the Defense sector. Trade is certainly the key driver of US India relations and any knee jerk reaction would negatively impact the trade between two countries.
Mr. H V Shringla, Indian Ambassador to the US spoke about the deeper engagement at the strategic level between the two countries with emphasis on stability, technology transfer, trade and investments. The recent announcement made by various US companies including Apple and Walmart to open a new manufacturing facility in India is a step in the right direction. Ambassador shared a positive outlook on the bilateral relations going ahead in spite of a few irritants.
The delegation had around 20 focused B2B across various sectors and companies like Wallmart, Lotte, Clean Choice Energy, Tellurian, Roshni Foods, among many others.
On 23rd April, a part of the delegation also visited the Fairfax County and had a fruitful meeting with Fairfax Economic Development Authority and also met with the Department of Commerce of Maryland.
Get our hottest stories delivered to your inbox.
Sign up for Scrabbl Newsletters to get personalized updates on top stories and viral hits.