Immigrant Gassama, Nicknamed 'Spiderman' Has Been Offered French Citizenship for Saving a 4-Year Old Boy by Scaling a Building
Mamoudou Gassama thought of saving the child, before himself.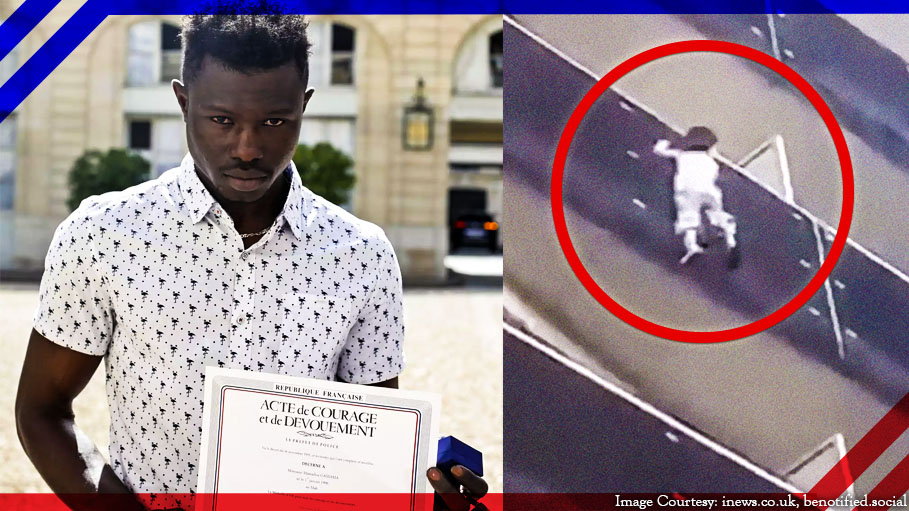 French President Emmanuel Macron on Monday promised French citizenship to an immigrant who entered France illegally from Mali. He was offered citizenship after he scaled up a building in Paris to save a 4- year old boy.
Mamoudou Gassama saw a child dangling from a balcony on Saturday and within seconds he climbed four storeys and saved the child's life. The video became viral on social media. People have given him the nickname 'Spiderman'.
Normally an illegal immigrant would not like to draw attention to themselves for the fear of being caught and sent back but this selfless act of bravery and courage exhibited by the 22-year old youngster is praiseworthy. He did not think of himself but only thought about saving a young life.
Macron invited him to Elysee Palace where he was offered citizenship. He was also awarded a certificate and a medal. Macron also said Gassama would be given a job as a fireman.
While describing the incident Gassama said when he saw the baby dangling, he ran to save him without even thinking. He recalled, "There were people shouting and honking their horns … I didn't think of anything, I ran across the road directly to save him. Thank God I saved him."
He did not realize what he had done until he pulled up the child and was in the apartment.
"My legs went wobbly when I got inside the flat," he said.
"I just climbed up and thank God, God helped me. The more I climbed the more I had the courage to climb up higher, that's it," he added.
He said that the boy was crying when he pulled him to safety. The child also had an injured foot.
Firefighters arrived on the scene after the child had been rescued.
Mr. Gassama arrived in France last year. It was a dangerous journey. He told the French President he tried to reach Italy in 2014 by crossing the Mediterranean sea but was caught and sent back. However, he managed to reach France via Italy last September. He has nine brothers and sisters. He was very happy to receive the medal and certificate. He said, "It's the first time I've had anything like this. I'm very happy."
Meanwhile the child's father was in custody for neglecting the child, however, he was released. He will be sentenced in September. Apparently, he was out shopping while the mother was out of the city. The child is placed under special care.
Paris Mayor Anne Hidalgo called on Gassama to thank and congratulate him for his act of bravery.
This is not the first time an immigrant from Mali has been offered citizenship in France. Mali seems to have a culture of saving lives when the situation demands it.
In January 2015 a young Malian employee, Lassana Bathily, saved six hostages including a baby during an extremist attack on a Jewish supermarket in Paris.
Two weeks later he was given a medal and a French passport by then-President François Hollande.
Get our hottest stories delivered to your inbox.
Sign up for Scrabbl Newsletters to get personalized updates on top stories and viral hits.