International Tiger Day 2019: "India is One of the Safest Habitats for Tigers", Says Modi
On the occasion of International Tiger Day 2019, Prime Minister Narendra Modi has released the four-yearly report of the All-India Tiger Estimation, claiming the nation to be one of the safest habitats for tigers.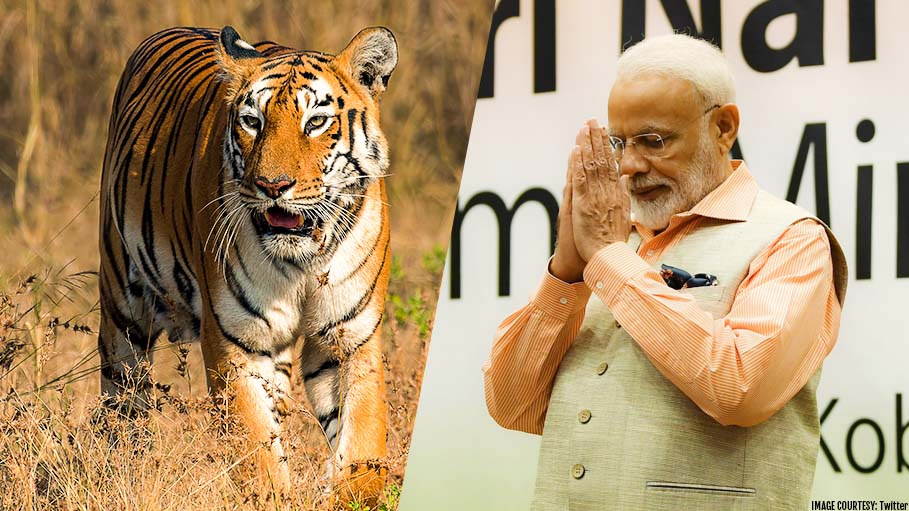 Prime Minister Narendra Modi has reaffirmed on the occasion of the International Tiger Day 2019 that India is well committed to protecting its tigers, as the count currently stands at 3000. Modi shared the tiger count as he released the four-yearly report of the All-India Tiger Estimation, this Monday morning.
The Prime Minister further added, "Nine years ago, it was decided in St. Petersburg that target of doubling tiger population will be 2022. We completed this target 4 years early,". And it was this St. Petersburg Tiger Summit where the Global Tiger Day was founded in 2010.
However, this commitment towards tiger protection in India initiated during the 60s. Ms. Indira Gandhi as the acting PM of India levied a ban on tiger hunting, followed by its skin exports by 1968.
But shocking results came out around the 1970s. Reports showed that the estimated tiger population of India was only 1800. Thus, Project Tiger was born in 1973 to save the majestic carnivores from extinction.
It was the same year when Corbett National Park was inaugurated and the Wildlife Protection Act of 1973 was enacted by Ms. Gandhi.



The outcome of these efforts was amazing. The first-ever books published on the wild tigers of India designated the tiger count to be just below 4000! But it was only a temporary state for these wild inhabitants. During the 90s a huge demand in China for tiger bones triggered the poachers worldwide to butcher more and more of its kind. By 2005 around 1000 lives of the species were lost in India.




The good news is, the wild scenario has changed and showing a constant improvement. The tiger population in India as of 2014 was 2226.




WII Director V B Mathur told a leading news daily, "Indian forests can certainly accommodate more tigers since now we have also started taking care of corridors, are doing mitigation efforts in linear projects and have adopted a landscape approach to conservation…".


But on top of all, what spreads confidence and hope for the flora and fauna of India is the recent claim by PM Modi, "India is one of the safest habitats for tigers".
Get our hottest stories delivered to your inbox.
Sign up for Scrabbl Newsletters to get personalized updates on top stories and viral hits.