Is Nicole Kidman Angry with Jennifer Aniston And Keith Urban?
Keith Urban is having "secret rendezvous" with Jennifer Aniston, as per rumors.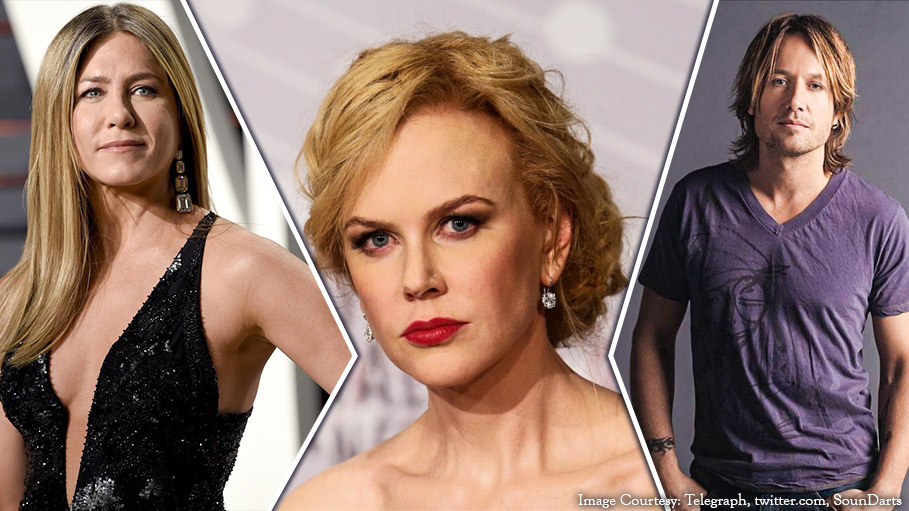 According to a recent article, Nicole Kidman is apparently angry with Jennifer Aniston for having "secret rendezvous" with her husband Keith Urban. Gossip Cop clarifies the rumors. Here's more.
It all started when a recent report in a tabloid suggested that Nicole Kidman is furious with Jennifer Aniston due to Aniston's secret meet with Nicole's husband Keith Urban. According to a source close to Nicole, she hit the roof when she came to know about their "secret rendezvous". She never knew anything about their private meet up and the "Big little lies" star felt betrayed.
The two popular Hollywood stars also happen to be good friends. The insider also reveals that Keith assured Nicole that he met Aniston to discuss a new project together and she had nothing to be worried about. The alleged insider also adds that now that Jennifer has filed for a divorce, people are certain to come to conclusions, seeing her having a lovely time.
Gossip Cop clarifies
To cut things short, Gossip Cop clarified that Nicole is not furious with Jennifer and the meeting never even took place. While doing their fact checking, Gossip Cop even connected with Aniston's rep who said that the "secret rendezvous" never even happened. The tabloid that spread the fake rumor doesn't mention where Keith and Jennifer met, when they met and how did Nicole come to know about their meeting. Did she see a write up about them or did she see any photos of the pair together?
Gossip Cop clarifies that there are no photographs or articles of the pair having a meal together. So, now that things are clarified, we are happy that Nicole and Keith are very much together. They said, we also hope that the fake rumor hasn't sabotaged the friendship between the two popular stars.
Nicole Kidman was recently seen with husband-Keith in New York on Tuesday night, to honor HBO chairman and CEO- Richard Plepler at the annual American Songbook Gala. Nicole Kidman, 50, looked radiant in a high neck, long sleeved shimmery dress. Her hair was styled into a ponytail and she left a few strands of her hair to enhance her look. She completed the look with a pair of strappy high heels.
Keith for his part adorned a slick tux with a black straight tie. At the event, the duo shared the stage and even embraced each other. Keith Urban gave a performance at the event. The duo seemed unperturbed by the rumors and they didn't step back to express their affection for each other on stage in front of the audience. Despite all the rumors and scandals, they've endured over the years, the lovely couple are married happily for eleven years and have two children together.
Get our hottest stories delivered to your inbox.
Sign up for Scrabbl Newsletters to get personalized updates on top stories and viral hits.