Ivanka Believes Her Father Donald Trump
The alleged accusation on US President Donald Trump involving him in a number of sexual relationships has brought embarrassment to him and his administration. Ivanka Trump came forward to his rescue that has bought him a little relief amidst personal turmoil.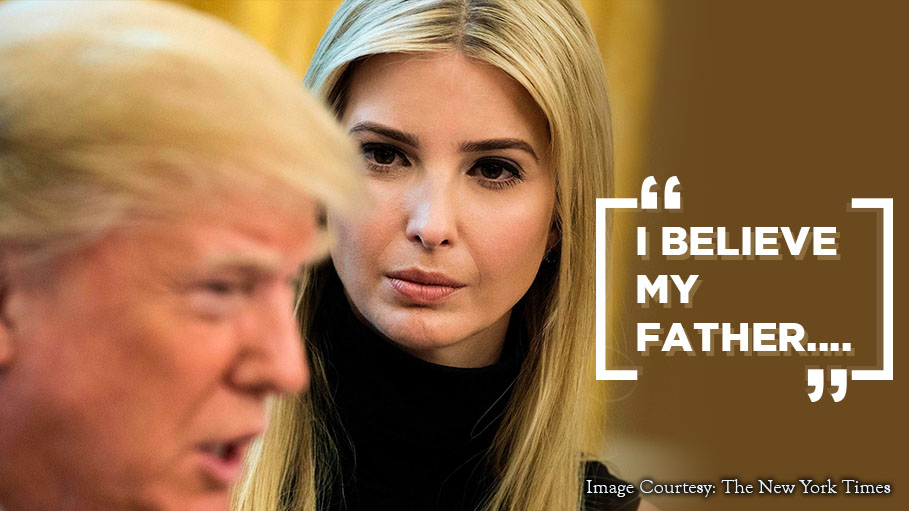 The alleged accusation on US President Donald Trump involving him in a number of sexual relationships has brought embarrassment to him and his administration time to time. The effect was also seen in his personal relationships too including his wife Melania Trump in some of the recent occasions. Recently his daughter Ivanka Trump came forward to his rescue that has bought him a little relief amidst personal turmoil.
During a TV interviewed with NBC Ivanka Trump said she believes her father's denials of sexual misconduct. On being asked about the allegations of inappropriate behavior against the President, Ivanka Trump while commenting said, the question asked to her as a daughter is not appropriate and has said her father has already denied all these allegations. "I believe my father, I know my father," she said.
Around 15 women have accused Donald Trump of abuse ranging from sexual harassment and sexual assault to lewd behavior and 13 of them have accused the President of directly attacking them and 2 others have said they were witnessed to his uncomfortable behaviors. The series of allegations began after the surfacing of 2005 "Access Hollywood" tape in which he was heard boasting about grabbing women and forcibly kissing them.
The President has time and again denied accusations of misconduct. All this alleged incidents took place before his assuming the office of President, while he was campaigning for 2016 US Presidential election and he has then threatened to sue his accusers but never followed through.
Ivanka Trump serves as a senior adviser in President Donald Trump's administration and has promoted herself as an advocate of women causes and families within the administration. The responsibility that has come with challenges and calculations, when the allegations against her father and some of his public comments are about women.
Ivanka Trump, who has been tight-lipped about the allegations against her father was hit with backlash many on social media last month when she tweeted in support of #TimesUp. It is a movement aimed at removing inequality and sexual harassment or assault in workplace.
She was a target on the Internet again, when she removed the lines "advocate for the education and empowerment of women & girls" from her Twitter bio.
35 year old Ivanka Trump is trusted to represent the US to foreign nations and an active voice in national policy deliberations. She's also Donald Trump's daughter. These dueling roles put her in an unusual grey area.
Normally Presidential children are given their space of privacy if they want to stay out of limelight. As in the case of former President's George W Bush and Barack Obama daughters, who were considered very limited to the media and violations of their privacy were often condemned.
Ivanka Trump mother of three and her husband, Jared Kushner, have both played influential roles in Donald Trump's administration during his first months in office. She also joined world leaders like German chancellor, Angela Merkel, and IMF chief Christine Lagarde representing US at the G20 Women's Summit and has sat in meetings with Japan's Prime Minister Shinzo Abe and Chinese President Xi Jinping during state visits.
After Trump won the election of the President, her two brothers, Donald Jr and Eric Trump, took control of the family business, Ivanka Trump, the eldest daughter followed her father to Washington.
Ivanka Trump was born in New York City in 1981 to Donald Trump and his first wife, Czech model Ivana Trump. She was only 10 when her parents divorced. She tried her hands in modeling career in the year 1997, appearing for fashion brands Versace, Marc Bouwer and Thierry Mugler and also on Magazine Seventeen.
For study first she has chosen Georgetown University for two years then transferred to University of Pennsylvania, where finally she graduated in 2004. After marrying Kushner, the son of a prominent New York property developer, in 2009, she has converted to Judaism. The pair has three young children, Arabella, Joseph and Theodore.
Donald Trump gave his daughter a level of authority in the family business that none of his wives ever had and have handled some of the Trump Organization's biggest deals. Ivanka also helped in the expansion of the Trump Hotel brand abroad, oversaw their international real estate deals and also the interior design and decoration of hotels, according to the Trump website. She also launched her own eponymous fashion line. She has released two books including The Trump Card, which was published in 2009, and Women Who Work: Rewriting the Rules for Success, which is due out this year.
Initially she has appeared alongside her father at high-level meetings with political, business and world leaders. Later on she joined the Trump White House as an unpaid special assistant.
Ivanka Trump and her husband have become some of Trump's most visible aides both at home and abroad. Ivanka's husband Kushner has been given the responsibility of bringing peace in the Middle East and managing the Office of American Innovation along with reforming the criminal justice system.
Ivanka, who appealed to working women during her father's presidential campaign and has said she wants to focus on issues such as equal pay for women and paid parental leave. She has always been her father's favorite and has defended him on various occasions, especially during his presidential campaign, after the tape of him making obscene remarks was released.
Get our hottest stories delivered to your inbox.
Sign up for Scrabbl Newsletters to get personalized updates on top stories and viral hits.