Joe Jackson Passes Away at the Age of 89 after Battling Cancer
Coincidentally his death comes just two days after the death anniversary of his son Michael Jackson who passed away on 25th June 2009.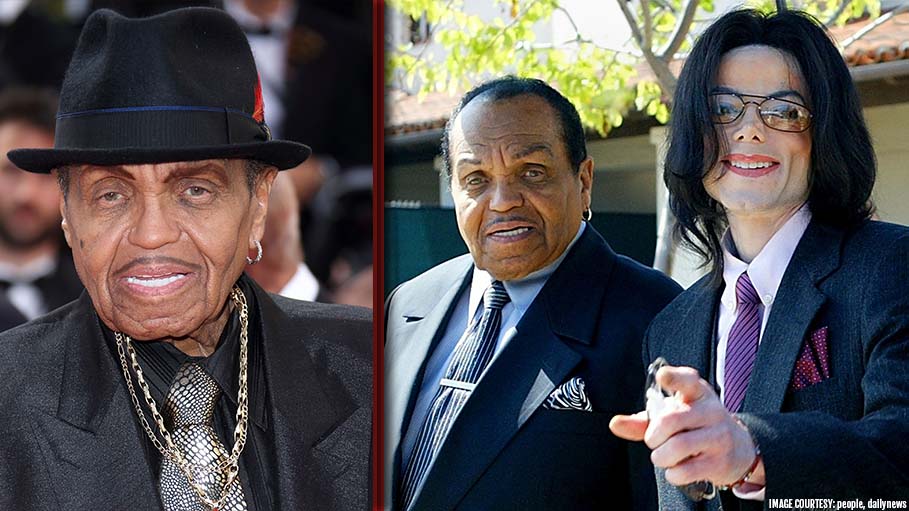 The Jackson family is mourning the loss of their Patriarch Joe Jackson who passed away at the age of 89 early Wednesday morning. He was battling cancer. His family members have taken to social media to pay their tributes.
Joe Walter Jackson was hospitalized as he was suffering from terminal pancreatic cancer. Coincidentally his death comes just two days after the death anniversary of his son Michael Jackson who passed away on 25th June 2009. Joe Jackson was the man behind the creation of the famous 'Jackson 5' musical group that became the stepping stone of a successful career path for Michael Jackson. Jackson 5 included Jackson's sons-Jackie, Tito, Jermaine, Marlon, and Michael. Joe Jackson was also the person behind the successful career of his daughter Janet Jackson. After performing in talent contests and high school functions, with Joseph's efforts 'Jackson 5' was able to attain a spot in the famous Apollo Theatre in Harlem, New York. The group was soon signed up with Motown records with his efforts.
Joe Joseph was the eldest of five children and he was born to Samuel Jackson a university professor and Crystal Lee King in Fountain Hill, Arkansas. Joe had stated that his father was domineering and strict and as a child, he was very lonely with a few friends. Though he didn't complete high school, he was fortunate enough to bag a job at Inland Steel Company in East Chicago. Simultaneously, he pursued his dream of boxing and struck luck with Golden Gloves program. During that period he got married to a woman but soon got divorced in less than a year. He then met Katherine Scruse who was also residing in East Chicago and later got married. Joe's dream of becoming a full-time boxer was soon dropped as he had to support his growing family. He continued working in Inland Steel but this time as a full-time Crane Operator. Joe Jackson had ten children with his wife Katherine Jackson.
Joseph's image as a father was tarnished in public when his own children narrated stories of abuse about him. Apparently, he asked his children to call him by his first name "Joseph" that led to an estranged relationship between him and his children. It was Michael Jackson who openly spoke about the abuse he endured in the form of whippings, name calling and in the form of enduring incessant rehearsals in the hands of his father.
But Michael also credited his father's strict disciplined ways to his successful musical journey. Both Joe and his wife Katherine have denied the 'abuse' allegations. Katherine stood up for her husband when she said that whipping was viewed as abuse by the current generation however in those days it was considered to be the normal method to discipline children who misbehaved.
Paris Jackson took to Instagram, sharing her final moments with her grandfather in this touching post "such a blessing to tell you everything I needed to tell you before saying goodbye," adding, "everyone that came to visit you, came with love, respect, and so much pride in their hearts for you. Proud of you, proud to be your children, grandchildren, and great-grandchildren, proud to have your strength and share the dynasty you spent your life creating, and proud to be a Jackson. You are the first true Jackson. The legend that started it all."
Besides Paris Jackson, other members of the family like daughter La Toya Jackson and grandkids Prince Jackson, Randy Jackson and Taj Jackson took to Twitter to express their love for their beloved grandfather. Joe Jackson was the talent manager of the Jackson family of entertainers that includes big names like King of Pop Michael Jackson and Janet Jackson. He was inducted into the Rhythm and Blues Music Hall of Fame as a member of the class of 2014. Joe Jackson's contribution is immense and can't go unnoticed behind the name and fame of the 'Jackson family.'
Get our hottest stories delivered to your inbox.
Sign up for Scrabbl Newsletters to get personalized updates on top stories and viral hits.