Julian Assange Not Safe in Ecuadorian Embassy
Julian Assange is considering to leave the embassy on his own.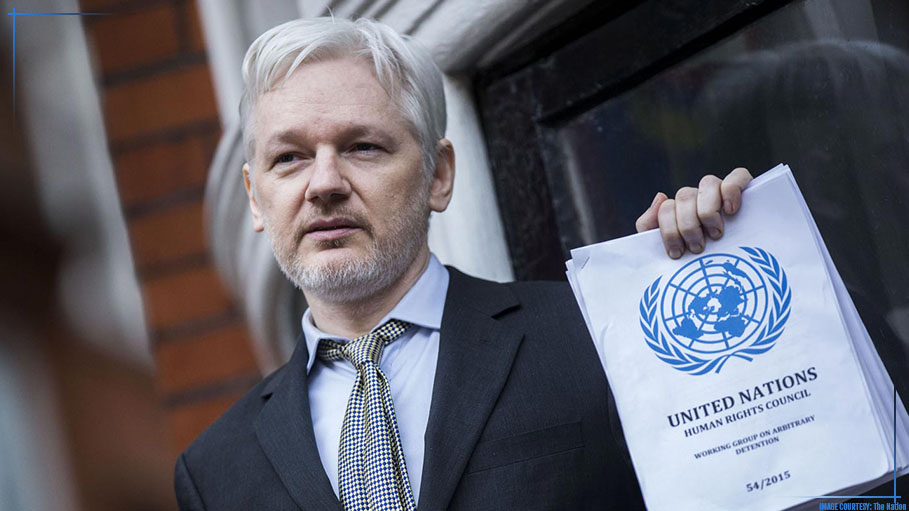 WikiLeaks founder Julian Assange's six-year refuge at the Ecuadorian embassy in London is under threat, as some reports suggest that he may be arrested by British authorities soon and extradite to the US, which he is long trying to avoid.
In the past, he has claimed that his position in the embassy is under threat, but after he was banned from connecting to the rest of the world even through the internet, not much is known about him. Accordingly, to some sources his present situation is unusually bad and that he could leave the embassy any day now either because he is forced to leave or it has made him feel so restricted that he himself is considering leaving the embassy on his own.
The US wants his custody, as the investigators will be able to find out what he knows. Also, the US intelligence believed that he has been used by Russia as an intermediary to distribute hacked emails from Hillary Clinton's campaign during the US Presidential election campaign of 2016.
Meanwhile, Assange's lawyers argue that he has been detained without charges for more than 2720 days, out of which 53 days, he is isolated, away from any visitors or any kind inside and outside communications.
His lawyer justified his actions by saying, "not a shred of evidence that Assange has done anything but publish material just as the establishment media do every day". Lawyer Melinda Taylor also said, "the concern from day one until the present is that if Julian Assange walks out of the Embassy, he will be extradited to face, what the executive director of the ACLU described as an unprecedented and unconstitutional prosecution under the US Espionage Act".
The newly elected President of Ecuador Lenin Moreno is also under intense pressure from the US to force Assange to leave its embassy. Moreno has once described Assange as an "inherited problem and more than a nuisance".
The Ecuadorian government has recently disconnected Assange's Internet access making him virtually impossible to express his opinion and manage WikiLeaks. Visitors to him are also restricted, only his lawyers can see him, but while meeting their mobile phone or any kind of recorder is either not allowed or jammed. Assange is dealing with multiple lawsuits.
In November 2010, Sweden has made a request for Assange's extradition, where he had been questioned months earlier over allegations of sexual assault and rape. Assange has denied all these charges saying he has been victimized and expressed his concern that Sweden may extradite him to the US anytime.
Julian Paul Assange better known as Assange, founded WikiLeaks in the year 2006, but came to international attention in the year 2010, he published a series of leaks through WikiLeaks. The leaks include the Iraq war logs, Afghanistan War logs, and Cable Gate to name a few.
Following the 2010 leaks, the Government of United States launched a criminal investigation against Assange and WikiLeaks and asked allied nations for assistance. Assange escaped and is on run till date.
Get our hottest stories delivered to your inbox.
Sign up for Scrabbl Newsletters to get personalized updates on top stories and viral hits.