Kim Invites Pope Francis to North Korea
The idea behind this invitation to Pope is to seek his advice in decreasing the tension on the divided Korean Peninsula.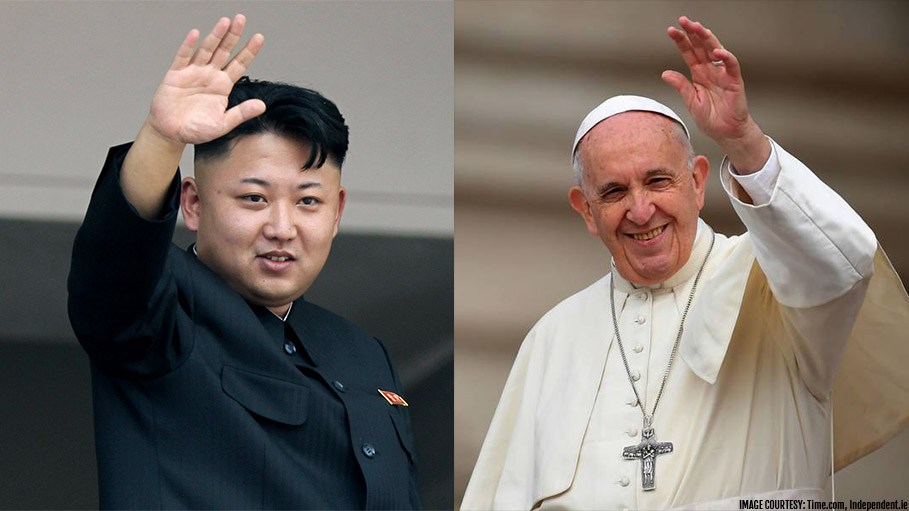 North Korea's leader Kim Jong-un who is regarded as one of the worst suppressors of religious freedom has invited Pope Francis to North Korea. The formal invitation to the Pope will be delivered by South Korean President, Moon Jae-in during his two-day visit the Vatican next week. Moon Jae-in is a Roman Catholic.
The idea behind this invitation to Pope is to seek his advice in decreasing the tension on the divided Korean Peninsula. The idea of inviting Pope Francis, popped up during Moon's visit to Pyongyang, the capital of North Korea last month to meet Kim. It was during that visit Kim told Moon, "If the pope visits Pyongyang, we will give him a rousing welcome".
Though there is no immediate reaction from the Vatican on whether Francis would accept the invitation. It is important to know that till today, no pontiff has ever visited North Korea. As the totalitarian government of North Korea has cracked down the religious activities for promoting the personality cult around Kim and his family, who ruled the country as godlike figures.
This is also not the first time that North Korea has tried to invite a pope. In 1991, as the Soviet union began to disintegrate, North Korea has campaigned to invite Pope John Paul II to Pyongyang to help solve its deepening diplomatic isolation. But later North Korea abandoned its campaign in the fear that such a visit might fan religious sentiment within the nation.
Pope Francis in the past has shown interest in helping to build a lasting peace on the peninsula. During his visit to South Korea in 2014, Pope Francis said he came here, "thinking of peace and reconciliation of Korean Peninsula". Just before the Pope's arrival in South Korea, North Korea has fired three short-range rockets off its east coast and after the pope landed, North Korea fired two more rockets.
United States Commission on International Religious Freedom said in its annual report this year that "Freedom of religion or belief does not exist in North Korea. The regime exerts absolute influence over the handful of state-controlled houses of worship permitted to exist, creating a facade of religious life in North Korea."
In 2014, the United Nation's Commission of Inquiry on human rights in North Korea said, Kim's government considered the spread of Christianity "a particularly serious threat since it ideologically challenges the official personality cult." Now with the atmosphere of improved situation in the region, eyeballs are all set on how the Pope will react to the invite of Kim.

Get our hottest stories delivered to your inbox.
Sign up for Scrabbl Newsletters to get personalized updates on top stories and viral hits.