Kim Jong Un's Mysterious China Visit
North Korean leader Kim Jong Un made a surprise visit riding a mysteries train to China to meet Chinese President Xi Jinping.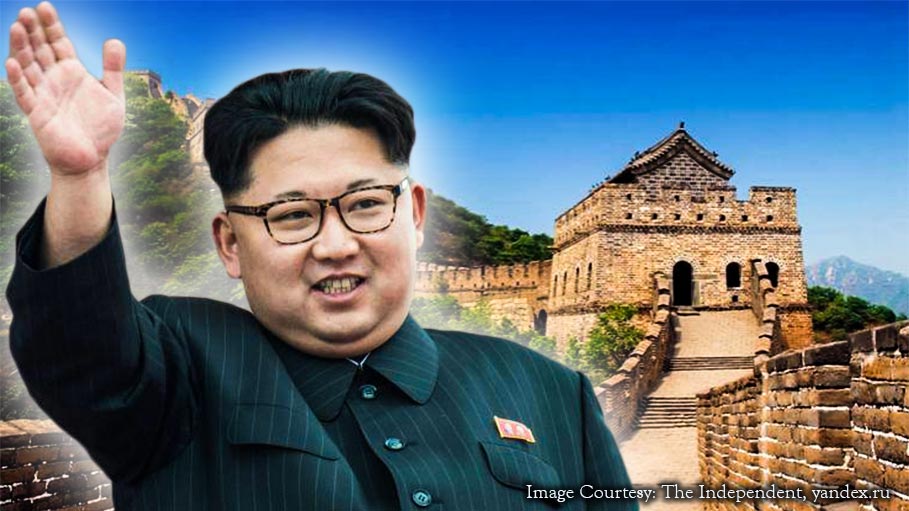 North Korean leader Kim Jong Un made a surprise visit riding a mysteries train to China to meet Chinese President Xi Jinping. The journey is Kim's first foreign trip since he came to power in 2011 and this visit raises doubts of a complex diplomatic equation ahead of his planned meetings with the leaders of South Korea and United States.
The Chinese and North Korean state media confirmed on 28th March 2018 about the meeting between the leaders amidst speculation of suspicious arrival the North Korean leader and his mysterious train ride, when a mysterious train arrived in central Beijing Station, reports of a high-profile visitor from North Korea came up but without any concrete confirmation leading to speculations.
Later the North Korea's official media Korean Central News Agency (KCNA) confirmed that the visitor was indeed Kim, along with his wife, Ri Sol Ju, arriving for an "unofficial" visit at the invitation of the Chinese president, Xi Jinping. Though the confirmation came after the North Korean group is believed to have departed China.
Kim traveled with all his top aides, including Choe Ryong Hae, often called the No. 2 leader of North Korea and the head of the powerful Organization and Guidance Department, and Ri Su Yong, the former ambassador to Switzerland and foreign minister, who is now a top official in the Politburo.
China and North Korea have had close ties for decades, but in recent years, the relationship has been stressed. Kim's visit may also be an effort to repair relations ahead of his planned meetings with the South Korea's President, Moon Jae-in and then U.S. President Donald Trump.
Chinese and North Korean accounts of the meeting struck a positive tone. "We speak highly of this visit," Xi told Kim, according to Chinese state media.
Kim's toast to Xi: "It is appropriate that my first trip abroad is in China's capital, and my responsibility to consider continuing North Korea and China relations as valuable as life," according to KCNA.
White House press secretary Sarah Huckabee Sanders responded to the news of Kim's visit by saying that the Chinese government had briefed the Trump administration about the visit on Tuesday. The briefing included a "personal message from President Xi to President Trump," she said.
The Trump administration sees the development "as further evidence that our campaign of maximum pressure is creating the appropriate atmosphere for dialogue with North Korea," Sanders said.
Before the meeting was officially announced, the question of who was on the armored train had gripped the Chinese capital for days. As the train arrived unannounced. After nightfall, a motorcade drove to a state guesthouse where foreign dignitaries often stay. But Chinese officials and media and the South Korean government were initially quiet about the identities of those who had been aboard.
Both Kim's father and grandfather, the country's former leaders, traveled in similar style on rare foreign trips, stoking decades of intrigue and interest about the trains. Kim's father, Kim Jong il, who also used similar approach in the past, normally kept his visits secret and then publicized after the North Korean leader has left.
Kim Jong-il was rumored to have had a fear of flying and preferred to travel on his train, which was outfitted with modern communications technology and a large staff that catered to his whims.
The elder Kim, is said to have decked out his trains for parties, bouts of heavy boozing and karaoke. According to reports from people, who accompanied, Kim Jong il on a trip to Moscow in 2001 said the train was packed with cases of Bordeaux and Beaujolais from Paris, where passengers could feast on pork barbecue and live lobster.
According to reports, Pyongyang has a total of 90 special carriages and operates three trains in tandem when a leader is traveling. An advance train checks the rails, the train with the leader and his immediate entourage are in another train, and a third train carries everyone else.
The trains travel at a 38 mph, but can whisk the leader away in a hurry in armored vehicles and even small helicopters that also are carried aboard for emergencies. The carriages of the train are all bulletproof which make them heavier than average. The additional weight thus makes it a slow and leisure ride.
In Kim Jong il's time, 100 security officers traveled in the advance train, searching stations for bombs and other threats and testing the safety of the track. Apart from this military helicopters and airplanes would fly overhead to provide more security. Twenty train stations have been built across North Korea just for the leader's personal use.
Kim Jong il used his high security trains during his seven visits to China and three to Russia during his 1994-2011 term. In fact, he was on a train for a "field guidance" visit in December 2011 when he died of a heart attack.
Get our hottest stories delivered to your inbox.
Sign up for Scrabbl Newsletters to get personalized updates on top stories and viral hits.