Mad Over Donuts Brings 'Party In A Box' with Donut Pops
Mad Over Donuts introduces 'Party In A Box' with Donut Pops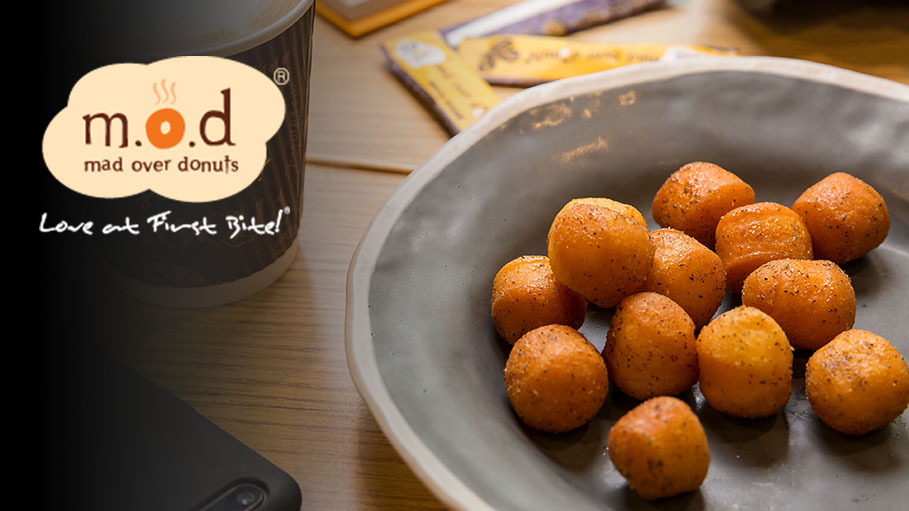 Mad Over Donuts, the internationally leading Singaporean gourmet donut chain, has introduced India to a whole new world of flavors over the past 10 years. From the most authentic indigenously made donuts, to waffles and éclairs, the country's taste buds have evolved with their innovative launches that have changed the way we eat and celebrate. Now, Mad Over Donuts takes an extraordinary step in a happy new direction with Donut Pops – bite-sized savory donuts that are perfect in so many ways!
Donut Pops are conveniently sized all-day pick me ups that impeccably complement a host of food and drinks. Owing to their perfect size, they are light and easy to nibble on. The Donut Pops come in five tantalizing flavors, with something for everyone. The hot PiriPiri, evergreen Schezwan, burst of surprise in Lemon Pepper, always-right Cheese and a touch of the exotic with Cinnamon Sugar. Between them, these offer a flavor for every reason and taste, making them one of the most versatile snacks. Donut Pops come in boxes of 15, like little golden balls of pure joy!
Tarak Bhattacharya, COO – Mad Over Donuts said that at Mad Over Donuts, they've constantly innovated to keep its patrons surprised and delighted. After curating its gourmet lines of waffles and éclairs, the company knew it was time to innovate with its house-special donuts and present them in a new avatar. Donut Pops are especially great for celebrations, going splendidly with cake, drinks or even the main course. The savory flavors have been arrived at after intense tasting sessions, ensuring its Pops go with the most popular foods and drinks. Whether it's cake or desserts and wine or beer, it has a Donut Pop to go with it. The value pricing ensures they are great for both, parties as well as individual consumption. The company has no doubt whatsoever that these are going to be lapped up by its patrons, like they have always done with everything at Mad Over Donuts, he said.
A box of Donut Pops, with 15 pieces, comes at just Rs. 35, inclusive of taxes. It's perhaps the most high-quality, delicious all-day nibble out there that's just right for numerous occasions.The freshly made Donut Pops are only available in-stores, to keep their crispness and flavors fresh. Whether you're looking for something to go with your coffee, a light evening snack or the greatest party starter in town, head over to your nearest Mad Over Donuts to pick up your box of Donut Pops. Be the first in your gang to introduce them to what's sure to be their new favorite snack!
Get our hottest stories delivered to your inbox.
Sign up for Scrabbl Newsletters to get personalized updates on top stories and viral hits.