McDonald's Staff on Strike over Sexual Harassment
Low wage and blue-collar McDonald's workers are vulnerable to sexual harassment everywhere, thus they took to the streets show protest against this universal issue!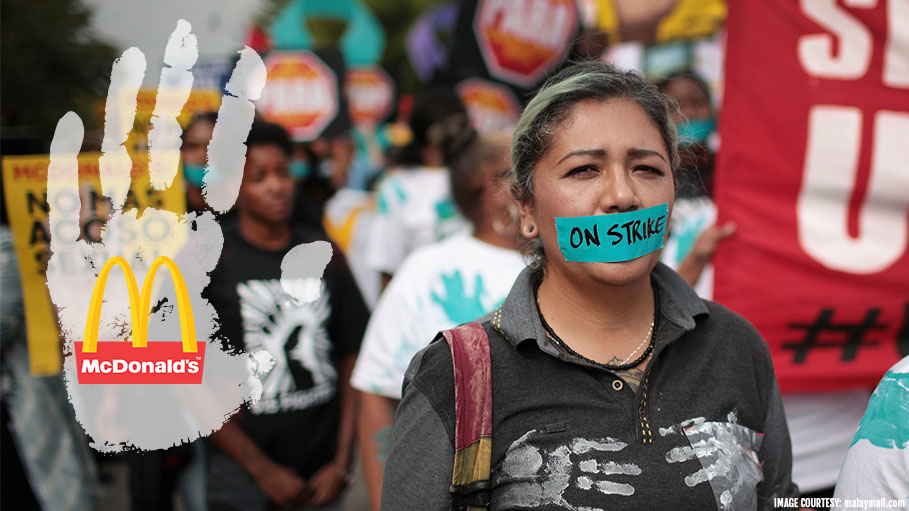 Inspired by #MeToo movement, McDonald's workers across 10 cities of the United States staged a day of protests, accusing the fast-food giant has failed in preventing the cases of sexual harassment in its restaurants. It is for the first time such protests are organized by the employees themselves to make the authorities consider taking serious action to curb incidents such as lewd comments, groping and proposal for sex in the workplace.
The protest is a part of the worldwide #MeToo campaign which aimed at high profile targets such as media, entertainment, and politics, where harassment in the form of low wage, different pay for different work, where employees with minimum wealth and influence are most often targeted.
On Tuesday, in Chicago, nearly 20 of the McDonald's workers and their supporters started shouting slogans, holding banners. One of the employees said, "I am on strike and standing here today for change. Sexual harassment is a universal issue. It's a disease". She said while other workers had fixed their mouths shut with blue tape displaying the words "on strike" and "me too." Apart from Chicago, such scenes were visible in nine other cities, which include Kansas City and Saint Louis, Missouri, Durham, and North Carolina.
In Los Angeles, a large crowd of demonstrators took to the streets with slogans and banners, whereas in San Francisco there was a silent protest by employees of McDonald's, who had their mouths taped.
Taking note of the nationwide protests the US Senator Bernie Sanders reacted, "simply unacceptable. We must stand with the brave McDonald's workers walking out today to demand the company address this epidemic of sexual harassment."
It is four months after women working in McDonald's restaurants in nine cities first registered their sexual harassment claims with the US Equal Employment Opportunity Commission. According to Karla Altmayer, Chicago Community Organiser, "Today, thousands of workers across the country have stepped out of the shadows and onto the picket lines. We can no longer accept that one out of two workers experiences workplace sexual violence under their watch."
Late in the evening, a statement was released by McDonald's, which said, "strong policies, procedures and training in place to prevent sexual harassment". The company also said it had engaged prevention and response experts "to evolve our policies so everyone who works at McDonald's does so in a secure environment every day". No specific assurance is reflected in the statement.
Though the advocates of rights have complained time and again that low wage and blue-collar workers are vulnerable to sexual harassment everywhere, as they have to be dependent on their monthly paychecks, as they have no other alternative available.
Get our hottest stories delivered to your inbox.
Sign up for Scrabbl Newsletters to get personalized updates on top stories and viral hits.