Microsoft: Building a Sustainable Tomorrow, One Campus at a Time
Microsoft facilities in Bengaluru use solar power for 80% of their energy requirements. This was further to Microsoft's first renewable energy deal within the Karnataka state of India.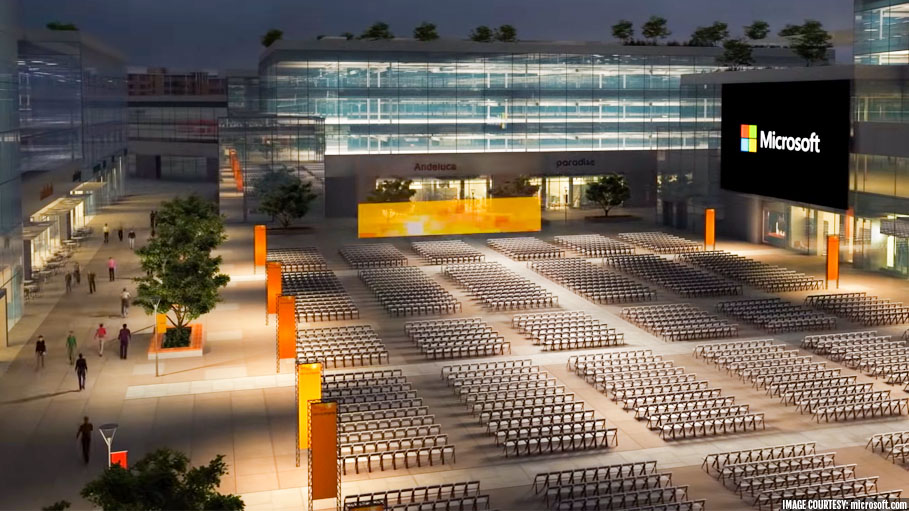 Commitment to environmental sustainability underlines every aspect of Microsoft as a company and believes that technology can empower people and organizations to achieve a more sustainable future. Microsoft is working towards building a more sustainable tomorrow and will continue to build, renovate and operate its campuses in a manner that reduces its impact on the environment.
Microsoft facilities in Bengaluru use solar power for 80% of their energy requirements. This was further to Microsoft's first renewable energy deal within the Karnataka state of India. Microsoft purchases 5 megawatts of solar-powered electricity to help power their office buildings in Bengaluru. This move is in line with Microsoft's global goal to rely on renewable energy. The workplaces at Microsoft are not just about creating new desks, chairs, conference rooms, etc. but rather a whole new vision that ensures that all employee needs are met – for instance, the emphasis is laid on employees getting enough sunlight, ventilation, and landscaping within the premises.
The buildings in Microsoft Hyderabad campus have achieved Leadership in Energy and Environmental Design (LEED®) Gold certification. Microsoft has also introduced several water conservation initiatives at the Hyderabad campus including rainwater harvesting, sensor-based taps, aerators for taps, effective recycling, reusing water to maintain our green cover, and storing water for a contingency to avoid business impact. An automated Centrifuge System treats 20,000 litres of wastewater in an hour. The campus also has a 30-million-liter capacity reservoir to store rainwater for the irrigation of 20 acres of landscaped gardens.
Waste minimization programs such as office supply reuse, recycling, and composting have also been implemented. Hyderabad campus has been doing onsite composting since 2011. The campus had a 100 kg micro-composter to process fruit and vegetable waste and use it as plant food for landscaping. Earlier this year this was replaced by a 400 kg organic waste composter (OWC) to accommodate food waste as well, generating compost in just 24 hours.
At Microsoft headquarters in Redmond, Washington, work has started on constructing 17 new buildings totaling 2.5 million square feet. Microsoft aims to remove fossil fuels from these new buildings and run this new addition, as well as the rest of its campus, on 100 percent carbon-free electricity. Microsoft is also reducing the amount of carbon associated with the construction materials by at least 15 percent, with a goal of reaching 30 percent, through a new online tool. Microsoft will be the first large corporate campus to reach zero-carbon and zero-waste goals. Microsoft will hold business divisions financially responsible for reducing their carbon emissions and has nearly doubled its internal carbon fee to $15 per metric ton on all carbon emissions. In California, Microsoft has set up systems around water collection and cycling, collecting rainwater, stormwater, and wastewater, which gets recycled for a myriad of applications around campus. Thus, beyond drinking fountains and sinks, not a drop of water for more than 2,000 employees, 15 acres of landscape, and 643,000 square feet of built space will come from municipal sources.
Microsoft continues to focus on R&D for efficiency and renewable energy in its data centers as well. In 2016, Microsoft announced that it would power its data centers with more renewable energy, setting a 50 percent target by the end of 2018 and topping 60 percent by the beginning of the next decade. And it will continue to improve from there. Microsoft achieved the first target nearly a year ahead of schedule and announced that it will reach the 60 percent milestone before the end of this year.
When powering a data center, the energy supply chain is long, and there are many opportunities for issues to arise. This causes data centers to be more challenging and costly to build, operate and manage. Microsoft partnered with McKinstry and Cummins to create the "Advanced Energy Lab," a 20-rack data center pilot located in Seattle that derives its power directly from fuel cells embedded in the racks. These fuel cells allow us to cut out steps in the long transmission process, leaving less opportunity for unreliability, and nearly doubling energy efficiency.
Microsoft has now set its next milestone on the path to 100 percent renewable energy, aiming to surpass the 70 percent target by 2023. Microsoft will also launch a new data-driven circular cloud initiative using the Internet of Things (IoT), blockchain and artificial intelligence (AI) to monitor performance and streamline its reuse, resale, and recycling of data center assets, including servers.
Get our hottest stories delivered to your inbox.
Sign up for Scrabbl Newsletters to get personalized updates on top stories and viral hits.