More Stormy Troubles for US President Trump
President Trump, has made porn star Stormy Daniels's mind up seeking to a break the legal agreement to keep her silent in return for a $130,000 by Trump in 2016.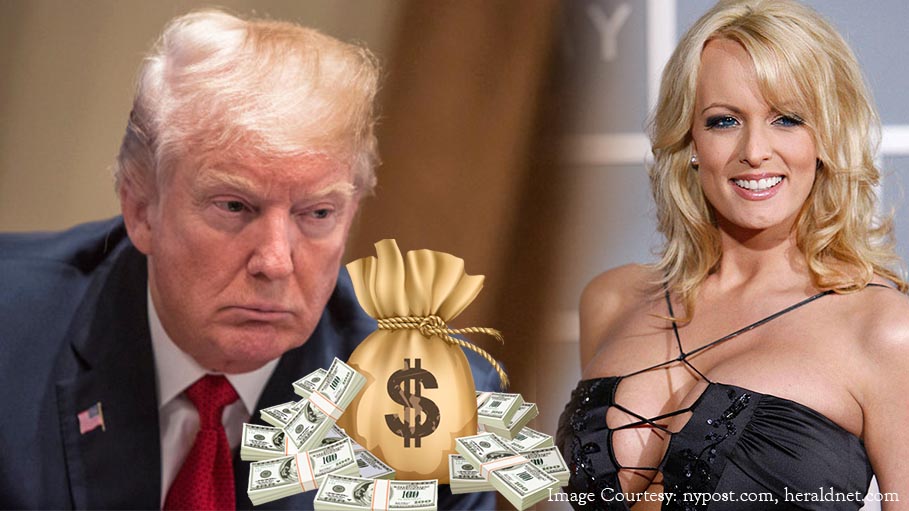 Porn star Stephanie Clifford also known as Stormy Daniels seems to be reluctant and adamant to go public despite of repeated attempts by President Trump to silence her. This time the pornographic film actress, who claims to have an affair with President Trump, has made her mind up seeking to a break the legal agreement to keep her silent in return for a $130,000 by Trump in 2016.
Stephanie Clifford has time and again claimed in her suits that she had "an intimate relationship" with Trump that began in the summer of 2006 and which continued till 2007. If it so then Trump was then married to Melania, who gave birth to their son Barron in March 2006.
The salacious details of Stormy Daniels' alleged affair with Donald Trump have seeped out to the public more than a decade ago, but the porn-star-turned-household-name has been barred from telling the story herself so far.
Renewing for trouble, recently Stephanie Clifford filed a lawsuit against President Donald Trump, claiming that the $130,000 settlement she reached with his longtime lawyer Michael Cohen to keep her quiet about the alleged relationship was no longer valid because Trump had not signed the document. The lawsuit marked the first time Daniels openly spoke of having a "hush" agreement.
In the lawsuit, she claimed to have an affair with Trump in 2006 and 2007. She also said the agreement was signed to secure her silence in Oct. 28, 2016, days before the presidential election.
Meanwhile White House, Press Secretary Sarah Huckabee Sanders during a media briefing brought White House into the center of the legal battle when she revealed that Trump's lawyer had won an arbitration proceeding against Daniels. That marked the first time the White House acknowledged the confidential agreement or Trump's role in it.
When asked, whether Trump knew about the payment at the time it was made, she said, "Not that I am aware of."
Few months back, the news of a legal document referred to as a "hush agreement" that she said she signed with Trump's longtime personal lawyer, Michael D. Cohen, weeks before the 2016 presidential election to keep her away from maligning Donald Trump during the election campaign otherwise it could have painted the president in a corner.
The agreement was done and in return she was paid $130,000, assuming she does not blink but the case resurfaced again and fall to a judge in Los Angeles, where the suit was filed in order to decide whether the case to go forward in court or to compel Clifford to return to arbitration. If it continues then, Cohen and Trump could find themselves open to the discovery process.
Earlier Clifford's agreement with Cohen was stipulated that they would resolve disputes in the confidential arbitration proceedings. Trump and his legal team can try to keep Stephanie Clifford, silent through arbitration and his lawyers indicated that's the preferred course, but don't know how Clifford will proceeds.
Legal experts are of the opinion that if Stephanie Clifford court case proceeds, Trump and his longtime personal lawyer, Michael D. Cohen, may have to testify in depositions. It may also disclose some of the facts related Trump's campaign spending violations, thereby reopening of a pending Federal Election Commission complaint against Trump's campaign.
That could also bring more trouble for Trump by putting him in even more legal peril because it might draw the interest of the investigators who are investigating whether there were any links between the Trump Campaign and Russians who allegedly sought to influence the 2016 presidential election.
If the president admits being a party to an agreement that paid Daniels to stay quiet, the Federal Election Commission would probably view it as a violation of campaign finance law. If Trump doesn't contest Daniels' ability to go public, she could embarrass the president, who has been accused of sexual harassment by several other women.
It is embarrassment again for a sitting President of United States, as we know that, it was a sexual harassment lawsuit brought by an Arkansas state employee, Paula Jones, against Bill Clinton that led to his impeachment for lying about his affair with Monica S. Lewinsky.
Daniels is scheduled to appear this weekend at the Solid Gold strip club in South Florida, which is promoting the event as Daniels' first public appearance since filing suit against Trump. "Stormy no longer wishes to remain silent, and Solid Gold proudly supports her right to speak", as the Facebook Page of the club declares.
Get our hottest stories delivered to your inbox.
Sign up for Scrabbl Newsletters to get personalized updates on top stories and viral hits.