Netflix Original 'Music Teacher' Doesn't Let Love Find Its Way, A Review!
'Music Teacher', a recent Netflix Original film could have been a moving melancholic piece if it had played the right chords. Read the review to know what hindered it from reaching the tragic heights.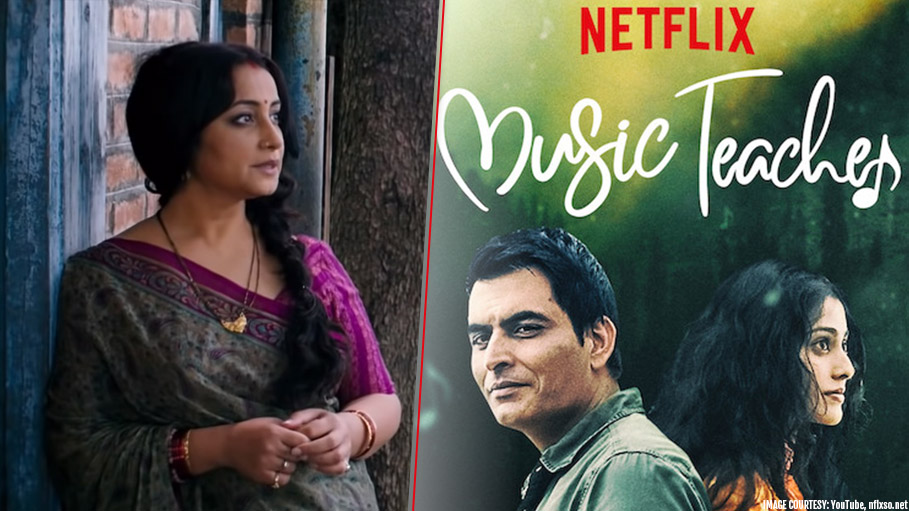 'Music Teacher' was never meant to be a 'happy ending' flick, however, as an audience, my film-craving soul was not glad at all, a dissatisfaction kept clinging on my mind. No, I don't blame the unfinished love stories portrayed in the film, on the contrary, their agony was not fulfilling to me. Manav Kaul, Divya Dutta, Amrita Bagchi and Neena Gupta starrer 'Music Teacher' was not even close to reaching the tragic heights.
Manav Kaul plays Beni, a music teacher in Shimla who once aspired to become a playback singer in Bollywood, attempts to offer music tuition to Amrita Bagchi (Jyotsna), to support his living. How and why does he choose Amrita… the film provides no sufficient logic. Anyways, against her parents' wish, Jyotsna starts taking up music classes to Beni, they meet here and there, love flourishes between the two. Beni pushes Jyotsna to participate in a music competition, she wins it even after making mistakes. She gets offers from Bollywood, non-ambitious Jyotsna doesn't wish to leave Beni behind, proposes for marriage. Beni chooses Jyotsna's career over their relationship, thinks Jyotsna could be his ticket to Bollywood as well. Jyotsna flies to Mumbai, the city of dreams. The duo fall apart.
Now, the film doesn't start like that at all, it begins eight years after this incident. Beni has grown old with a few grey strands of hair, still single, spends most of his time looking back at the past, in regret. Geeta, played by Divya Dutta, a housewife, abandoned by his husband, lives with her father-in-law, tries to find love and comfort in Beni. Being in the neighbourhood, Beni's lonely singing time during the night casts a charm on Geeta. However, Beni seemed to be confused. He couldn't refuse when Geeta offers herself to him, but keeps going back to the olden lovey-dovey days.
Jyotsna is visiting Shimla after those eight-long-years for a musical show. Beni couldn't help himself but drops in at the venue of the show. Turns out, the fire between the two is still there, both go emotional seeing each other, but this time Jyotsna turns Beni down. Geeta leaves the city realizing the fault in her stars. Outcome- the trio was never destined to attain true love!
Technically, 'Music Teacher' runs on two tracks, the present and the past. As an audience, I was enjoying the flashback time more, the present appeared too slow and bland. But personally, I never felt Manav Kaul and Amrita Bagchi looked adorable together, the chemistry was not stirring.
The best part of the film was Divya Dutta, her loneliness, her yearning for love, her silent departure leaves a mark.
Beni is an utter failure! Be it his Bollywood dreams or the dreams he etches for both the women in his life. He disappoints both of them, denies love every time and his judgmental flaw cuts him secluded in despair and remorse.
Neena Gupta as Manav Kaul's mother in the film didn't have much to do. Her character remains incomplete.
So, what went wrong? Here I shall bring in the reference of 'Sur', a film of the similar genre released in 2002 starring singer-composer Lucky Ali and Gauri Karnik. At this age, you might find 'Sur' a little silly, over the top at places, but with such fervour the storyline was conceived that it keeps twinkling in your memory. The music is still popular and sounds fresh to the ears. 'Music Teacher' lacks the x-factor in all these aspects.
The relationship ups and downs between Beni and Jyotsna doesn't affect us because their blooming-love moments were not impactful either. Love happens in a wink, shatters in the next moment. The film neither lets love brew, nor agony.
Directed by Sarthak Dasgupta, 'Music Teacher' isn't worth a Saturday night watch (released April 22, Saturday). Let me know about your opinion too, in the comments below.
Get our hottest stories delivered to your inbox.
Sign up for Scrabbl Newsletters to get personalized updates on top stories and viral hits.