No Smoking, Kim Jong's Mantra During Peace Talks
North Korean Leader Kim Jong-un, who is known heavy smoker is seen without his cigarettes during the historic peace talks with South Korean leader Moon Jae in, last week.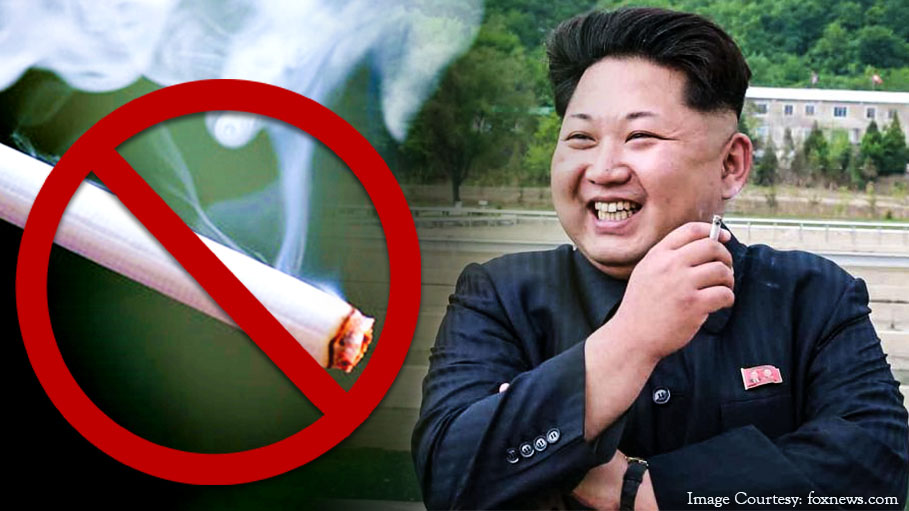 North Korean Leader Kim Jong-un, who is known heavy smoker is seen without his cigarettes during the historic peace talks with South Korean leader Moon Jae in, last week. Though Kim has confirmed that he enjoyed a drink during the summit. Many believed that Kim Jong-un did not light up a single cigarette in Moon Jae in's presence, as a mark of respect for the South Korean president, who is 31 years senior to him in age.
It came as a surprise for everyone, as the gesture came from someone who heroically poses with his cigarettes during his various photoshoots. Even in North Korean official photographs, Kim is often seen with a cigarette hanging between his fingers or puffing, even on his official visits to a school or children's hospital. In the last July picture, during a missile launch, he was seen puffing a cigarette.
During the talks between the North Korean and South Korean leaders last Friday, the cigarettes were nowhere to be seen around Kim, including during his lengthy session with Moon on a pedestrian bridge and during their leisure walks in Panmunjom. Though an ashtray was kept on the table, it was never used by anyone. During his ice-breaking talks with Moon in a reception room at Peace House, the ashtray was kept there but Kim didn't use it for once.
According to a Presidential Official, "We heard that Kim Jong-un was a heavy smoker. But we could see him refrain from smoking in public, considering the symbolism of the inter-Korean summit and the number of South Korean and North Korean officials at the scene".
But it can be safely believed that Kim enjoyed his share of cigarettes as soon as he reached North Korea. As for those who know Kim's behavior knows it very well known that he can succumb to nicotine craving without wasting time. As soon as Kim and his wife Ri Sol Ju arrived in the North Korean capital Pyongyang many believe Kim took to smoking.
Cigarette is more important in Kim's life is evident from an article published in a Japanese Newspaper. In March, a North Korean official was "frozen in terror", when he advised Kim, that he should give up smoking for the good of his health. Though on several occasions it has been witnessed that Kim's wife Ri has been a critique of his smoking habit. Once Ri was heard saying, "I am always asking him to quit, but he won't listen to me".
According to experts, Kim's behavior of lighting cigarette while South Korean President Moon by his side is no big deal for the arrogant leader. But he may not have lit the cigarette in the middle of the summit keeping in mind the importance and significance of talks, which include peace and denuclearization.
Though Kim's restraint to cigarette did not extend to alcohol. He gratefully accepted every offer of liquor throughout the banquet, during the summit. After ceremonial toasting with champagne, both South Korean President Moon Jae-in and North Korea's Kim Jong-un and their wives drank moonbaeju, a millet-based drink made locally in North Korea's Pyeongan province and it contains 40% of alcohol in it. Now it is for everyone to see, whether Kim is going to smoke in front of Donald Trump when they'll be meeting by the end of this month.
Get our hottest stories delivered to your inbox.
Sign up for Scrabbl Newsletters to get personalized updates on top stories and viral hits.