North Korea to Abandon Its Nuclear Designs
Kim Jong-un, the most influential leader of North Korea, has expressed his willingness to begin negotiations with the US on abandoning its nuclear weapons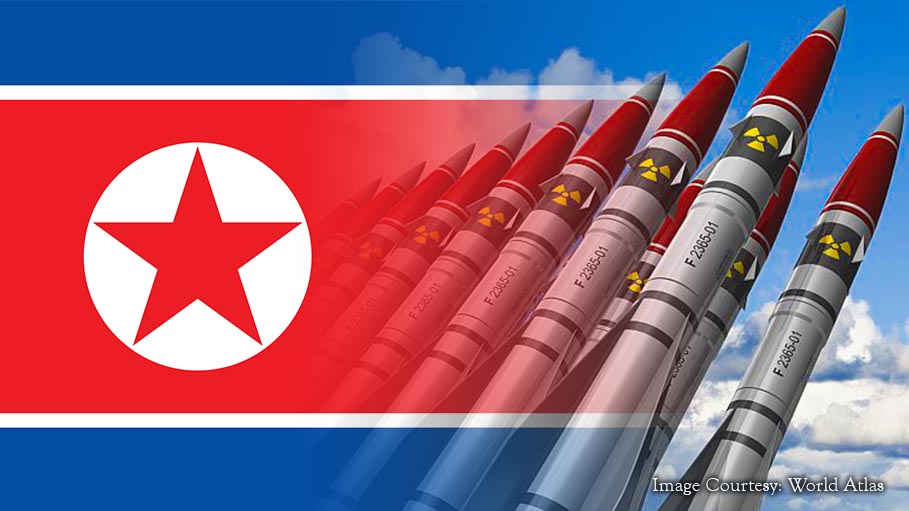 North Korea has been a headache for the countries that do not endorse nuclear establishments for Military Purposes. Kim Jong-un, the most influential leader of North Korea, has expressed his willingness to begin negotiations with the US on abandoning its nuclear weapons, confirming that it would suspend all nuclear and missile tests while engaged in such talks.
He expressed his thoughts to the South Korean envoys who visited him recently in Pyongyang, the North Korea's capital. It was a part of the bi lateral talks between two Koreas, who also agreed to hold a summit meeting between Kim and President Moon Jae-in of South Korea in April, Moon's office said in a statement.
According to the statement "The North Korean side clearly stated its willingness to denuclearize, it also made it clear that it would have no reason to keep nuclear weapons if the military threat to the North was eliminated and its security guaranteed."
If the sequence of events were to believe, it would be the first time Kim has indicated his willingness in giving up nuclear weapons in return for security guarantees from the US. Until now, North Korea has said its nuclear weapons were not for bargaining away.
The concessions, relayed by a high-level delegation of South Korean officials after meeting in Pyongyang with Kim Jong Un, mark a significant change for the North Korean leader, who had previously touted his nuclear programme as a "treasured sword of justice".
For US President Trump, the news is the most reliving one, after war of words with the North Korean leader over the issue several times in various platforms. As this will certainly help in defusing of one of the world's most tense confrontations.
US President Donald Trump reacted immediately on Twitter and welcomed what he called "possible progress" with the North. He also said that it is for the first time in many years, a serious effort is being made by all parties concerned, to solve this long pending issue. The World is watching and waiting! May be false hope, but the US is ready to go hard in either direction".
Donald Trump also signaled his willingness to go along with the North Korean overtures, which include a meeting between Kim and South Korean counterpart President Moon Jae-in in April in the demilitarised zone that separates the two nations.
If confirmed, the recent developments would mark a sea change for a region that appeared on the brink of war just five months ago after Pyongyang resumed nuclear and missile testing that prompted the Trump administration to warn of a "massive military response". As North Korea, has remained an enemy of the US since the 1950-53 Korean War.
Pyongyang's move comes after weeks of growing closeness between North and South Korea, which used the Olympics as an opportunity to reopen long-frozen relations.
The South Korean envoys who met Kim in North Korea include Moon's national security adviser, Chung Eui-yong, and the director of the South's National Intelligence Service, Suh Hoon. They are now expected to be dispatched to Washington soon to brief the Trump administration on their discussions with Kim.
National Security Adviser, Chung also said the South Koreans believed that their agreements with North Korea would be enough to start a dialogue between Washington and Pyongyang. He also hinted that he is carrying a special message from Kim to the Trump administration, which at the moment cannot be revealed.
Though he said, "there was no other specific demand from North Korea in returning to dialogue, they only said they wanted to be treated like a serious dialogue partner."
The delegation, which met Kim, recently consists of 10 highly influential envoys. They were also the first South Korean officials to meet Kim since he took power six years ago. They were also the first outside officials to directly hear Kim explain his intentions regarding his country's nuclear weapons programmes.
After the passing away of his father Kim Jong-il in 2011 and inheriting power after his father, the 34 year old Kim, has accelerated the North Korea's nuclear and missile tests. It become more troublesome when, Kim claimed after launching an intercontinental ballistic missile in November 2017, that he have a "nuclear button" on his desk which he could use to fire missiles capable of reaching the mainland United States in November 2017, making US officials anxious against Kim, who is getting dangerously close to being able to strike the United States with nuclear-tipped missiles.
But the sudden shift in Kim's tone on New Year's Day when he used his annual speech to propose sending a delegation to the Pyeongchang 2018 Winter Olympics. Following which he sent his sister, Kim Yo-jong to visit South Korea with the proposal for a summit meeting with Moon. Though experts are of the view that Kim's sudden interest for dialogue is driven by his desire to weaken sanctions that have begun biting his isolated country, as well as to stop the threat of US in using military force.
Get our hottest stories delivered to your inbox.
Sign up for Scrabbl Newsletters to get personalized updates on top stories and viral hits.