PepsiCo Launches Dry Waste Management Education Programme across Varanasi Schools
Nepra, one of India's leading waste management company, will set up special dedicate plastic collection zones in schools.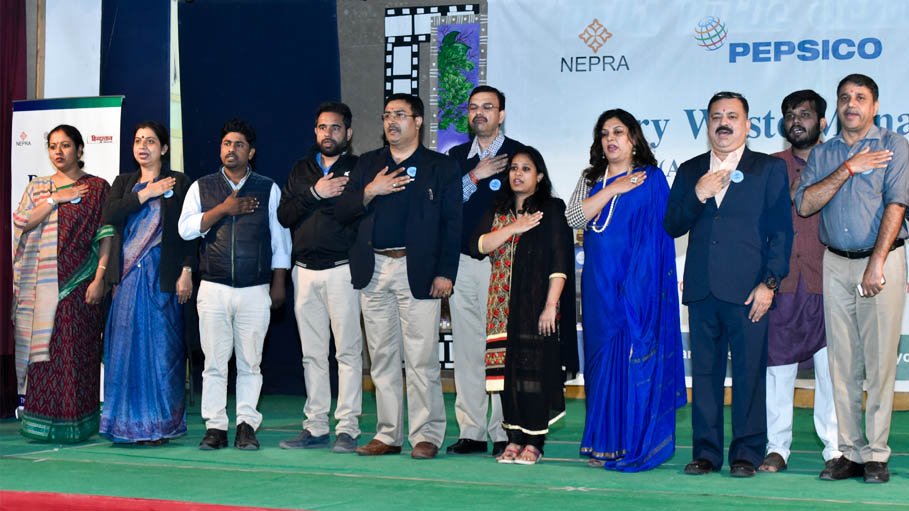 PepsiCo India in partnership with waste management firm, Nepra, launched a first of its kind, waste management education program with leading schools in Varanasi. The program was inaugurated by Mr. Kaushal Raj Sharma, District Magistrate, Lucknow at Delhi Public School, that saw participation from over 500 school children. In the first phase of the program 25 schools to sign up to create awareness and help in the collection of dry plastic waste.
Nepra, one of India's leading waste management company, will set up special dedicate plastic collection zones in schools. Students would be urged to donate dry plastic waste each week. The collected plastic will be segregated and eventually repurposed into useful products like School tables and chairs to be subsequently donated to leading NGOs working in the city.
To create awareness and sensitise students and faculty, NEPRA will be conducting special workshops around plastic waste management. PepsiCo India and Nepra will also develop 'Eco-Clubs' in schools to drive awareness amongst students through competitions and paper presentations. Every month the progress of each school will be tracked, and schools leading the drive will earn rewards and certificates. The program will also involve developing a live dashboard for participating schools which will record the amount of dry plastic waste collected from each institution.
Commenting on the unique program, Mr. Mukesh Shelat, Principal, DPS, said that Varanasi is one of the holiest cities in India and such initiatives will ensure it remains cleaner and greener. They are pleased to be a part of such an interesting and engaging awareness program around waste management which will help in managing the issue of waste and channel it into an asset for Varanasi. He would like to thank and congratulate PepsiCo and Nepra for launching the program with the school students who are the agents of change, he said.
Speaking at the launch of program, Viraj Chouhan, Chief Government Affairs and Communications officer at PepsiCo India, said that at PepsiCo, they have been striving to build a world where plastic never becomes waste. The dry waste management program is unique as it will not only create awareness but also in the process help collect plastic that will be repurposed for social good. They are delighted with the kind of support received from the schools of Varanasi and they will work towards on-boarding more and more schools in the coming months, he said.
He further added that as a company, they have been actively working with government and waste management partners across multiple states to collect, segregate, and sustainably manage the equivalent of 100 per cent plastic packaging by 2021. Apart from that, they are also in the process of transforming 100 per cent of their packaging recyclable, compostable, or biodegradable by 2025.
Sandeep Patel, CEO NEPRA, said that Nepra is glad to associate with PepsiCo India on this first of its kind, waste management education school program in Varanasi. It's encouraging to see the initial response of schools toward this cause. Over the next few months, they aim to work towards solving the larger issue of dry plastic waste disposal in Varanasi through their collaboration with schools. Nepra is delighted for its association with PepsiCo in such a transformative program, he said.
How will the program work:
Dry plastic waste to be deposited by students every week at dedicated collection centres in their respective schools.
Nepra will collect the waste from each school on a fortnightly basis.
Dashboard will feature each school with the amount of plastic collected each week.
The program will help in forming an intra-city community of students from different schools, working towards efficient waste management and an effective socio-economic-environmental impact.
Get our hottest stories delivered to your inbox.
Sign up for Scrabbl Newsletters to get personalized updates on top stories and viral hits.