PM Narendra Modi's Interview with Akshay Kumar Raises Eyebrows
During his interesting conversation with the 'Singh is King' star, Modi touched upon lighter topics such as his childhood, his ambition to join the army, his fitness routine and his relationships with leaders from other political parties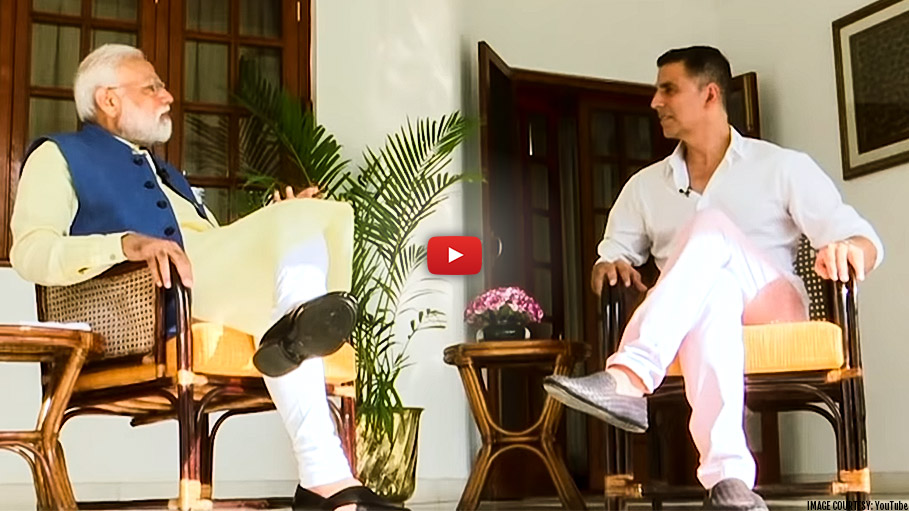 The completely "non-political" interview of PM Narendra Modi with Bollywood star Akshay Kumar has sparked controversies in the Indian media yet again. The interview was telecasted on ANI television channel on Wednesday. The interview in which Modi displayed a softer and lighter side of his strict persona took place in his residence in New Delhi. The interview surprised audiences as PM Modi is generally known to avoid conversations with the media. The PM is also known for not holding a single press conference in his five-year tenure as prime minister. Besides, a light-hearted conversation with a megastar amidst the scintillating election atmosphere was quite a surprise.
During his interesting conversation with the 'Singh is King' star, Modi touched upon lighter topics such as his childhood, his ambition to join the army, his fitness routine and his relationships with leaders from other political parties. The PM admitted that he enjoys watching memes on himself. He revealed that West Bengal Chief Minister Mamata Banerjee sends him Kurtas every year. He casually admitted that as a child he loved eating Mangoes, especially when he visited farms. He loved reading biographies of prominent personalities of the world. Throughout the conversation, the PM appeared cool and comfortable while revealing tidbits of his personal and professional life.
While speaking about his anger management skills, Modi revealed that writing about an unpleasant situation in a couple of pages and then tearing it helps him to manage anger. Sometimes while writing about the situation and analyzing it; he would come to the conclusion that he himself was wrong in many instances.
Despite the interview being engaging, it has sparked a debate. Why? It's because of the timing of the interview. Questions are being raised as to why an organized televised interview was aired during the elections. This act could greatly influence voters. It could easily tilt the scales in favour of the BJP party.
Media personalities like Rajdeep Sardesai were quick to take to Twitter and share their witty views with a tinge of sarcasm on the interview.
Another commenter said that Modi's biopic was stopped from hitting theatres; the candid interview, however, has successfully covered his entire biography.
There are others who've enjoyed the leader's conversation.
There are viewers who believe that there's no harm if the PM has chosen to show the real person behind the rigid persona while for many others the interview is a carefully planned political move that was created to influence voters. What do you think are the reasons behind this candid interview while the entire country is in election mode? Do share your views.
Get our hottest stories delivered to your inbox.
Sign up for Scrabbl Newsletters to get personalized updates on top stories and viral hits.