President Volodymyr Zelensky and Olena Zelenska Get Featured in Vogue
Ukrainian President Volodymyr Zelensky, and his wife, Olena Zelenska have appeared on the cover of Vogue magazine.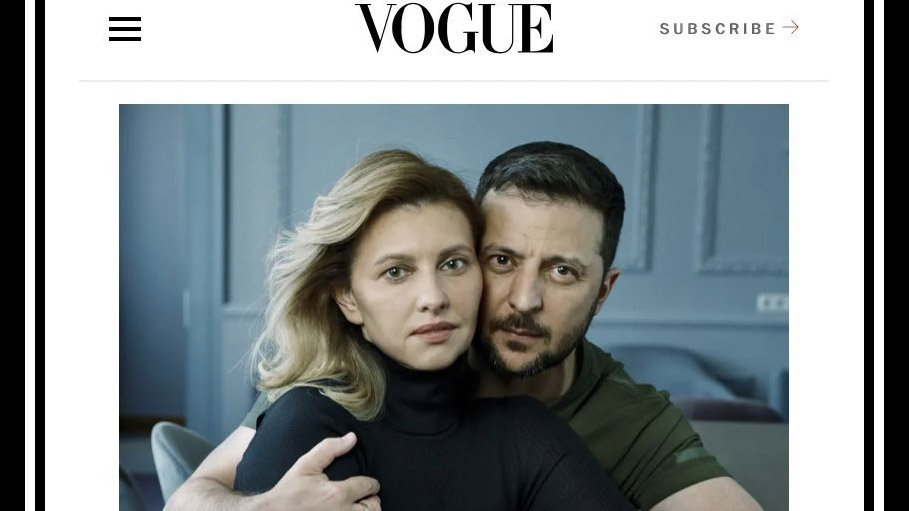 Ukrainian President Volodymyr Zelensky, and his wife, Olena Zelenska have appeared on the cover of Vogue magazine.
Vogue has posted the picture of Olena Zekenska on its digital cover and called it 'Portrait of Bravery.' She's seen seated on the steps of the presidential office, dressed in black pants and white top.
The emotional toll the war has taken on her is evident.
In another photograph she's captured standing amidst wreckage while soldiers are spotted standing nearby; a strong symbol of the crisis, Ukraine is undergoing.
Instagram
Instagram
The couple discussed key aspects of their personal lives such as their marriage, history on how the two of them met, and how they are spending their time without their children who had to be separated from them due to the ongoing war.
"As the war in Ukraine enters a critical new phase, the country's First Lady, Olena Zelenska, has become a key player - a frontline diplomat and the face of her nation's emotional toll," Vogue said on its Instagram handle.
Olena told the magazine that she met her husband while they were at school in their hometown of Kryvyi Rih in southeast Ukraine. They however began dating while at university and formed a satirical troupe.
She used to write for the comedy troupe that threw Zelensky into the limelight.
Olena discussed her journey from being a comedy writer to the first lady of Ukraine. She expressed that she was never eager or prepared to take such a huge role as the first lady of Ukraine.
I like being backstage – it suited me," she told the US magazine. "Moving into the limelight was quite difficult for me. I am trying to do my best," she added.
There was a point when she aggressively opposed her husband's plans to become a President "because this is a very difficult move; it's not even a project, it's another direction in life."
She told Vogue: "I respected his choice and I understood this was an important step for him to make. At the same time, I felt that my life and the life of my family would change radically."
Although Olena prefers to keep a low profile, she proved herself to be a brave leader amidst the war crisis by helping her citizens to cope with trauma by setting up various government initiatives such as mental-health hotlines.
She recently made an unannounced visit to Washington and met President Biden and first lady Dr Jill Biden and put forward requests crucial to her country.
Even before the war she worked for the needs of special children, worked towards fighting Domestic Violence, and implemented nutrition programs in schools.
Olena Zelenska who is an advocate for equal rights for men and women, remained in the country to be a powerful role model especially to the women and children of Ukraine who didn't flee the country just like her.
Get our hottest stories delivered to your inbox.
Sign up for Scrabbl Newsletters to get personalized updates on top stories and viral hits.