Rahul Gandhi Winking after Giving Narendra Modi a Hug Raises Eyebrows During No Confidence Motion
Modi had no clue of what was happening and he gestured at Rahul wanting to know what he was up to. But even before Rahul could respond, Modi found himself embraced in a hug.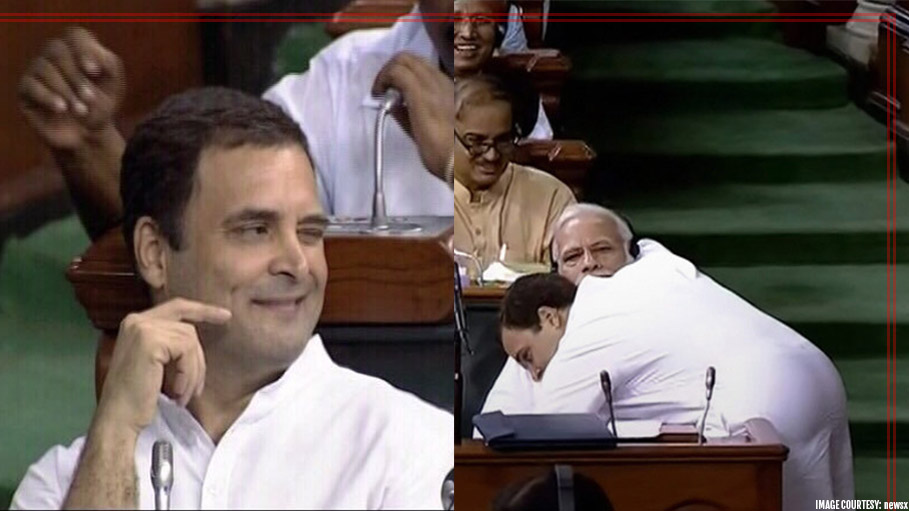 On Friday, after firing a long speech, Rahul Gandhi surprised members of the Parliament when he gave Prime Minister Narendra Modi a warm hug during the No Confidence Motion. Rahul Gandhi stirred up yet another controversy when he later followed it up with a wink to a party member.
During the action-packed No Confidence Motion in Parliament, Rahul Gandhi gave an intense speech which was nearly an hour long. He attacked Modi by saying that the Prime Minister was the friend of only the high profiled and that he was not concerned with the plight of the poor and the needy of the country. He spoke about the 'Jumla strikes' which Modi seemed to be annoyed about. Rahul covered a wide range of topics such as women's safety, allegations of corruption in the Rafael deal, GST, false promises of jobs, unemployment, non-waiver of farmers' loans and Modi's silence on the attacks on women, minorities, and Dalits.
His long and fiery speech triggered angry reactions from party members of the BJP but he was simultaneously backed and applauded by the members of his own party. Throughout the speech, Rahul Gandhi was mocked because of his faltering Hindi but that didn't deter him in anyway. Gandhi said that he has no anger when the opposition calls him by names like "Pappu." He added that he really had to thank RSS and BJP who taught him how to be a Hindu. Rahul stated "This is what it means to be a Hindu. PM Modi and BJP have taught me what it means to be a congress person, the meaning of being a real Indian, a devotee of Shiva and a real Hindu. For this, I thank them." Following the speech, he walked around the oval table reaching towards Modi's front row seat at the far end while signaling to Modi.
You can watch the clip here:
https://timesofindia.indiatimes.com/india/rahul-gandhi-gains-confidence-pm-modi-gets-a-hug/articleshow/65076562.cms
Modi had no clue of what was happening and he gestured at Rahul wanting to know what he was up to. But even before Rahul could respond, Modi found himself embraced in a hug. The other parliament members including speaker Smriti Mahajan were, of course, amused and shocked. As Rahul Gandhi walked away, Modi hurriedly called him back, again shook his hand, patted him on the back and whispered something in his ear smilingly. The hug seemed to have broken the ice between the two powerful opposition leaders. Rahul Gandhi then returned to his seat. After the shocking hugging act, what many defined as audacious, Rahul was yet again captured winking at his party member. This act of Rahul has yet again set the Twitterati community into a mad frenzy.
What an astonishing performance by @RahulGandhi. It was a game-changing speech, tearing apart the Govt 's claims & ending with that unscripted hug that has literally taken the BJP's breath away #BhukampAaGaya
Oh that wink my friend! Hit them hard where it hurts..Congratulations for unearthing their mines of lies & a fantastic speech @RahulGandhi
Marvel: Infinity War is the most ambitious crossover event in history. Rahul Gandhi: Hold my chai
Result jo bhi ho, Pappu lagta hai pass ho gaya — Jhappi ki kasam@narendramodi @RahulGandhi
By offering Modi a hug, Rahul clearly intended to send out a message loud and clear that the motto of the Congress party is love and peace and his aim is to emanate that same love in the hearts of the BJP members too. This act of Rahul will definitely go down in the history of Indian Parliament.
Get our hottest stories delivered to your inbox.
Sign up for Scrabbl Newsletters to get personalized updates on top stories and viral hits.