Saudi Arabia's First Female News Anchor Makes Her Debut
The anchor Weam Al Dakheel presented the news bulletin on the state-run Television Channel, Al Saudiya.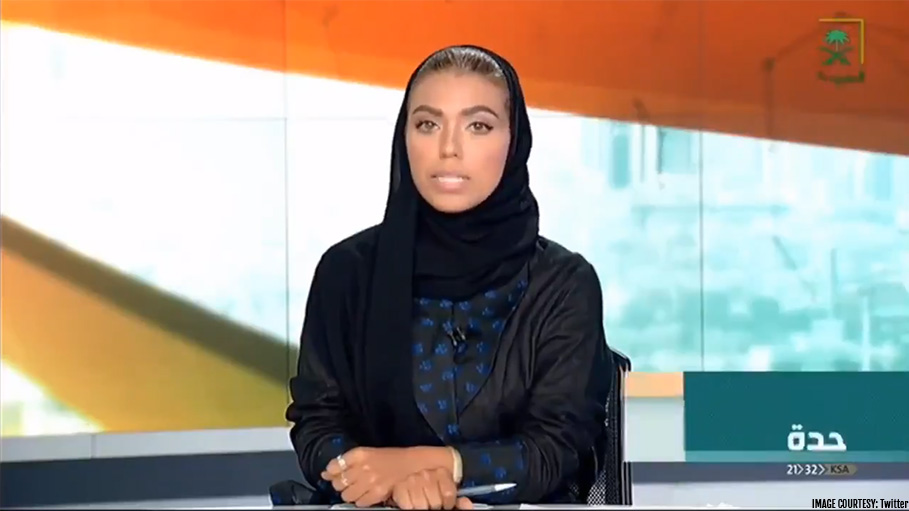 The country which is often regarded as a conservative society, with women mainly indoors but recent reforms in Saudi Arabia is sparing woman to equally take part in the development process. Recently a journalist from Saudi Arabia has made history when she became the country's first woman news anchor to deliver an evening news bulletin on TV. The anchor Weam Al Dakheel presented the news bulletin on the state-run Television Channel, Al Saudiya.
Weam Al Dakheel presented the Channel's 9.30pm news bulletin along with a male colleague thereby drawing huge appreciation. The journalist also received praise on social media, as her appearance on National TV also marked a milestone in the deeply conservative country. Before joining Al Saudiya, Al Dakheel has also worked as a reporter for CNBC Arabia and as a presenter for the Bahrain-based Al-Arab News Channel.
Al Saudiya, earlier known as Saudi TV Channel, is a state-run TV Channel and is run by the Ministry of Culture and Information of Saudi Arabia.
This move is also seen as a part of Saudi Arabia's Vision 2030 reform programme initiated by Saudi Arabia's Crown Prince Mohammad Bin Salman, which aims to diversify the economy of the kingdom from oil to other trades as well and also to relax strict rules on gender restrictions. In the last one year, he has lifted a number of restrictions, particularly restrictions on women, so that the conservative kingdom can be open to new thoughts and ideas.
Saudi TV meanwhile tweeted on its official Twitter handle, "Jumanah AlShami was the first woman to present morning newscasts in 2016. Today history repeats itself as #WeamAlDakheel becomes the presenter of the main nightly newscast, setting a precedent in a historic first for Saudi TV 1".
Saudi based air career Flynas also had announced this month that they are recruiting Saudi women, as co pilots and flight attendants and this too for the first time in the Kingdom nation. In June this year, the Saudi government had lifted the ban on driving by women allowing them to hold the driving license. Before this, Saudi Arabia was the only country in the world where women couldn't drive a car. In March, Saudi Arabia has also organized first ever women's run, marking it a historical moment for women to participate in the local sports. More than 1,500 women participated in the historic event.
Inspite of all these progressive reforms Saudi Arabia is counted as one of the world's most dangerous countries, when it comes to women. The Thomson Reuters Foundation published a poll in the month of June, where 550 experts on women's issues have ranked Saudi Arabia among the five most dangerous countries, after India, Afghanistan, Syria and Somalia.
Saudi Arabia is also named as the second worst for women in terms of safety and security after Afghanistan for economic opportunities and discriminatory policies. Experts are also of the opinion that the main problem is Saudi Arabia's guardianship policy, where a women must have a permission from a male member of her family to work, marry, travel and also even to get some medical help.
Get our hottest stories delivered to your inbox.
Sign up for Scrabbl Newsletters to get personalized updates on top stories and viral hits.