Secret Love Story of Winston Churchill and Doris Delevingne
Great Britain's one of the most successful statesman, diplomat and its Prime Minister too had a love story with Doris Castlerosse, for decades is finally confirmed with the revelation of a tape recently.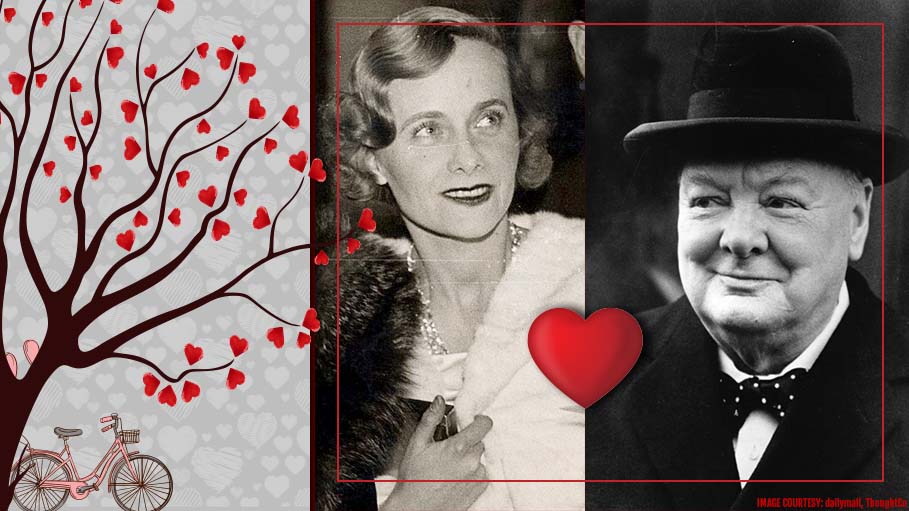 Great Britain's one of the most successful statesman, diplomat and its Prime Minister too had a love story, which was kept as secret and which remained on surface as gossip that the politician did have an illicit romance with Doris Castlerosse, for decades is finally confirmed with the revelation of a tape recently.
The former prime minister of Britain is said to have been unfaithful to his wife Clementine and was involved with the London socialite during the 1930s. Now with the discovery of a taped interview of Churchill's former private secretary Sir John 'Jock' Colville it is confirmed as the affair.
Two years before his death in 1987, Sir John told archivists at Cambridge University's Churchill College on the tape on record, 'Winston Churchill was not a highly sexed man at all, but I remember one such occasion when he slipped and it was Doris'. Dr Warren Dockter of Aberystwyth University, who recently discovered the revelation, declared the recording in the tape as bombshell.
The affair between Churchill and Lady Castlerosse, great aunt of model Cara Delevingne took place when they both holidayed together on four occasions between 1934 and 1936 at a chateau owned by an American actress in the south of France. It was here that Churchill, a keen amateur artist also painted Lady Castlerosse portrait. One canvas shows her reclining languidly on a couch.
At a time when Churchill's marriage to his wife Clementine was going through a rocky patch and his political career was in the doldrums and friends say he sought refuge, albeit briefly, in her arms.
Caroline Delevingne a niece of Lady Castlerosse confirmed their affair in the interview to Channel 4 documentary, named Churchill's Secret Affair, which is to be released soon. 'They had an affair,' she said. Whenever Churchill use to visit her, all the staffs were all given off for the day and next day, Doris has said this to her mother, she said.
The affair was only for four years between 1933 to 1937, when Churchill was not in the office of the Prime Minister. In a 1934 letter found by Professor Richard Toye, of Exeter University, Churchill wrote to his Lady Castlerosse, 'What fun we had at Maxine's. It was beautiful having you there'.
By 1937 the affair had run its course. Churchill threw himself back into front line politics and devoted himself to driving home his warnings about the danger posed by Hitler.
After the loved affair ended both of them met again in the US in 1942 during his visit to Washington, Churchill went away for a private dinner with his former lover. According to Valentine, Lady Castlerosse's husband, during this meeting Churchill expressed his concern that the hot portrait he painted of her might fall into the hands of US gossip magazines and undermine his reputation at a time when the Anglo-American alliance needs to remain steadfast.
There may be a blackmailing chapter of the whole episode. Dr Warren Dockter also says, Prime Minister Winston Churchill was also vulnerable to being blackmailed by gossip-mongers and have handle them accordingly. Dockter said in a certain period of time he must have thought, "I just have to deal with this and get her back to Britain as soon as possible."
Doris Castlerosse also wanted to return to Britain from US with the portrait, which was safely in her possession, accordingly it was arranged. In 1942 Lady Castlerosse also wrote a letter to US President Franklin Roosevelt thanking him for his efforts to get her safe passage home on behalf of Churchill.
Though Churchill and Lady Castlerosse never met again. She died of an overdose of sleeping pills at the Dorchester Hotel, in London's Park Lane on December 9, two months after they met in US. There is no record of Churchill's reaction on her death. But after her death, Lord Beaverbrook, a newspaper magnet and an ally of Winston Churchill, met Lady Castlerosse's brother and took possession of the paintings.
Dr Dockter says the revelations about Churchill's affair with Lady Castlerosse and his portrait of her also threw new light on the wartime leader, "When he's leading his country in a global war and under enormous pressure, he comes to fear that people might get wind of the affair he had with Lady Castlerosse. It underscores his greatness that in the midst of all that pressure he can break off to deal with that potential problem, Churchill has been deified, but this chapter of his life will allow us to see him as a complex character of the history. But he is still a national hero, and also a guy who has an affair."
Lady Castlerosse had also had an affair with Churchill's son Randolph earlier in the 1930s when he was 21.
Get our hottest stories delivered to your inbox.
Sign up for Scrabbl Newsletters to get personalized updates on top stories and viral hits.