The Miraculous Rescue Story of Abhilash Tomy, from One of the World's Remotest Locations
Indian naval commander was severely injured by the monstrous storm, his toes were numb, he could not stand and he could not reach an emergency grab bag that contained a satellite phone.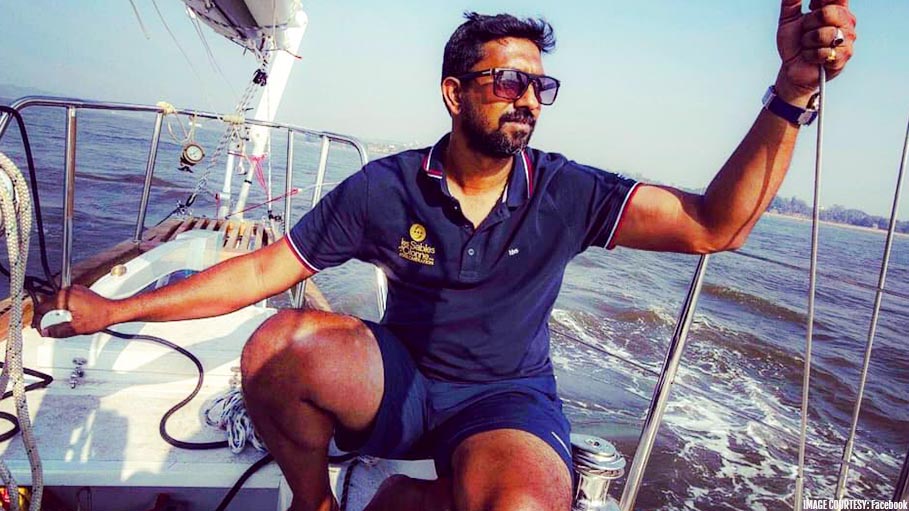 What started out as an adventurous challenge for Abhilash Tomy took a disastrous turn. Read to know Abhilash Tomy's horrific fate on the high seas.
Abhilash Tomy, 39, is an Indian naval commander who was enthusiastically competing in the 2018 Golden Globe race which is a non-stop 30,000 solo yachting competition. Only the bold could ever think of participating in this competition as this challenge requires one to travel all alone on a yacht and take on the beastly high waves while circumnavigating the world. The most challenging aspect, however, is the participant doesn't have the support of modern aid while navigating the deep seas.
The Indian naval commander's yacht 'Thuriya' had a good start on July 1st from France, however, destiny had different plans for the brave adventurer. This was his second solo circumnavigation. His yacht, unfortunately, hit a storm on Friday more than 3,000 kilometers off the coast of Australia. Tomy was seriously wounded by the monstrous storm that left him with a severe back injury. Tomy had to immediately type out a distress message that read "ROLLED. DISMASTED. SEVERE BACK INJURY. CANNOT GET UP."
Australian officials described the location where Tomy's yacht was wrecked to be one of the remotest places on earth. Chances of rescuing a person from here are a bare minimum. The exact location was 1900 miles southwest of Perth in Western Australia. After the Indian sailor sent the first message he was not heard from for around 24 hours. After a long duration, Tomy sent across another message stating his toes were numb, he could not stand and he could not grab an emergency grab bag that contained a satellite phone.
His last text was "LUGGED CANS OF ICE TEA. HAVING THAT. VOMITING CONTINUINGLY. CHEST BURNING Position: 39′ 33.512 S 077′ 41.608 E".
Rescue operations in full swing
For the next four days, rescuers, by all means, tried to reach Tomy who laid injured in his vessel while the mast and sails laid dragging in the water. 'Thuriya' was being tossed around with Tomy in his bunk, in one of the remotest places on earth. Weather conditions were also not favoring the rescuers. One can imagine what would be going through a mind of a sailor who lays all alone injured with not a single soul to talk to and drifting away in the gigantic isolated ocean. Tomy activated his emergency beacon, uncertain whether any rescuer would come and get him out from the secluded deep seas.
When photographs were taken by the Indian P8 Orion military plane that flew out of Mauritius to assess the yacht's condition, they saw the yacht dismasted while the rig was still attached to the hull acting as a sea anchor. When Tomy heard the aircraft, he signalled by switching the EPIRB off for a short time and then switching it on again.
The Australian Navy dispatched a warship HMAS Ballarat, and a reconnaissance aircraft to search the yacht over the weekend. The Indian Navy also sent a ship and a plane to search the area. After days of lying all alone in a capsized yacht, drifting in the high seas, Abhilash Tomy was rescued by the French fisheries patrol vessel Osiris. They rescued the Hero and finally assisted him to board Osiris. The Joint Rescue Coordination Center in Canberra, Australia reported: "Tomy is conscious, talking and on board the Osiris." The Osiris which finally rescued Tomy was previously a pirate fishing vessel which was confiscated by the French.
The Indian commander's actions were heroic, not so much because he ventured into the deep oceans but more so because he was resilient, strong-willed, patient, had the presence of mind and above all, he displayed tremendous mental grit. The qualities of a true sailor indeed.
Get our hottest stories delivered to your inbox.
Sign up for Scrabbl Newsletters to get personalized updates on top stories and viral hits.