The Picture of This Italian Nurse Becomes a Symbol of Italy's Fight against Corona
A picture of a nurse sleeping over the keyboard, appearing extremely exhausted has caught the attention of online viewers.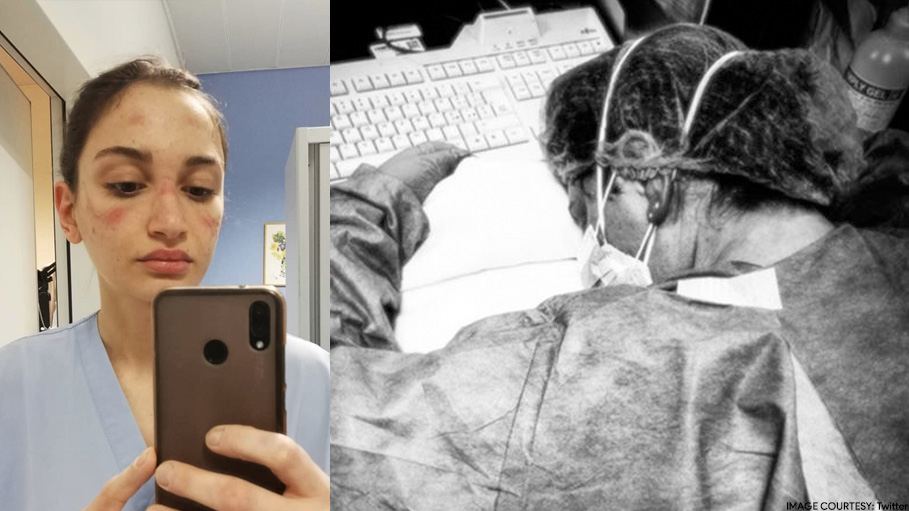 A picture of a nurse sleeping over the keyboard, appearing extremely exhausted has caught the attention of online viewers.
The picture is of a nurse by the name of Elena Pagliarini in the northern region of Lombardy in Italy which has been worst affected by Covid 19.
It is said that during normal times Lombardy enjoys one of the best healthcare systems.
The nurse who saw her picture circulating in media told the Corriere della Sera newspaper, "On one hand I was annoyed to see my photo everywhere; I was ashamed of showing my weakness. But then I was happy because I got beautiful messages from people who empathised with my story," she said.
While the world is taking precautions, panicking and passing judgements during the crisis, the real heroes are working out there in unsettling and unfavourable conditions. They are- our doctors, nurses, and other healthcare officials.
While we still have time to ponder over the outbreak and take necessary action, healthcare officials worldwide don't even have time for themselves to leave alone their families. They have to be quick in their decision making. Lives of millions of people depend solely on their decision making.
Nurse Elena Pagliarini shared these thought-provoking lines which gives us an insight into the thought process of health officials during the crisis, "I actually don't feel physically tired, I can work for 24 hours straight if it's necessary but I won't hide the fact that right now I'm anxious because I'm fighting an enemy that I don't know."
Another doctor by the name of Daniele Macchini wrote a post on Facebook saying, "It's almost two weeks since I've seen my son or my family because I'm worried about infecting them. I settle for some photos of my son which I look at through my tears, and a few video calls," he says.
Alessia Bonari a nurse in the Tuscan town of Grossetto posted an image on Instagram that shows marks on her face as a result of wearing a surgical mask during those long working hours.
"I'm worried because the mask might not be fitting right on my face, I might touch myself accidentally with dirty gloves, the glasses might not totally cover my eyes," she wrote in the caption.
Alessia explained that wearing the protective gear meant that she couldn't drink water or use the washroom for six hours at a stretch. Besides the physical fatigue, she revealed that she and her colleagues were "psychologically tired" of the workload.
A psychologist by the name of Monica Agnesone explained that doctors and health officials were afraid "of making mistakes, of being infected, of not being able to carry on in these conditions."
According to the Italian media, in Puglia region alone 50 doctors have been tested positive after coming in contact with patients. Around 76 staff members had to be quarantined. Six employees needed intensive care. Some of the staff have defined the conditions as "war-like." There have been more than 1400 deaths and 21,000 infections in Italy.
Undeniably it is the doctors, nurses and healthcare officials that need to be applauded for their incredible work risking their precious lives. We hope doctors and other health officials would never have to face a situation where they have to choose between saving themselves or the patient he or she is treating. And if we are successful in winning the battle against Coronavirus someday, it is only rightful for health officials worldwide to be recognized and bestowed with the most prestigious honours.
Get our hottest stories delivered to your inbox.
Sign up for Scrabbl Newsletters to get personalized updates on top stories and viral hits.