Thomsen Launches 'Out of the Box' Products for Indian Market
Presently, the product line includes luxury talalay latex mattress and pillows, revolutionary cooling gel memory foam, baby safe mattresses, pillows and affordable luxury mattresses.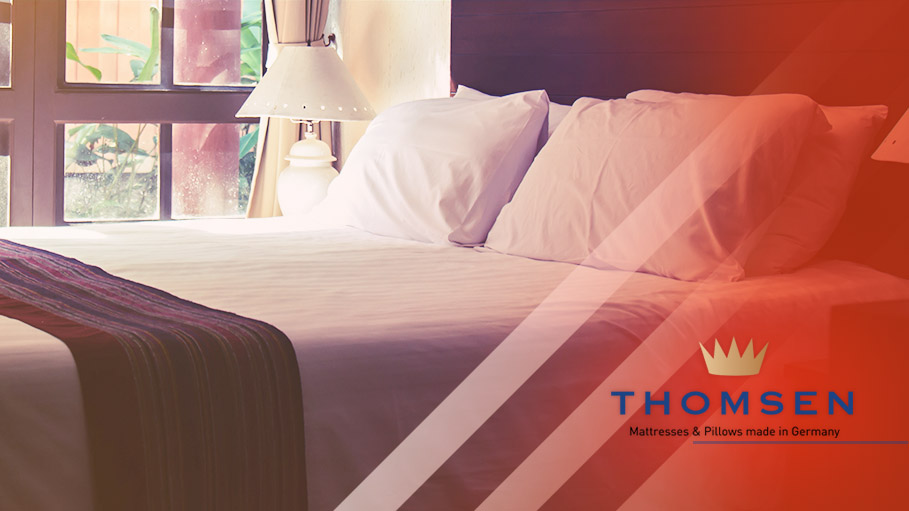 Thomsen is a German brand and has been a market player for more than 40 years. The brand did a green field investment in 2013, and months on months the brand is picking up and expanding their product line. In 5 years, Thomsen has expanded their product line from adult mattresses to baby pillows. Presently, the product line includes luxury talalay latex mattress and pillows, revolutionary cooling gel memory foam, baby safe mattresses, pillows and affordable luxury mattresses. The brand is planning to expand their product line even further by developing different products for each customer.
For your weather conditions
Notably, Western cities have a high humidity level. Particularly, Mumbai is tropical, wet and dry climate i.e it can be described as moderately hot with high humidity levels. The climatic conditions make the sleeping surface unhygienic. People tend to sweat at least a litre at night, other mattresses do not have a potential of absorbing the sweat, rather generate heat as the temperature increases. On the other hand, vita talalay latex absorbs the sweat and understands the human temperature. The technology advancement used in the mattress creates a warm sleeping surface as the outside temperature drop and decreases the temperature of the sleeping surface when the outside temperature increases. Similarly, the open cell structure present in Thomsen mattress absorbs the sweat and keeps the mattress highly hygienic. Due to high elasticity, the mattress takes the shape of the body and has no motion transfer. People sleeping together do not get disturbed with tossing and turning of their partners.
Living in Mumbai is quite demanding and challenging due to long working hours, people lack good sound sleep because of time constraint. Not having a smart mattress leads to disturbed sleep and not getting enough rest. However, Thomsen has smart features like no rollback effect, anti-dust, mite and mould proof, a special design that relieves the pressure points and rejuvenates the body for the next day, targeted point elasticity etc.
How Talalay latex is different
According to 'India Mattress Market Overview, 2016-2022', the market share of home and decor industry is growing at a rapid pace in India to meet the demands of people. Earlier, Indians used to ignore the importance of mattress in consumer's lives. However, Indians are now getting informed and educated about the increased importance of the mattress in the consumers' lifestyle. 5 years back people were comfortable sleeping on a normal cotton or spring mattress, which were ideally not the most hygienic options. However, with the changes in lifestyle, people are becoming more concerned about the perfect and hygienic sleeping surface. Consumers are increasingly concerned about lifestyle and the best possible option available for them. As employment is picking up in India, the spending power of the consumers is getting stronger. People no longer want to sleep on a regular surface that does not provide them ample amount of rest, particularly after a long day at work people want to sleep healthy and peacefully. To be specific, citizens of metro cities are the victim of long working hours and less time for themselves.
Notably, people are investing time to google about the best orthopaedic mattress that relieves the pressure points and body aches. Noticing that, mattress industry is investing in technology to provide the best orthopaedic mattress options to people. Pioneer orthopaedic Mattress company- Thomsen invested highly on technology to get the mattress material like Talalay latex. The Talalay latex is made from the sap of rubber tree, that makes the mattress naturally hygienic. As the final product of sap of rubber tree has a higher elasticity, which allows the mattress to contour around the body as soon as a person rests on it. Not only that, the production process creates an open cell structure in the mattress which allows the air to pass in and out, that ultimately increase the ventilation, creating a hygienic sleeping surface.
Topper: The new luxurious add on
Thomsen India, international mattress and pillow brand, has recently launched a 5 CM Vita Talalay Latex topper, perfectly suitable for the Indian market. This can be rolled around the corner, topped on the current mattress, folded, carried along while travelling, gifted or stored at home. Focusing on premium quality products the brand is continuously aimed at providing undisturbed and premium quality sleep.
Aimed at making life comfortable, simple, magnificent and definitely luxurious topper can be considered to be the most trending thing. Considering that these toppers can easily be folded and traveled along, according to our research, it is most preferred by the CEOs and senior officials, who are mostly traveling and spending time in the hotels around the globe. Further, these toppers manufactured of high premium quality latex is not just comfortable but also hygienic. Now, interestingly your old sagging mattress can be converted to a hygienic, comfortable vita talalay mattress with a topper.
In addition to the above travel and lifestyle benefits and requirements, the Vita Talalay Latex toppers from the brand can solve all your orthopaedic and health-related issues. In today's times with the busy schedule and hectic routine, these toppers are the perfect ones for all your health issues. These conform around the body, giving required rest and relaxation to each and every part of your body.
Further, these toppers are even recommended to the newborn babies to sleep on. We have known that newborn babies have sensitive skin and definitely must not be exposed to any other material than latex material. So, these Vita Talalay Latex toppers are the exact that you require this time!
Get our hottest stories delivered to your inbox.
Sign up for Scrabbl Newsletters to get personalized updates on top stories and viral hits.