Trump Finally Accepts His Daniels
US President Donald Trump has paid hush money to porn movie actress Stormy Daniels to stay silent about their alleged relationship.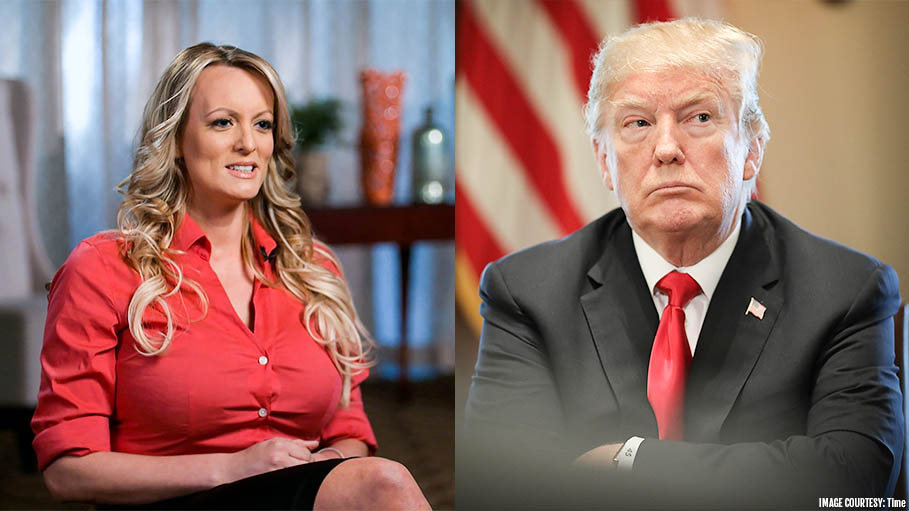 Now it is clear that US President Donald Trump has paid hush money to porn movie actress Stormy Daniels to stay silent about their alleged relationship, during his election campaign of 2016. After much denial, the President too accepted that he has reimbursed his personal lawyer the amount of $130,000. This all happened after Trump's attorney, Rudy Giuliani, during a media interview opened up on the issue contradicting Donald Trump's earlier claims that he didn't know of any money transaction between his lawyer and Stormy Daniels.
In the interview, Giuliani accepted that the money to repay Donald Trump's personal lawyer Michael Cohen had been "funneled through the law firm and the president repaid it." When asked, whether President Donald Trump knew about the transaction, Rudy Giuliani said, "He didn't know about the specifics of it, as far as I know. But he did know about the general arrangement that Michael would take care of things like this, like I take care of things like this for my clients. I don't burden them with every single thing that comes along. These are busy people."
In a separate telephonic interview for a private television channel last week, President Trump accepted the fact that Cohen represented him in the "crazy Stormy Daniels deal". Thus the comments by both President Trump and his attorney Giuliani appears to contradict his earlier statements several times, when he denied knowing of any payment made to porn actress Stormy Daniels as part of the nondisclosure agreement she signed days before the presidential election of 2016. Last month also on board Air Force One, when Media persons asked Trump, whether he knew about the payment his lawyer Cohen made to Stormy Daniels, he flatly replied "No".
Rudy Giuliani, who joined President Donald Trump's legal team last month was the Former Mayor of New York and an ex-government attorney. Though Giuliani's claims may have been intended to safeguard President Donald Trump, but it backtracked. He wanted to save President Trump, that the money used for paying Stormy Daniels was not from the campaign money. But at the same time, it raised a number of questions, such as, whether the money represented repayment of an undisclosed loan or could be seen as the reimbursement for the election campaign expenditure.
Meanwhile, Stormy Daniels' lawyer, Michael Avenatti, has reacted to the comments as "a stunning revelation." He also continued saying, "Mr. Trump evidently has participated in a felony and there must be serious consequences for his conduct and his lies and deception to the American people".
Stormy Daniels, whose real name is Stephanie Clifford, has time to time claimed that she had a sexual relationship with Donald Trump in 2006, few months after his third wife Melania Trump gave birth to his youngest child. She also claimed that she was paid the hush money of $130,000, so that she stays silent. She was made to sign a nondisclosure agreement, which now she is trying to prove invalid. Recently she has filed a defamation suit against US President Donald Trump after he questioned a composite sketch of a man, which she released claiming the man has threatened her to stay silent over the issue.
Get our hottest stories delivered to your inbox.
Sign up for Scrabbl Newsletters to get personalized updates on top stories and viral hits.