Trump's Former Campaign Manager Met WikiLeaks Founder?
WikiLeaks is accused of leaking thousands of emails allegedly stolen by Russian hackers from Trump's rival Hillary Clinton campaign.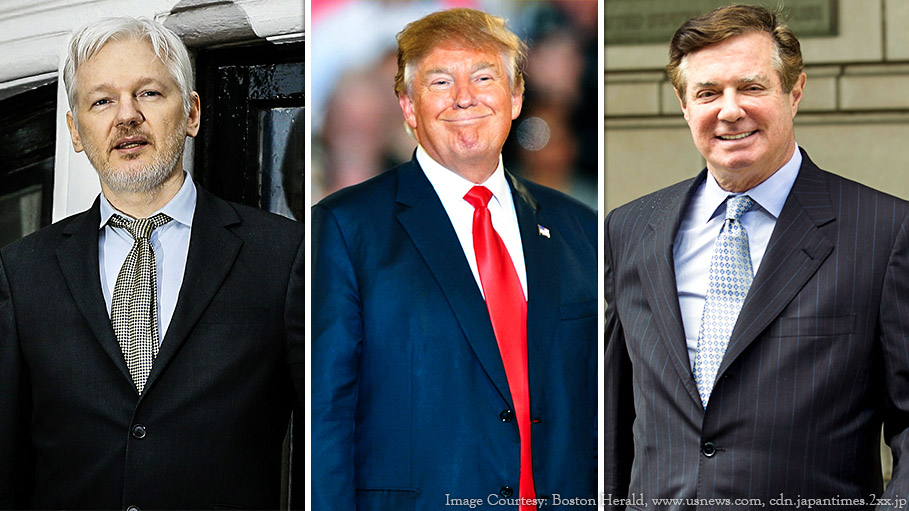 Donald Trump's former campaign manager Paul Manafort has held secret meetings with WikiLeaks founder Julian Assange, in a bid to win the US Presidency. As claimed by the recently published reports on The Guardian, bringing in waves of criticisms against the US President.
According to the report, Paul Manafort traveled to the Ecuadorian embassy in London in 2013, 2015 and then in March 2016 to meet Julian Assange. WikiLeaks is accused of leaking thousands of emails allegedly stolen by Russian hackers from Trump's rival Hillary Clinton campaign.
The Guardian quoted 'internal documents' produced by Ecuador's Senain intelligence agency, which has listed a "Paul Manafort" among the guests of Julian Assange at the embassy. Though WikiLeaks has denied the report, tweeting, it is, "willing to bet the Guardian a million dollars and its editor's head that Manafort never met Assange".
Paul Manafort has also denied the allegation of his meeting with WikiLeaks founder Julian Assange, after the Guardian newspaper published a story alleging the two met at least three times, including once in 2016. His spokesman said, "This story is totally false and deliberately libelous. I have never met Julian Assange or anyone connected to him. We are considering all legal options against the Guardian, who proceeded with this story even after being notified by my representatives that it was false".
The Guardian, though has said, it was unclear why Manafort visited Assange, who has been living at the Ecuadorian embassy since he sought refuge in 2012 over a Swedish sexual assault case against him, that was later dropped. Assange also fears his extradition to the US over 2010 WikiLeaks release of secret US military documents and diplomatic cables.
In July this year US Special Counsel Robert Mueller, who is investigating possible collusion between Donald Trump's 2016 Presidential election campaign team and Russia, has charged 12 Russian spies with conspiracy to hack Democratic National Committee computers and publishing sensitive files in an effort to disturb the election. During the investigation it is also found that WikiLeaks, which has been described as Organization 1, in the court order is used as the platform, the Russians used to release the stolen emails.
The prosecutors have said that Manafort had lied to investigators, in violation of a plea agreement he made in September this year. Paul Manafort had agreed to cooperate in the Mueller's probe after pleading guilty to financial fraud charges related to his work as an unregistered lobbyist for Ukraine, prior to his engagement with the Trump campaign. Paul Manafort managed Donald Trump's election campaign from March to August 2016.
Get our hottest stories delivered to your inbox.
Sign up for Scrabbl Newsletters to get personalized updates on top stories and viral hits.