Trump Took to Twitter with 52 Tweets in 34 Hours
Before signing off from his twitter Trump sent a final one-sentence tweet in all caps, which is also his 2016-rallying cry, "MAKE AMERICA GREAT AGAIN!"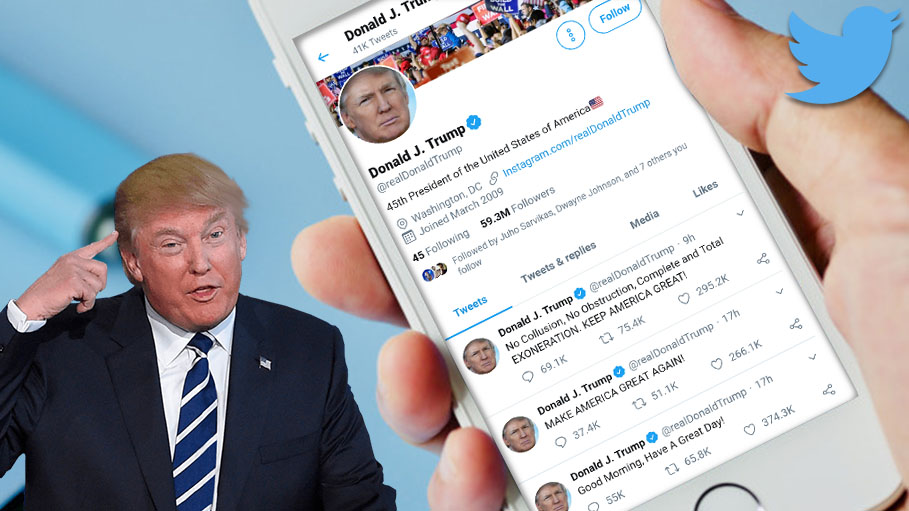 As Franklin Roosevelt ushered his intimate fireside chat through his mastery of radio and John Kennedy tactfully using then the new medium of television, Trump has now redefined presidential communication with his use of social media. This weekend, US President Donald Trump's Twitter handle was aberrantly engaged, as it was busy tapping out 52 tweets in just 34 hours.
The 52 marathon tweets of the President began just after 11:50 am last Saturday morning (US time) and the final one was posted at 10:04 pm the next evening. This also marks his second prolific two days since he became the President of United States, surpassing 53-message flurry last time, on the arrival of Hurricane Florence.
The weekend could have been quiet and peaceful for the President, celebrating his son's birthday Barron, who turned 13 recently, which he did with a small gathering and also attended a Lenten Service at the historic St John Episcopal Church.
Apart from these two engagements the 45th president was rather busy using Twitter handle to speak his mind on the issues including moving global markets and outraging politicians for days to come. In the past, he has used Twitter to fire Cabinet members, belittle his rivals, muddled world leaders and entertain as well as infuriate, the masses. He also played media critic with unsolicited advice to the Fox News and CNN.
Some of his greatest tweets include, "Crooked Hillary" Clinton, the Russia "witch hunt" and "last in his class" John McCain, along with some new releases, like a demand that General Motors reopen an Ohio auto plant.
He found time to speak on many irrelevant issues under the sky including his suggestion to Fox to reinstate an anchor to question the patriotism of a Muslim congresswoman but he had said nothing to say about the killings of 50 Muslims in New Zealand.
One Republican strategist who is in knowledge about the day to day affair of the White House said on condition of anonymity that the staff had given up trying to control their boss. When asked by the Daily Beast, whether Donald Trump's tweets and retweets "speak for themselves", Press Secretary Sarah Sanders replied by simply saying, "Yes".
Though before signing off from his Twitter Trump sent a final one-sentence tweet in all caps, which is also his 2016-rallying cry, "MAKE AMERICA GREAT AGAIN!" With about 48,000 retweets the week later, it has become the most frequently shared message of all.
Get our hottest stories delivered to your inbox.
Sign up for Scrabbl Newsletters to get personalized updates on top stories and viral hits.