Uber and Waymo Enter into Legal Battle over Self-Driving Technology - Hollywood Style Drama and Revelations Unfold in the Courtroom that may Redefine Silicon Valley Practices
Alphabet's Waymo and Uber to meet in courtroom for proceedings on theft of intellectual property in connection with self-driving technology.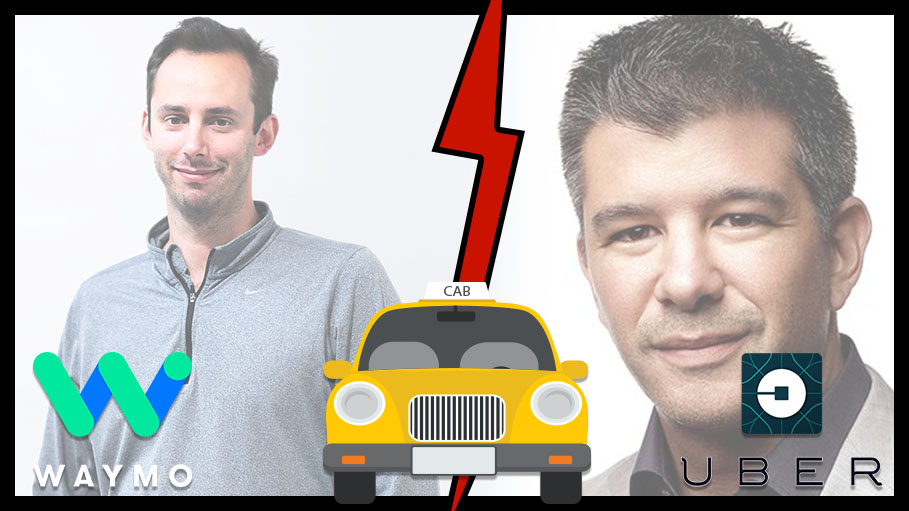 Finally the time has come for the two tech titans, Google's parent company, Alphabet's Waymo and Uber to meet in courtroom for proceedings on theft of intellectual property in connection with self-driving technology. In a classic picture-perfect manner, the drama and revelations that have unfolded so far, have led to the trial starting this week in San Francisco Federal Court, in which the jury members will be asked to clearly differentiate between trade secrets, which can be stolen, and knowledge or skill, which cannot. Whatever maybe the outcome of the case, it will raise alarm for companies thinking about hiring high-performing talent in this competitive tech world and also for engineers planning for job switch to companies in similar business lines as their current company.

Legal Interpretation of Trade Secret
In legal terminology, a Trade Secret is information in the form of a formula, practice, process, design, instrument, pattern, commercial method, or compilation of information not generally known to others or reasonably ascertainable by others by which a business can obtain an economic advantage over competitors or customers, and therefore it is the subject of significant efforts to guard its secrecy. In broader perspective, trade secret is information with economic value that isn't known to the public or others who might obtain value from knowing it. This doesn't extend to professional skills, knowledge and abilities, however it can be tricky to draw the line.

What trade secrets are involved in the Uber-Waymo legal battle?
Google started the self-driving project in 2009 that was launched in 2016 as Waymo, an independent company. Waymo places Anthony Levandowski, at the focal point of the case. Anthony, a top-grade engineer, worked on Google's self-driving car project before forging ahead to start a self-driving truck startup called Otto that was subsequently acquired by Uber paying $680 million for the deal.
Waymo alleges that Anthony Levandowski conspired with former Uber CEO Travis Kalanick to orchestrate the theft of eight trade secrets related to Uber's LiDAR (Light Detection and Ranging) Program, which employs laser beams to sense surroundings and avoid pedestrians, obstacles and other vehicles. One of the eight is a so-called negative secret, or a lesson learned from trial-and-error about a design dead-end or a solution that was abandoned. (Such information doesn't qualify as a trade secret if it's something that can be learned as a general skill.) Anthony is accused of downloading computer files before he left Waymo in 2016 and funneling the secrets to Uber's driverless program before he joined the ride services company.
Uber has been passionately intense in denying the allegations in the civil case, which has also triggered a criminal investigation by the U.S. Department of Justice. It's unclear whether that probe is focused on Uber or Anthony, who has consistently exercised his right against self-incrimination and is expected to do so again if called to testify during the trial. Anthony's refusal to relinquish his Fifth Amendment rights eventually led Uber to fire him last May, even though he had developed a close relationship with Travis.
How to Ascertain if Someone Stole Secrets or is Sufficiently Knowledgeable?
This will be a hot topic during the trial. The jury will need to sort two pieces of information. The first is the set of learned skills professionals develop as they get better at what they do and carry with them from job to job. The second is specific knowledge that's proprietary to an employer: designing decisions made after research, for example, or an algorithm developed to solve a particular problem. Trade-secret theft is stealing from the second piece. If the theft can't be traced through a paper trail, it can be revealed by anomalies in what would be a normal path of development. If the history of a project shows abrupt movement in a different direction, that can be a clue to trade secret theft.

What are the Applicable Laws?
In most states, including California, protection of trade secrets is guided by the UTSA (Uniform Trade Secrets Act). The first federal law for civil claims, the DTSA (Defend Trade Secrets Act), was signed in May 2016 by then President Barack Obama. A criminal federal statute, the Economic Espionage Act, was enacted in 1996. It's common in trade-secrets lawsuits for both the UTSA and the DTSA to be asserted, as they are in Waymo's case against Uber, but it rarely makes a difference. The rules of trial are similar under state and federal law.

Could the trial change how trade secrets are protected?
The lawsuit built over the year has generated so much heat revolving around allegations of deceit, betrayal, espionage and a high-tech crime that ripped apart one-time business relationship. The case has drawn so much attention that it may cause some companies to rework on their strategies of managing trade secrets in order to avoid similar circumstances or courtroom war. While Uber says it took abundant precautions when it hired the top-class engineer Anthony, critics including investors suing the company say it could have done more to anticipate and avoid the legal mess. Also, not to ignore the accompanying negative publicity and defamation that Uber is going through from recruiting him.
High-Profile Figures Expected to Participate in the Court Proceedings
The courtroom drama will feature an intriguing cast of high-profile personalities. The list of expected witnesses includes both the combative Travis and Silicon Valley venture capitalist Bill Gurley, an early Uber backer who later helped Travis's departure as Uber's CEO, Travis resigned last June under pressure as he refused to cooperate with Uber's legal team.
Two of the world's richest people, Google co-founders Larry Page and Sergey Brin, also may testify about the importance of Waymo's self-driving project and Anthony's role in it.
Waymo and Uber will each only have a total of 16 hours to make their case. The time constraint could prove more scary for Waymo. It will have to educate a 10-person jury about the intricacies of the eight trade secrets that Uber is accused of stealing, then prove that Uber used the technology in its vehicles or improperly shared it with others, whatsoever.

What is the expected outcome of the lawsuit?
The stakes in the trial are huge. Experts estimate the damages at nearly $3.7 billion. Waymo also wants a court order that would prevent Uber from using any of the technology that it says was stolen, a move that could foil Uber's push to design self-driving cars.
The lawsuit has already produced internal documents and sworn testimony that exposed spying programs and other shady tactics deployed by Uber in its business expansion. Those disclosures have compounded the company's challenges as it tries to portray a public image tarnished by the exposure of its own toxic behavior.
Among other things, Uber has acknowledged allowing rampant sexual harassment to occur within its ranks, a year long cover-up of a major computer break-in and a $100,000 ransom paid to the hackers and the use of duplicate software to thwart government regulators.
U.S. District Judge William Alsup frequently admonished Uber for its misconduct leading up to the trial. But he has also emphasized that Waymo faces the difficult challenge of proving that Uber used stolen technology in its self-driving cars.
While there may be some rework, with autonomous driving companies putting their programs or key employees in silos, the impact of this trial will mostly be felt by Waymo and Uber while competitors watch with much enthusiasm. Analysts believe the lawsuit is unlikely to result in major shifts in functioning of companies in Silicon Valley and worldwide. However, it will definitely educate companies on protecting their intellectual proprietary property and also avoid recruiting professionals from competitor firms.


Get our hottest stories delivered to your inbox.
Sign up for Scrabbl Newsletters to get personalized updates on top stories and viral hits.