Walmart Completes 3rd Edition of Women Entrepreneurship Development Program
The graduation ceremony was attended by women entrepreneurs, representatives from industry associations and the NGO sector.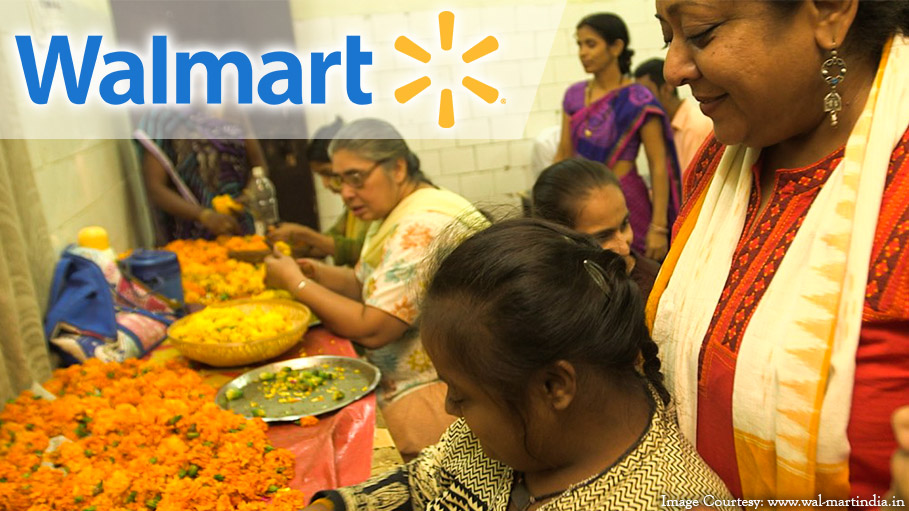 Walmart India, the wholly owned subsidiary of Walmart Inc., announced the closure of the Third Edition of the Women Entrepreneurship Development Program (WEDP) with 75 high potential, women-owned businesses (WOBs) graduating from the program. Training was delivered to 40 WOBs in classrooms and 35 WOBs attended the virtual sessions. The cohort represented both product categories, such as edible cutlery, eco-friendly stationery and gift items, apparel, herbal cosmetics, spices, processed food, tea, nutrition bars, as well as services sectors such as AI consultancy, energy efficient solutions, travel management solutions and research and insights, among others.
The graduation ceremony was attended by women entrepreneurs, representatives from industry associations and the NGO sector.
WEDP aimed at enhancing the participants' skills and capability to build robust and sustainable businesses. Supported by Walmart, WEConnect International led the overall coordination and conceptualization of the program, selection and assessment of participants while the Entrepreneurship Development Institute of India (EDII) customized the training curriculum and imparted the training. During the three-month program, the WOBs underwent a structured capacity building training, mentoring and technical support customized to the needs of their businesses. These training modules covered all key areas of business including replenishment, logistics, supply chain, product marketing, financial planning, resource management, marketing, finance, business strategy, operations, legal and compliance. The program was a successful blend of instructor-led training with faculty from EDII, industry experts, subject matter experts from Walmart and included a visit to the Best Price Modern Wholesale Stores owned and operated by Walmart India, to provide the WOBs added insights into the format and store operations.
Krish Iyer, President & CEO, Walmart India, said that he is pleased to announce the successful completion and graduation of high potential women business owners in the 3rd edition of the Women Entrepreneurship Development Program (WEDP). Walmart is deeply committed to women's economic empowerment and this year, the company harnessed the power of technology to reach even more women entrepreneurs. The company congratulates the graduates of this program and wish them success in their entrepreneurial journey, he said.
Walmart is committed to supporting efforts to empower women around the world and further strengthen the foundation where WOBs can succeed and grow. Walmart had launched the Global Women's Economic Empowerment (WEE) initiative in September 2011, a five-year initiative to use its unique size and scale to improve the lives of under-served women around the world. As part of the initiative, Walmart committed to source $20 billion from women for its U.S. business and double sourcing from WOBs internationally. While the commitment has concluded, the company still continues to source from WOBs.
Interestingly, WEDP is the flagship program designed specifically to help women entrepreneurs become more competitive, achieve higher levels of business growth and become resilient in today's dynamic business environment. It was launched in 2016 and over the last three editions, this program has touched nearly150 women entrepreneurs directly and several more indirectly. The program has played an important role in bringing diversity to the retail supply chain in India by creating a pipeline of women suppliers for the industry as well as for Walmart India and has gradually scaled up with an increase in the number of participants every year.
Edith Cecchini, Regional Director for Asia, WEConnect International, said that during the program, the women entrepreneurs participated in a structured capacity building training and mentorship opportunities to support business growth. In addition to the training, which included life skills, social media marketing, negotiation skills, and other topics, the participants become part of a community that will strengthen their professional and personal networks in the future, too. They are thrilled to support Walmart in their efforts to train and connect women-owned businesses in India, he said.
Dr. Sunil Shukla, Director, Entrepreneurship Development Institute of India (EDII) Ahmedabad, said that on the whole, women entrepreneurship development programs help enterprises to graduate from being basic income-generating projects to sustainable businesses at preservation levels, and then gradually to enterprises that are focused on growth and raise expectations for economic development in India. The third edition was very well curated, and he is glad they could share the responsibility as knowledge & training partner with Walmart & WEConnect International, he said.
Get our hottest stories delivered to your inbox.
Sign up for Scrabbl Newsletters to get personalized updates on top stories and viral hits.