Will Dwayne Johnson and Tom Holland Come Together for a Movie
Tom Holland called The Rock his inspiration and Dwayne tweeted in response calling Tom Holland level headed who can handle fame.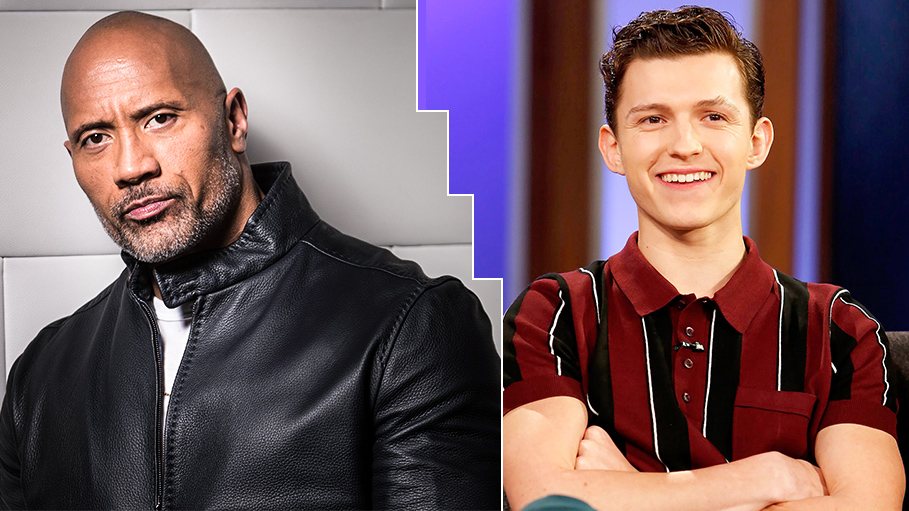 Dwayne Johnson has got a fan in Tom Holland who has praised him for his work. Tom Holland, the young star has many actors to take inspiration from and during his interviews, he always speaks about people who have inspired him. This time, in a recent interview published in GQ Style, Tom Holland showed his appreciation for Dwayne Johnson and his work. The Spiderman-Far from Home star raved about Dwayne and his work. Tom has apparently said that he has always looked upto Dwayne. In his own words, he says, "He is someone I've always looked upto."

Dwayne-An inspiration to Holland
During the interview, Tom Holland had said, "The Rock is someone I've always looked up to." In his cover story, he also mentioned, "His(The Rock) whole thing is: Be the hardest-working person in the room. It's something that I've really taken to heart. And when I heard him say that for the first time, I was like, "That is a really good saying."
Tom had the opportunity to speak to Dwayne via social media. Judging by the end result, one can be sure that the focus of the conversation was Muscle and Brawn. By the end of it, the lean Holland was inspired to exercise and build his muscle. He said he would be joining the gym pretty soon. One can imagine what an effect a muscular Spiderman will have on all the girls. If Dwayne keeps dishing out such inspirational thoughts, he would be increasing competition for himself.
Dwayne's response
Holland's pleasant words did not go unnoticed by the Jumanji star. Dwayne who is very active on social media was quick to respond to Holland's comments. From his tweet, "Very cool," it is evident that he was pleased with the positive remarks given by Tom Holland. In response, Johnson had this to say, "[Tom Holland is] a good buddy and continues to earn his success daily. That level of fame isn't easy to navigate and he's done it brilliantly & elegantly. Look forward to working with him one day." Dwayne Johnson who believes in hard work, did not miss to point the same in Holland. He also appreciated the way Tom Holland handles success and fame at such a young age when youngsters do not have control over their emotions.
Is there a Holland and Johnson collaboration to look forward to
Although Dwayne has expressed his desire to work with Holland, it is yet to be seen whether the highest-paid actor will be able to take out time from his packed schedule to work on it.
Dwayne Johnson who from being broke to the highest-paid bloke has risen to this position only because of his hard work and he even cut short his recent honeymoon to cover for his injured friend Kevin Hart as a guest on a talk show. Right now, he is too busy in the aftermath of the success of Hobbs and Shaw which topped the global box-office for four consecutive weeks. However, these two great actors will surely come together for a movie and Marvel fans will surely hope for a Marvel blockbuster. Robert Downey Jr. might turn into HULK -- in jealousy though. Till then we will keep our fingers crossed and hope the Webslinger and the Wrestler meet soon.
Get our hottest stories delivered to your inbox.
Sign up for Scrabbl Newsletters to get personalized updates on top stories and viral hits.