World's Largest Bell Unveiled in Poland
Building the classic piece of art, which is also one of the world's largest swinging bells, was not that easy. Here's more!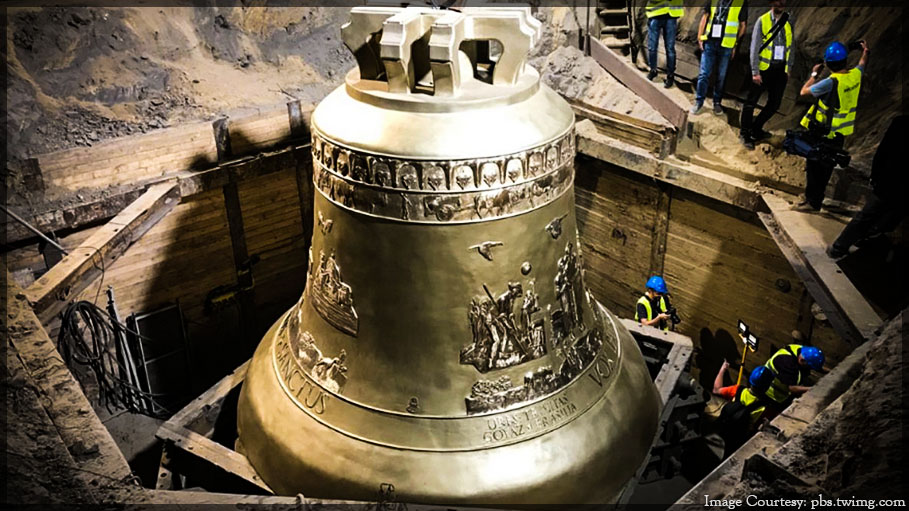 One of the largest swinging bells in the world, which weighs 55 tons was recently unveiled in the Polish city of Krakow ahead of being installed at a pilgrimage site in Brazil. The "Vox Patris" bell, which is four meters (13 feet) in height and 4.5 meters in diameter will be housed in the Basilica of the Eternal Father in the city of Trindade in central Brazil.
Building the classic piece of art, which is also one of the world's largest swinging bells, was not that easy. The bell went through a preparatory and test period of around four years. In the first attempt when it was cast at the Metalodlew foundry in Krakow, it turned out to be a failure.
But in the second attempt now it is successful, the reason as described the owner Piotr Olszewski, "the mold did not hold, micro-cracks appeared which caused leaks. It was necessary to start all over again, but the second attempt was successful". He also informed that "the bell is made from copper and tin, it will be activated by four engines and once installed will be part of a tower 100 meters high. The preparations and tests lasted almost four years".
Now the biggest challenge is to transport the giant bell to Brazil, which it is going to undertake by boat, the journey that is expected to take the time of a year. Once installed, the bell will be part of a 100m high tower.
World's biggest bell is "Tsar Bell", which is in Kremlin, Moscow, which weighs 201,924 kilograms and with a height of 6.14 meters. Ivan and Mikhail Motorin installed the bell in the 1730s. At that time Empress Anna Ivanovna was the ruling the country.
One of the most interesting things about the Tsar Bell is that it has never been rung, as during its casting it was broken because a fire broke out in Kremlin in 1737, which led to a fire in the wooden support structure of the bell. Though with cold water the fire was controlled, it developed 11 cracks. That is why it becomes impossible to reinstall the bell. After a century the Tsar Bell was lifted from its pit and placed on a stone pedestal for the tourists to visit. It is believed that if the bell rang, the sound could be heard from a distance of 50 to 60 kilometers.

Get our hottest stories delivered to your inbox.
Sign up for Scrabbl Newsletters to get personalized updates on top stories and viral hits.