Zendesk Introduces WhatsApp for Zendesk
Unveiled at Zendesk Showcase São Paulo, WhatsApp for Zendesk enables companies around the world to provide a better customer experience in a preferred channel.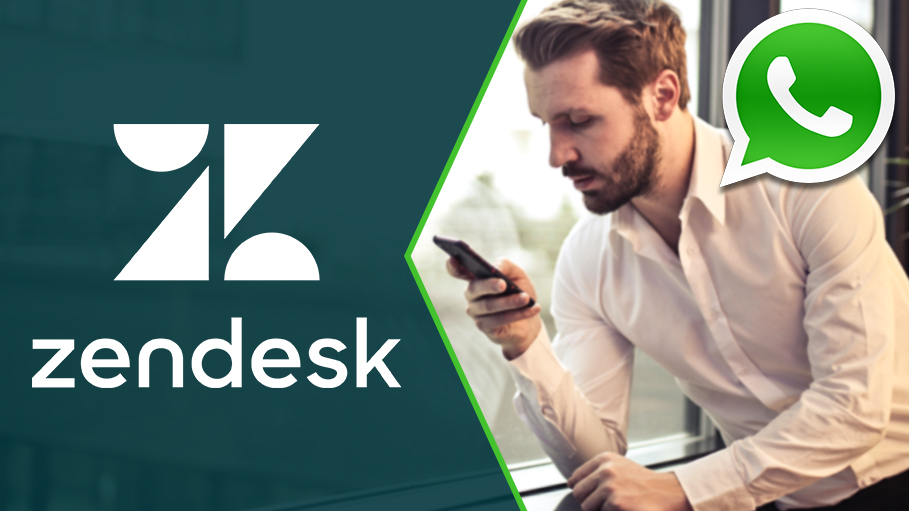 NYSE-listed Zendesk, Inc. on Wednesday announced WhatsApp for Zendesk, a new WhatsApp Business API connector, that allows businesses to quickly and easily reach and respond to WhatsApp users. Zendesk offers the only trusted messaging solution that pulls in all customer conversations into a cohesive interface across web, mobile and messaging.
Unveiled at Zendesk Showcase São Paulo, WhatsApp for Zendesk enables companies around the world to provide a better customer experience in a preferred channel. WhatsApp for Zendesk is built on technology from Zendesk's recent acquisition of Smooch, and marks an important next step in delivering the next wave of connected conversations on additional channels such as Facebook Messenger, LINE, WeChat, Telegram, Twitter DM and more.
KT Prasad, Country Sales Director, Zendesk India, said that WhatsApp is the world's most popular messaging app, and India is one of its leading adopters and users, so it's no surprise that business are fast seeing the benefits of embracing WhatsApp as a key part of their customer experience strategy. It allows them to be where their customers already are, and create a more seamless experience across multiple platforms, particularly when paired with Zendesk Suite for a true omnichannel experience.
As the next evolution of their partnership with WhatsApp, WhatsApp for Zendesk will help Indian businesses embrace this new mode of customer communication faster than ever before, just like they have seen some of the earliest adopters in India do, including crowdfunding platform Milaap, and healthcare ecommerce platform 1MG, he said.
Warren Levitan, Vice President, Conversational Business at Zendesk, said that WhatsApp for Zendesk marks the next phase of their integration with the WhatsApp Business API as a business solution provider and reinforces our commitment to bringing brands and their customers modern messaging experiences on the apps of their choice. Ultimately, they're making it easier for companies and customers to communicate in a way that is faster, more convenient and more natural, he added.
As customers increasingly expect to communicate with businesses in the same way they do with friends and family, the best experiences will be driven by the ability to create a seamless, continuous conversation between customers and organizations across multiple communication channels. More than 1.5 billion people in over 180 countries use WhatsApp, making it one of the most popular messaging apps in the world. With WhatsApp for Zendesk, businesses can:
● Get up and running on WhatsApp in less time without any new workflows or agent training required
● Engage with their customers over WhatsApp and manage messaging conversations in the same way as other support conversations in any other channel
● Take advantage of new WhatsApp features for agents to better manage real-time conversations such as a customizable auto-responder specifically for WhatsApp
● Stay on top of asynchronous WhatsApp conversations with a new, dedicated notification panel to alert agents to recent responses on WhatsApp
Zendesk customer PayJoy is helping to unlock access to finance globally through mobile technology.
Founder and COO Gib Lopez, who recently implemented Zendesk, said that their customers were asking to reach them via WhatsApp, and with Zendesk, PayJoy reduced their WhatsApp response times from a full day to minutes or less. Before Zendesk, they had three to four WhatsApp numbers with phones sitting on the desk next to their agents trying to keep up. It wasn't scalable. They're now able to see and manage all their customer requests in one place, and use the WhatsApp Business API integration to respond quickly, he said.
Conversation Solutions Team
For more complex needs beyond customer initiated conversations, Zendesk offers access to a Conversation Solutions Team. From proactive business notifications and virtual assistant integrations to custom messaging experiences and system integrations, this group of expert advisors can help customers in Latin America and around the world get the most out of the WhatsApp Business API and messaging for businesses.
WhatsApp for Zendesk is available starting today to all new and existing Support and Suite customers for $5 per agent per month.
Get our hottest stories delivered to your inbox.
Sign up for Scrabbl Newsletters to get personalized updates on top stories and viral hits.