Aamir Khan is the Most Honest Human Being on Earth? Says 'Thugs of Hindostan' Motion Poster
Aamir Khan recently released his motion poster of 'Thugs of Hindostan', but how does that imply that he is the most honest human being on earth? Here's how!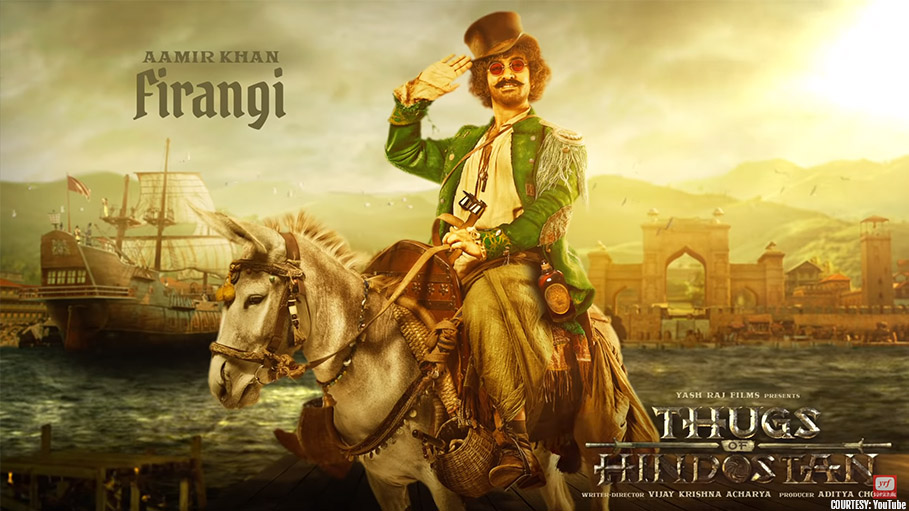 Aamir Khan has revealed his look from his upcoming film 'Thugs of Hindostan', and by far, this was the most anticipated look from the epic action adventure. Aamir's motion poster, introducing the actor as 'Firangi' is quite amusing and captivating. And Aamir himself wrote about this 'Firangi' portrayal of his on Instagram that nowhere on earth shall you find a person, more honest than him (Firangi).
Now enjoy the motion poster-
"Hum se zyada naik insaan iss dharti pe kahin nehi milega aapko. Sacchai toh humara dusra naam hai. Daadi kasam!!!", the star captioned!
The entire tone of Aamir's caption suggests there is definitely some kind of a mockery lies between the lines. As his co-star in the film, Katrina Kaif who will be playing an alluring dancer Suraiyya wrote referring Aamir's 'Firangi' on her Insta handle, "This Diwali, beware of this Thug", it intensifies the possibility that Aamir's 'Firangi' going to be a fun watch on screen.
Coming to the motion poster, the gripping visual undoubtedly, is one of the best among others. From inside a mead bottle, the camera zooms out to feature Aamir resting on the back of a white horse. The depiction implies, Firangi is a happy-go-lucky-guy, buoyant traveller who is up for a drink, anytime of the day.
Aamir's attire and character name insists us to believe, he is not entirely from Indian origin, but yes, it is yet to be seen how he gets into the gang of 'Thugs of Hindostan' and joins his co-thuggees - Amitabh Bachchan as Khudabaksh, Fatima Sana Shaikh as Zafira, and Katrina's Suraiyya of course.
Now, love me or hate me for this, Aamir's first look in the motion poster reminded me of Captain Jack Sparrow from 'Pirates of the Caribbean'! And this thought of mine got solidified to the next level after watching the 'Thugs of Hindostan' official poster brought up by Katrina Kaif -
So, what do you think? A little inspiration is not harmful I guess!
Apart from all the assumptions, presumptions, and a hypothesized plot available all over the internet, know what you must! Based on the novel by Philip Meadows Taylor's 'Confessions of a Thug', published in 1839, 'Thugs of Hindostan' is reportedly going to be a pioneer film focusing the thugs or thuggees!
Get our hottest stories delivered to your inbox.
Sign up for Scrabbl Newsletters to get personalized updates on top stories and viral hits.