Cycle Ride with a Call for Green Diwali
A cycle ride was organized in Kolkata with a message to say no to firecrackers and reduce the levels of air and sound pollution in the city of Kolkata.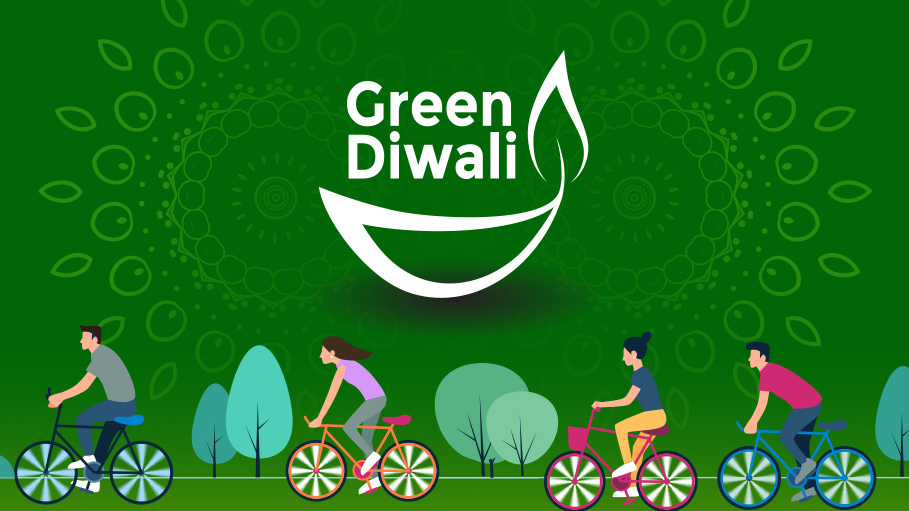 A cycle ride was organized in Kolkata with a message to say no to Firecrackers and reduce the levels of air and sound pollution in the city of Kolkata. Active citizens from all walks of life came together decorated their cycles with LED lights and colourful streamers - to share the true essence of Diwali. The ride created awareness on the harmful effects of bursting Firecrackers as the winter and the festive season has set in Kolkata. Cyclists requested Kolkatans to 'Say No to Firecracker' and choose pollution-free celebration options instead.
The ride was part of a Responsible Diwali Celebration of ACTS and Kolkata Clean Air, along with leading NGOs like Switch ON Foundation, Kolkata Cycle Samaj, Bike Studio and Educare Foundation. The activities started with Rangoli Making and Dance Performances at Old Age Homes and Children's Home, which was then succeeded by visiting an Animal Shelter and ended with a Bicycle Ride that commenced from Bhawanipore and went to Ballygunge via Garihat.
Taking the messages of politicians requesting Kolkatan's to celebrate festivals responsibly. Shri Firhad Hakim, Minister for Urban Development and Municipal Affairs, Government of West Bengal and Mayor of Kolkata, said that they will enjoy the festival of lights, but just after Diwali the winter comes, and at that time the pollution is highest, so everyone will have to be careful and shouldn't do anything that pollutes the air.
Even Shri Prakash Javadekar, Minister of Environment, Forests & Climate Change, Government of India Minister advised people to not burst Firecrackers this Diwali. He said that he would like to advise not to burst Firecrackers, and he is confident that children themselves will ask parents to not buy Firecrackers, but if someone wants to then buy Green Firecrackers.
Speaking at the event, Vinay Jaju, Co-Founder of SwitchON Foundation and Kolkata Clean Air, said that they are riding to spread Joy and not Pollution so that the next generation can have a safe future. Festivals and Spirituality should bring everyone closer to nature and not harm them.
Raghu Jana, Conveyor of Kolkata Cycle Samaj, who proposed this event said that in the fun and frolic of the festive season, no one should pollute the environment rather make an effort to save nature and environment for the next generation.
With no pollution or carbon emissions, the humble cycle is a great way to commute. Life on the planet is at risk due to air pollution and we must reverse it. Vijay Agarwal and Ajay Mittal Co-founders of Kolkata Clean Air said that Kolkata is taking the lead in promoting electric mobility and must also develop infrastructure to support cycles with the vision to make Kolkata one of the most liveable and climate-friendly cities in the world.
Many studies have proven that Motor vehicles are the leading cause of pollution in Kolkata and In addition to this challenge, vehicles are also clogging our city and congestion is making commute increasingly difficult.
Gaurav Pandey, Founder, The Educare Foundation, who actively participated at the Old age and children homes said that Diwali is a festival of lights and not of bursting crackers and polluting the environment. It signifies the triumph of light over darkness. One should try to be someone's light.
Bursting firecrackers may seem like a small action, but statistically, it leads to a significant increase in air pollution. It adds significantly to deterioration in air quality post festivals. In fact, in many cities across India, the air quality deteriorated to such a low that the areas were referred to as a "Gas Chamber". Kolkata's air pollution level is one of the worst in the world. It is reported that we are breathing Poison and Kolkata becomes a gas chamber every winter and it is worsening every year. The cyclists carried banners highlighting the hazardous impact of air pollution – which is widely acknowledged, as an invisible killer.
The bursting of crackers not only releases dangerous particulate matter but also very dangerous metals into the air and the exposure to such toxic air is extremely dangerous for our citizens and this can lead to a serious Public Health Crisis. The particulate matter released by fire-crackers enters our lungs and bloodstream making it extremely dangerous.
The team under the Responsible Diwali Celebration drive had released a video that has been shown in various schools with reasons on why not to burst firecrackers and also offered alternative solutions. This was followed up by a walk where school children and youth participated encouraging all not to burst firecrackers. was not just about highlighting crisis, but is focussed on the solutions to the problem. Through this drive, children, and adults, both alike took up pledges to not light crackers this festive season, and find alternative ways to enjoy the festivals with their friends and family.
Gargi Maitra, co-founder of Kolkata Clean Air said that it's a new beginning and will go a long way to lighting up the minds of the generations to come.
Get our hottest stories delivered to your inbox.
Sign up for Scrabbl Newsletters to get personalized updates on top stories and viral hits.