JK Rowling's Package and Handwritten Note to a Himalayan Girl Leaves Her Spellbound
Kulsum, from Jammu and Kashmir, India, who is a first generation learner wrote an emotional letter to her favorite author JK Rowling as a class assignment. And then this happened!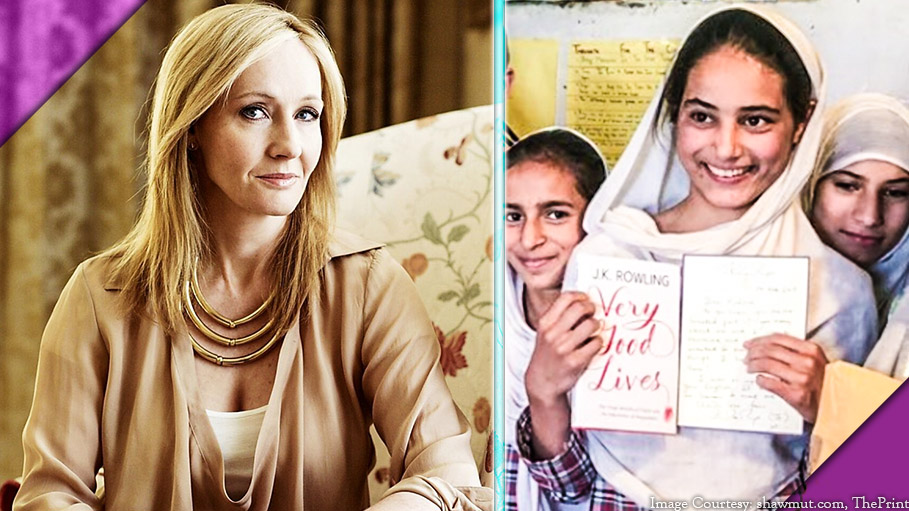 J.K. Rowling is famous all over the world for her best selling book series. Harry Potter books have become so popular that children from different parts of the world have ensured that they have read the books. However, J.K Rowling is not only famous for authoring the book series but also for her kind gestures, especially towards kids.
She has been in the news recently for making a young girl from the Himalayas so happy that she can't stop smiling.
A 12- year old schoolgirl, Kulsum, from Jammu and Kashmir, India, who is a first generation learner wrote an emotional letter to her favorite author JK Rowling as a class assignment. In the letter, she had also expressed her wish to meet Rowling someday.
Her teacher, Sabbah Haji Baji, was so touched by her letter that she tweeted last April inviting J.K. Rowling to visit the English-learning student.
Though Rowling could not fulfil that desire of the girl, she did contact the teacher and ask her to send her the girl's name so that she could send her a gift. That response in itself would send any Harry Potter fan into a tizzy. But the best was yet to happen.
Months later a package arrived at school for Kulsum. To her absolute delight, she received a gift which read 'With love, JK Rowling'.
The Director of Haji Public School, Sabbah Haji, wrote on Twitter, "HELLO, WORLD. SO @jk_rowling SENT A HUGE GIFT BOX FOR KULSUM AND FRIENDS. HANDWRITTEN NOTE, INSCRIBED BOOK, AND THIS are ALMOST TOO MUCH TO HANDLE." The teacher posted images of Kulsum and her friends opening Rowling's present. Their happiness and delight were evident.
Reaching out to fans:
This is not the first time JK Rowling has reached out to a fan. She has touched the hearts of many by her kind gestures.
Rowling had handwritten a letter to Cassidy Stay, a 15-year old girl whose parents and siblings were killed in a shootout in Houston, Texas. The girl had quoted Dumbledore at the memorial of her family. Rowling was so moved by the incident that she wrote Cassidy a letter from the perspective of Dumbledore. It was very thoughtful of her.
A girl named Natalie McDonald was a fan of Harry Potter and she was also suffering from Leukaemia and was not expected to live long so Rowling sent her the plot of the novel before its publication date. Natalie is the only real person whose name appears in the Harry Potter novels.
On a another occasion, Rowling helped a fan who also suffered from Anorexia by counselling her. This girl, Evanna Lynch later went on to play the role of Luna Lovegood in the Harry Potter movies. The Irish actress in an interview had mentioned how JK Rowling counselled her.
Thus we can see that this stalwart of fantasy and adventure from time to time reaches out to her fans, especially those who are depressed and low and who are suffering in some way or the other.
She is not only an inspiration to writers but also to others teaching each one of us to do our bit.
Get our hottest stories delivered to your inbox.
Sign up for Scrabbl Newsletters to get personalized updates on top stories and viral hits.