The Ellen Degeneres Show Leaves Soft-Hearted Jennifer Aniston Teary-Eyed
Jennifer Aniston was moved to tears by a family's story on the Ellen Degeneres show. Read on to see why.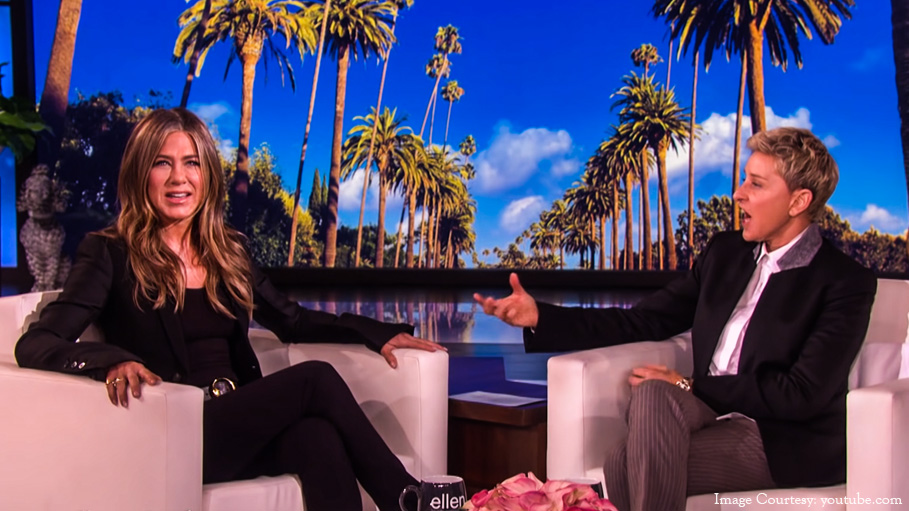 It is raining gifts in the Ellen Degeneres Show. "Ellen's Greatest Night of Giveaways" was a big hit with the audience and Jennifer Aniston was a part of the show. She along with Ellen made the day a fruitful one.
A lucky and deserving family was chosen and they were given a grand holiday gift along with other goodies.
The family's story moved Jennifer Aniston to tears. A teenage member of the family, Ms Elyse Kimball made a video on her father, Jeff Kimball who lost his wife to cancer. He was left with two young girls to look after.
In the video, the daughter is seen pleading with Ellen to help her father who was unemployed.
The teenager said, "He has given all he has got for our family of three. He doesn't deserve this". She also said, "He is my life. He is what gets me through the good and the bad. For once, I want to give something to him. I want him to get something he deserves, and I can't do this without help."
Elyse lost her mother when she was only three years old. Her mother who succumbed to cancer was 38 years old. Her father has been struggling since then. He not only had to bring up two daughters alone, he also had to struggle finding a job.
It was very thoughtful of the daughter to think of doing something for her father. The story of their struggle moved the Friends' Actress to tears. While speaking about his wife Amy, Jeff Kimball said that the character Dory, had an important part in his wife Amy's battle with cancer.
Jeff said: "She was going in for a 13-hour surgery.
"The last thing I did was blow her a kiss and say, 'Just keep swimming'."
Meanwhile, DeGeneres had tricked the family into thinking she had sent a film crew to their home for a segment on people who turn their lives around. Kimball, her father, and sister were all in the studio audience and were invited to the stage by DeGeneres, who told them what was really going on.
"What would your mom say right now if she knew you guys were here?" Aniston asked the girls.
They replied, "She would be so happy. Ellen, she was your biggest fan.
So, she would be like, 'Move over, 'cause I am getting closer,'" their dad said.
Aniston, at one point helped Elyse wipe her tears. She dabbed her tears away with a tissue. Aniston is a real softy as she was emotionally affected by the family's struggles.
Meanwhile, Ellen- the generous did not leave a stone unturned to make the family happy this Christmas season. She sent her crew to Kimball's residence and they decorated the house and put up a Christmas tree. They also left a number of gifts for them. And to top it all, they even changed their furniture. That was just the beginning of the good things coming their way.
The family was presented with an Eiffel tower by Aniston. The reason for gifting an Eiffel tower was because one of the wishes of Amy, Elyse's mother was to visit Paris. This was just a prelude to the real trip to France that was gifted to the family. France was not the only destination, Ellen and Jennifer kept adding other places to their itinerary. Finally, it turned out to be a complete Europe trip which would last for a month.
That was not all. Aniston again teared up when Ellen gifted the Kimball family $50,000 each in Visa cards. Aniston seemed very happy with the generous gesture and hugged Ellen with tears in her eyes.
So finally the Kimball's have a happy day to remember a lifetime.
Get our hottest stories delivered to your inbox.
Sign up for Scrabbl Newsletters to get personalized updates on top stories and viral hits.