The Top 5 Greatest Documentaries Centered around Technology
Here are the Scrabbl picks for tech-centric documentaries you should see right away.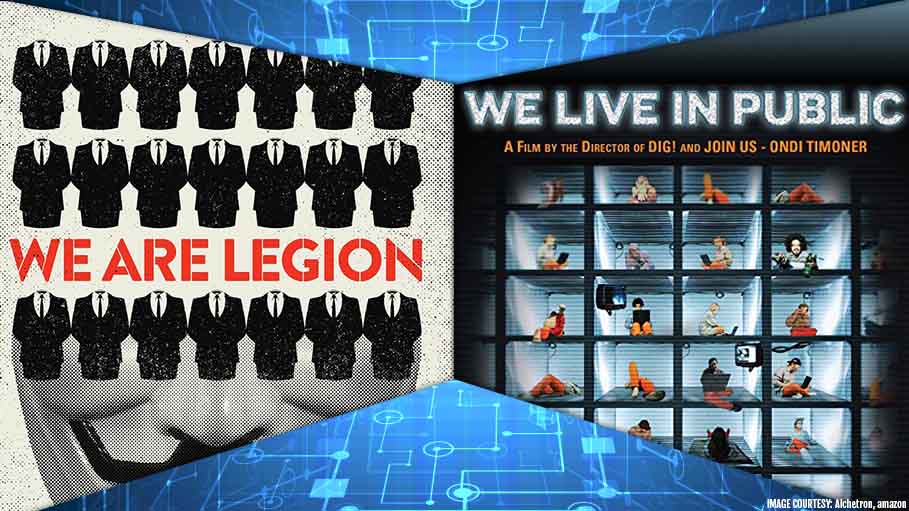 Does your idea of an enjoyable evening include a comfortable place to sit while watching an engaging documentary? If so, you're going to love today's post. We've sourced a roundup of the greatest documentaries of all time.
So, grab some popcorn and get ready to take notes. You're about to get a lot of great ideas for your next movie night.
From the inspiring stories of underdogs to understanding the impact of the Internet, here are the Scrabbl picks for tech-centric documentaries you should see right away.
We Are Legion
Chances are, you've heard of the hacktivist collective Anonymous.
But you may not have realized that their context traces all the way back to protest culture of the 1960s. In this documentary, you'll learn more about their history and where they've come from.
Here's one viewer's review of it,
A truly fascinating documentary that really gives a clear history of the whole movement, not just Anonymous. Like you begin to understand the whole collective in a more revealing way. How it all began, how it evolved, how people disagreed and some took the idea too far. How the media still does not understand it...
If you wish to truly understand the Collective this documentary is very revealing and does not turn away from the worse parts. This is the Emperor without his clothes.
This is Anonymous pockmarks and all.
-- IMDb Review by fontroy516 in October 2016
It's jam-packed with interesting interviews of real Anonymous members. And it presents smart moral and ethical questions for the audience to consider. These hacktivists have executed bigger and bigger protests since 2012, which makes it a relevant and educational watch.
King of Kong
If we were listing these by order of fun, this documentary should have gone first. You've seen this inspiring archetype in classics like Karate Kid and Rocky; it's an underdog turned hero. They battle against the world to conquer themselves.
It's inspiring.
It's relatable.
And it's the archetype we're presented when we meet Steve Wiebe, the high school teacher who wants to make his mark in competitive gaming. How? By using his skills to achieve the high school in the classic arcade game, Donkey Kong.
He goes up against Billy Mitchell, a classic movie villain. Does he win? Can he make it in competitive gaming?
We Live in Public
It's no secret that nothing is a secret. Social media and accountability movements mean all the dirty laundry gets aired out. Your sins will find you out. No stone left unturned.
And we're okay with that. We applaud the work of Black Lives Matter and #metoo.
Because privacy, it turns out, isn't all it was cracked up to be.
But tell that to my Mom in the 1990s and I wouldn't have gotten to hang out with your kids anymore. It was a foreign, if not threatening, concept.
But that didn't stop Josh Harris, a first among the dot-com millionaires. This eccentric guy is a mix of troll, artist and brilliant entrepreneur. His accumulated fortune burned as fast as it gathered due to Harris' odd social projects.
This documentary is the edited result of over 5,000 hours in footage, shot over the course of 10 years. You'll love the funny, fascinating, sometimes disturbing perspective of the dot-com excess captured in We Live in Public.
You'll love the nostalgia, but you'll love how it makes you think about today's connected world even more.
All Watched Over by Machines of Loving Grace
This documentary feels as long as it's title, but you won't want to miss it.
Think of it as a captivating New Yorker article you can watch.
All Watched Over by Machines of Loving Grace spans over three parts and 180-minutes. The work of Adam Curtis, it provides a look into the concept that computers countercultural fathers promised the technology will liberate humanity, and has failed to do so.
I like to think
(it has to be!)
of a cybernetic ecology
where we are free of our labors
and joined back to nature,
returned to our mammal
brothers and sisters,
and all watched over
by machines of loving grace.
-- A portion of the 1967 poem, All Watched Over By Machines of Loving Grace by Richard Brautigan
Under this idea that technology hasn't lived up to its potential, this documentary goes on to stitch together a cohesive narrative from a variety of sources. It covers topics like evolution, cybernetics, exploring the influence Ayn Rand had on Silicon Valley, and analyzing Buckminster Fuller's ecological dreams.
Chances are, you won't agree with every point the documentary makes. And that's okay because you're still come away feeling educated and moved to thought.
For All Mankind
People have talked about the Apollo mission so much, no one cares anymore. That was Director Al Reinert's observation in 1990 when he told in an interview that the story had, "been covered and treated as news to the point where it bores everyone to tears."
But For All Mankind gave us something new. Something special.
As you sit down for a viewing of this documentary, you won't coming away in the typical way thinking things like,
1 - That was a great achievement, but
2 - I've heard it all before.
Reinert discovered a huge archive of unseen NASA footage from the Apollo missions. So, he gathered remarkable footage from each of the SIX successful Apollo lunar landing.
This documentary best captures the transcendent majesty of outer space, and provides the viewer a sense of what space travel might feel like. And all these sobering clips are accompanied by Brian Eno's captivating ethereal score
If you're looking for a time of reflection and perspective, For All Mankind can skyrocket you into that headspace.
Conclusion
I love watching documentaries, especially when they take me on a journey from intrigued to informed. It feels like a good investment of my downtime.
Instead of filling the silence with unhealthy habits or mindless entertainment, check out a documentary next time you need a break. You can spend hours just diving into the freely available content on YouTube.
Get our hottest stories delivered to your inbox.
Sign up for Scrabbl Newsletters to get personalized updates on top stories and viral hits.