A Real Steel Statue Erected in Italy in Honour of Iron Man, Fans Say, We Love You 3000
The sculpture has immortalized Tony Stark's iconic three-point landing. The statue is made out of mirror-polished steel and glass.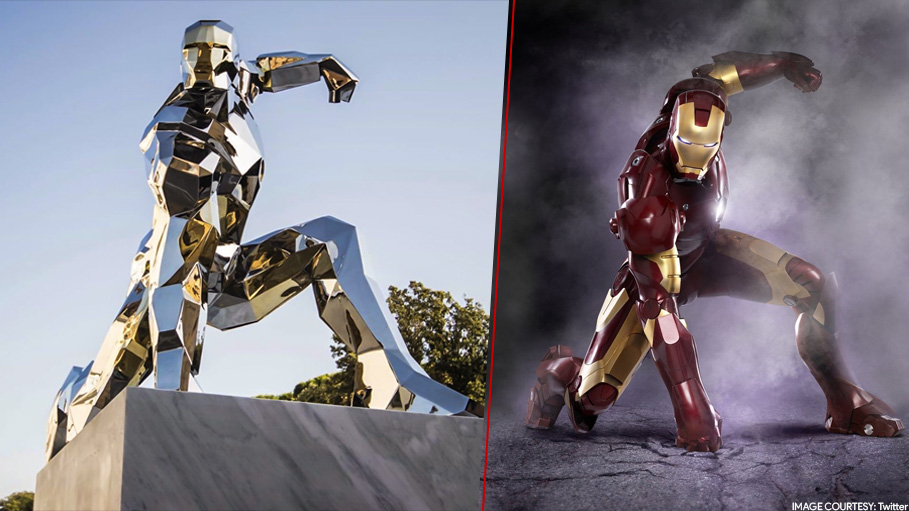 Iron Man -the most loved superhero of the Marvel Cinematic Universe has been immortalized once again as a Steel statue of the iconic Hero has come up in Italy. Marvel's Avengers have enamored the people of the world to a great extent and as the days go by more and more people are coming up with ways of showing their love for the superheroes, especially Iron-Man.
Iron Man aka, Tony Stark, who had an ego bigger than the Universe has something else now to inflate his ego. However, as time went we saw a transformation in Iron-Man. A man who looked for a solution to protect humanity from Thanos for so many years realized that he was the key to the survival of mankind and did not hesitate a moment to think about his daughter. He not only sacrificed himself but also in some way took away a part of all his fans' hearts. This selfless act of Iron Man has left an indelible effect on every person who followed the Avengers' saga.
Italian sculptor, Daniele Basso, made a statue of Iron Man to pay tribute to Robert Downey Junior. The exhibit was displayed as a part of the Olter Verso Art exhibition held at Forte Dei Marmi, a Tuscan seaside town. The sculpture has immortalized Tony Stark's iconic three-point landing. The statue is made out of mirror-polished steel and glass. Ironically, Basso named the statue Man of Steel-the name by which DC's Superman is known. There is also a plaque that depicts the following- "The first monument dedicated to Iron Man in the year of his death in the cinematic world, we celebrate Tony Stark as a man who dedicates his life's fortunes to fight for the ideals he believes in … reminding us that we are all the protagonists of our time — that the future of humanity depends on our decisions … that all of us must be heroes!"
Reaction of fans
Fans are thrilled to see the statue and have appreciated the work of the Italian sculptor, Daniele Basso. Twitter was alive with fans expressing their love and gratitude for erecting the statue.
Why Ironman
Many people, of all ages, have fallen in love with the character of Iron-man. But, what made him so endearing to all his fans? Tony Stark/Iron Man first seen in 2008, the first movie produced by Marvel, had created an immense impact on the people. Ironman 2 and 3 cemented that love. His role in Avengers proved that he was a very important member of the team and everybody respected him for his clever troubleshooting ideas, not to forget his witty one-liners. His relationship with Peter Parker was adorable and showed a different side of him. However, the huge sacrifice that Iron Man made to save the universe from Thanos had the greatest impact on his fans.
After the movie was released, there was a petition signed by around 16,000 people to bring Tony Stark back.
The fact that Iron man had to die, when he had it all-a wife, a daughter and a family. He could have had a happy life with his family and could see his daughter, Morgan grow. Alas, he sacrificed all for humanity.
And, now there is a rumour doing the rounds that Iron Man may return to MCU as voice over for the AI used in Ironheart's suit. Will that materialize, who knows??? But till then, the statue in Italy will be a reminder to fans all around the world that we love Iron Man 3000 and more.
Get our hottest stories delivered to your inbox.
Sign up for Scrabbl Newsletters to get personalized updates on top stories and viral hits.