After Bahamas, Powerful 'Hurricane Dorian' Now Approaches Florida
US President Donald Trump has canceled his high profile trip to Warsaw to oversea on storm preparations.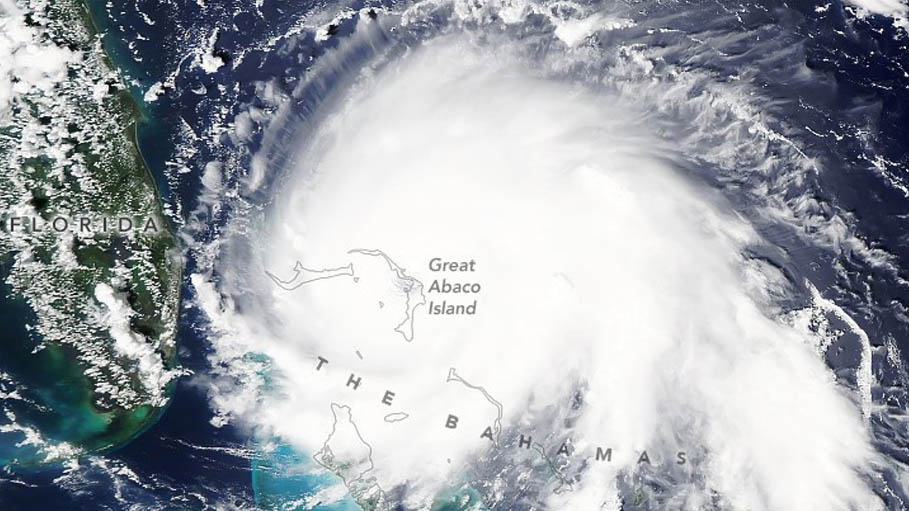 Hurricane Dorian hit Bahamas with an unprecedented force with far-reaching effect on life and infrastructure. Now, the monstrous Category 5 cyclone is now approaching South Florida coastline and is expected to hit the state by Tuesday.
With sustained winds of 185 mph and gusts well above 200 mph Hurricane Dorian remained powerful and unpredictable. And what will happen to Florida is still uncertain. It could be catastrophic or it might not make any landfall in the US at all, but it is certain to bring extreme storm surge, massive rains and hurricane-force winds with it.
The wobble that started with Hurricane Dorian on Saturday, took the shape of the monster storm as it moved slightly in a different direction. US President Donald Trump has canceled his high profile trip to Warsaw to oversea on storm preparations.
President Trump has appealed to the people of Florida to stay calm and protected, as he said, "We don't even know what is coming at us, All we know is it's possibly the biggest. I am not sure that I've ever even heard of the Category 5, I knew it existed. That's the ultimate, and that's what we have, unfortunately".
Governor of Florida Ron DeSantis also urged the residents not to be complacent because of the shifting storm track, as he and officials across several states are issuing pleas to the people about the potentiality the hurricanes relocation.
DeSantis said, "This storm, at this magnitude, could really cause massive destruction, and do not put your life in jeopardy when you have a chance to get out. We are in a situation where this thing is perilously close to the state".
But DeSantis also warned that the speed at which the storm is approaching 185 mph winds may break the record of 1992's Hurricane Andrew, which demolished the Miami suburb and last year's Hurricane Michael, which has wiped out the small town of Mexico beach.
If the current winds continue, DeSantis said, Dorian may be well compared to the Labor Day hurricane of 1935, which destroyed the Florida Keys and is considered the strongest hurricane on record in the United States.
The unnamed Labor Day storm proved havoc as it killed about 500 people, including 259 World War I veterans who were working as construction workers building the Overseas Highway and living in tented government camps.
Eric Silagy, chief executive of Florida Power & Light, the largest public utility in the state, urged residents to respect Mother Nature.
Eric said, "I think it is foolish to just rely on what is an estimate of a track that is offshore on a storm of this magnitude. A few miles can make a big difference in wind speeds. If this storm continues on a western track and makes landfall there would be significant destruction. This would not be a restoration of power. We'd have to rebuild part of our system. Concrete poles would be snapped in these kinds of winds. Homes would be destroyed".
The National Hurricane Center has also issued a hurricane warning from Jupiter to the northern end of Brevard County, on the coast just east of Orlando and south of Daytona Beach. Evacuations of the barrier islands - including the posh Palm Beach, where President Donald Trump's Mar-a-Lago resort is located - were ordered and county-based shelters began opening as well.
Get our hottest stories delivered to your inbox.
Sign up for Scrabbl Newsletters to get personalized updates on top stories and viral hits.