Thousands Flee as War in Syria Continues
The situation in Syria seems unending as the attacks continue forcing thousands of people to flee from their country. As many as 50,000 people have fled in separate offensives against rebel forces in northern and southern Syria recently.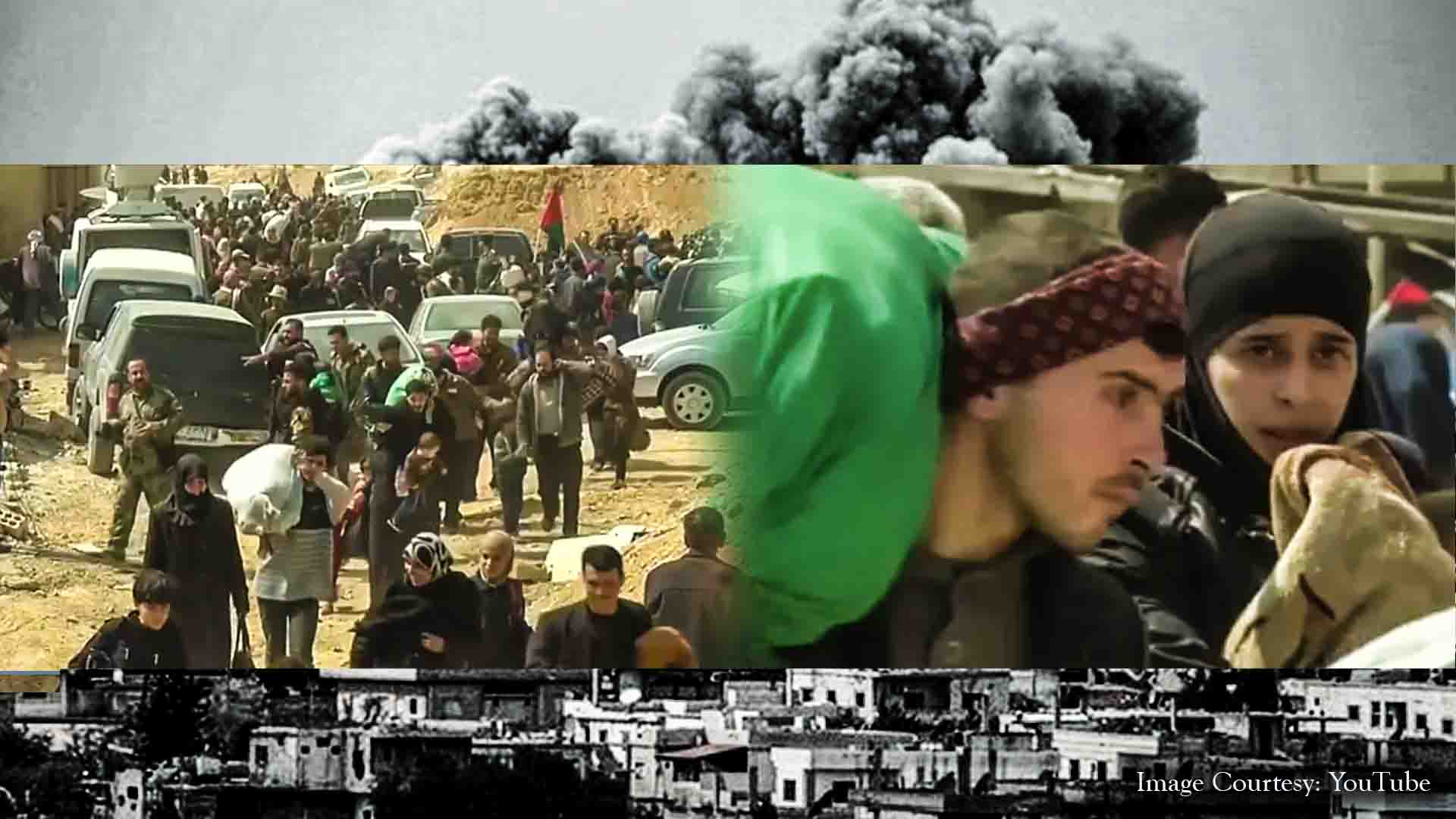 The situation in Syria seems unending as the attacks continue forcing thousands of people to flee from their country. As many as 50,000 people have fled in separate offensives against rebel forces in northern and southern Syria recently.
This Syria crisis, where civilians became the war victims, more than 30,000 of them have fled the northern town of Afrin as Turkish forces and their allies stepped up their siege on the civilian land. On the other hand in Eastern Ghouta region outside Damascus, some 20,000 have left areas targeted by Syrian government forces.
The mass movements have been a continuous process as the country has been engaged in a war for seven years that has so far forced out 12 million people from their homes. Out of which at least 6.1 million are internally displaced while another 5.6 million have fled abroad.
Since the uprising against President Bashar al-Assad began in March 2011, more than 400,000 are believed to have been killed or are missing, which are presumed dead. Apart from thousands of deaths, the war has left 1.5 million people with permanent disabilities, including 86,000 who have lost limbs.
Afrin, is a city mainly populated by ethnic Kurds and is nearby the frontier (Turkish border), which has been under bombardment from the air and the ground by Turkish forces and their local Syrian allies. According to the Syrian Observatory for Human Rights, a UK-based monitoring group, 30,000 people have fled the city and nearby villages. They headed towards villages held by Syrian government forces. Hundreds of more families left overnight as shelling continued, the Observatory says, with 18 civilians killed by Turkish shelling.
Turkey is targeting the Kurdish People's Protection Units (YPG), a militant group that it regards as an extension of the Kurdish rebels on its own territory. Turkish President Recep Tayyip Erdogan told a gathering in Ankara publicly that his country would not stop until its mission to capture Afrin had been completed.
On the other hand, according to the Syrian Observatory, has recorded nearly 20,000 civilians fled rebel-held areas in the Eastern Ghouta as the government advance continued. Pro-government forces are believed to have recaptured 70% of the region after three weeks of intense fighting against rebels there. The crushing of the rebel enclave outside Damascus would be a major victory for President Assad.
Civilians require aids in the form of medicine and food. Meanwhile 25 lorries carrying food aid entered the Ghouta town of Douma recently, but the International Committee of the Red Cross (ICRC) said the aid was just a fraction of what was needed.
In order to bring peace to the country, Turkey, Russia and Iran have sent their foreign ministers to the Kazakh capital Astana to prepare for a summit of leaders in Istanbul next month. But Turkey is opposed to President Assad, Russia and Iran, as they are also the Syrian leader's closest allies.
Russia has said that the talks in Kazakhstan are an opportunity to bring peace in Syria. Russian Foreign Minister Sergei said, "millions of Syrians are looking in the direction of Astana". While Turkish Foreign Minister Mevlut Cavusoglu urged a ceasefire in the Eastern Ghouta, saying the situation there was heading towards disaster.
The Syrian Observatory for Human Rights, with a network of sources on the ground, had documented the deaths of 353,900 people by March 2018, including 106,000 civilians. The group also estimated 100,000 deaths had not been documented.
While, the Violations Documentation Center, which relies on activists inside Syria, has recorded what it considers violations of international humanitarian law and human rights law, including attacks on civilians. It had documented 185,980 battle-related deaths, including 119,200 civilians till February 2018.
From a peace protest to civil war- the situation in Syria does not look like it will improve any time soon but everyone agrees a political solution is required. UN Security council has time and again called for the implementation of the 2012 Geneva Communique, which envisages a transitional governing body "formed on the basis of mutual consent." But nine rounds of UN-mediated peace talks - known as the Geneva II process - since 2014 have shown little progress.
President Assad is not unwilling to negotiate with the opposition, as the rebels insisting on, he must step down as part of any settlement. Western powers have accused Russia of undermining the peace talks by setting up a parallel political process.
Get our hottest stories delivered to your inbox.
Sign up for Scrabbl Newsletters to get personalized updates on top stories and viral hits.