Amul Comes up with Yet Another Captivating Doodle; This Time of 'Gully Boy'
Amul, who is popularly known for their quirky tag lines, came up with yet another catchy tag line captioned – "Apna Time Hai .....Khayega!"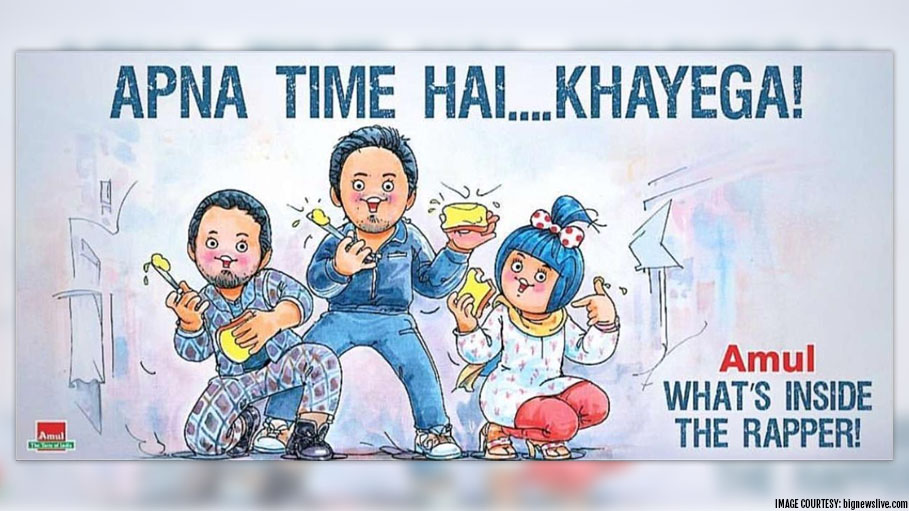 As 'Gully Boy' performs exceedingly well in metros after its initial release, the movie gets yet another loyal fan; the taste of India- Amul. Amul which is well known to create impressive doodles on new movies, important weddings and other significant events decided to do the honours for 'Gully Boy' this time. They've created a pictorial doodle that features cartoon versions of Ranveer Singh, Alia Bhatt, and newcomer Siddhant Chaturvedi.
Amul, who is popularly known for their quirky tag lines, came up with yet another catchy tag line captioned – "Apna Time Hai .....Khayega!" Another tag line on the poster is "What's Inside the Rapper!" Amul shared the doodle on their Twitter handle.
Check it out below:
Like previously, one has to acknowledge that India's dairy company has not failed to capture the real essence of the movie with its creative poster and catchy captions. Not only the masses woke up to this quirky doodle, but actors of 'Gully Boy' were also taken aback and went ahead and shared it on their Instagram Profiles. Ranveer Singh shared it on his Instagram story and titled it, "Ek Number." Even Alia Bhatt, Zoya Akhtar, and Siddhant Chaturvedi were quite impressed and gave the doodle big thumbs up.
'Gully Boy' and the film's hit song 'Apna Time Aayega' has been creating waves in India and abroad for quite some time now. It all began when the flick caught the attention of fans and critics alike at the Berlin Film Festival. In India, the musical drama has certainly won the hearts of the audience as it earned Rs. 72.45 crore in the weekend.
The movie which is loosely based on the life of Mumbai street rappers Vivian Fernandes (Divine) and Naved Shaikh (Naezy) has weaved its way into the hearts of the Indian audiences. The movie which gives you a peek into the street rap scene in India has allowed other talents like Siddhant Chaturvedi, Amruta Subhash, Vijay Varma, and Shristi Srivastava to shine in the film.
The movie's director Zoya Akhtar is certainly riding the high horse as the movie has not only received good reviews in India but has received great reviews from international publications too. And now you know why the cartoon versions of Gully Boy actors look all excited in the doodle. Just like the movie, looks like the Amul Doodle has struck the right chord with the masses too.
Get our hottest stories delivered to your inbox.
Sign up for Scrabbl Newsletters to get personalized updates on top stories and viral hits.