British Heritage Brand-Frazer and Haws Presents Magnificent Collection of Silver Bowls
Frazer and Haws is the only international silversmiths in the country to produce contemporary fusion designs by combining various materials like metal, wood and stone.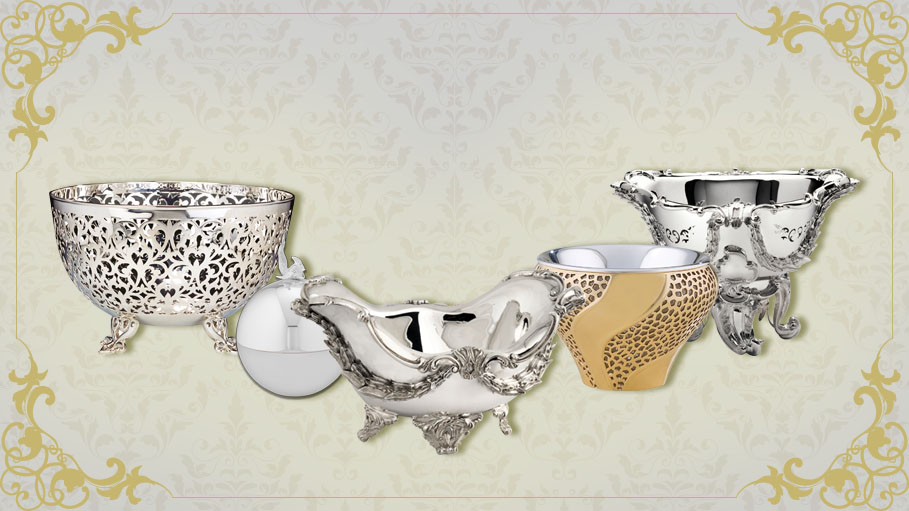 Frazer and Haws is a 150-year-old British heritage brand that contributes to create heritage pieces which are Art in Silver. Frazer and Haws is proud of being the first choice of the crème de la crème. Their clientele includes The Prince of Wales, The Maharaja of Nepal, other heads of state and notable families around the world. What distinguishes them from others are their limited edition original designs, all of which are hallmarked with the purity of 92.5 sterling silver. They are the only international silversmiths in the country to produce contemporary fusion designs by combining various materials like metal, wood and stone.
The accomplished skills have bolstered Frazer and Haws to serve the needs of the baronial and the imperial guests that enlist Queen Victoria, Queen Mary, Mrs. and Mr. Winston Churchill, Edwina – Countess Mountbatten, Admiral Lord Nelson, Duke and Duchess of Windsor, Queen Alexandra and Edward VII, Vita Sackville, Yash Chopra, Rani Mukherjee etc. Frazer and Haws has set a precedent in the world of meticulously crafted silverware.
To set a benchmark in the world of crafted masterpieces, the ancestral expertise of the skilled 'kaarigars' has played a vital role. They are specially trained in London and the work is carried out at a renowned workshop in New Delhi. All products from the Frazer and Haws' stable come up with three unique marks punched on the surface. Known as 'hallmarks', these guarantee the content of the silver used in the item. The Frazer and Haws hallmark is registered with the Hall of Assays in London. Hallmarking, first introduced in 1300, has acted as a safeguard to gold and silver purchasers ever since. It is one of the most important forms of consumer protection and now also covers platinum. The first mark is the 'Sponsor's Mark' indicating the product's manufacturer. The second is the 'Standard Mark' denoting the precious metal content of the alloy from which the item is made. The last one, 'Date Letter' shows the year in which the article was hallmarked.
With a purity of 92.5 percent sterling silver, there is a wide agglomeration of masterpieces which epitomize the significance of the Indian tradition and the cultural values in our lives. There is a wide range of splendid timepieces, paperweights, key rings, photo frames, cardholders and much more to choose from. The magnificent designs give a royal ambiance to your decor. There are various other things like desk accessories, Trophies & Mementos, Bar Accessories, Serveware, Desk accessories and wall art in silver. Frazer and Haws is also adroit at making 'Bespoke' pieces. The artistry of handcrafting fine quality silver constitutes 999 silver ingots smelted in-house into 92 percent of pure silver sheets, 24-carat gold gilding and 8-12 microns silver plating. Talking about the quality, the purity of the silver is tested many times using the international industry standard assay testing Fischer Scope OS from Germany, before it is hallmarked. The silverware is handled so meticulously that even the packaging is done with a carefully selected paper that ensures complete safety and no scratches.
Frazer and Haws has not just given a new definition to authenticity and creativity in silver but has also refashioned an era of silver by quintessentially marrying it with royalty and divinity.
And now Frazer and Haws present a magnificent collection of bowls handcrafted in sterling silver. These elegant bowls add a hint of style and indigenous accent to any space. Mix and match to create your own exclusive style as these bowls go well with all decorating styles. The bowls come in unique designs with intricate details.
These beautifully handcrafted silver bowls by Frazer and Haws will add a new contemporary look to your existing home decor accessories and transform the vibe & help your appetizer look more delicious.
Pricing of the products:
Nut Bowl Nereus – Rs. 15,800
Fruit Bowl Neptune – Rs. 1, 42,500
Plater Lotus Leaf – Rs. 24,500
Bowl Bull – Rs. 79,500
Bowl Caviar – Rs, 1,48,500
Fruit Bowl Victorian – Price on request
Fruit Bowl Edwardian – Price on request
Bowl Arabesque – Price on request
Get our hottest stories delivered to your inbox.
Sign up for Scrabbl Newsletters to get personalized updates on top stories and viral hits.