Leonardo DiCaprio & Brad Pitt's First Look in 'Once Upon a Time in Hollywood' Revealed
The two biggest stars of Hollywood are coming together, and that too in a period drama based on true events. Here's the first look!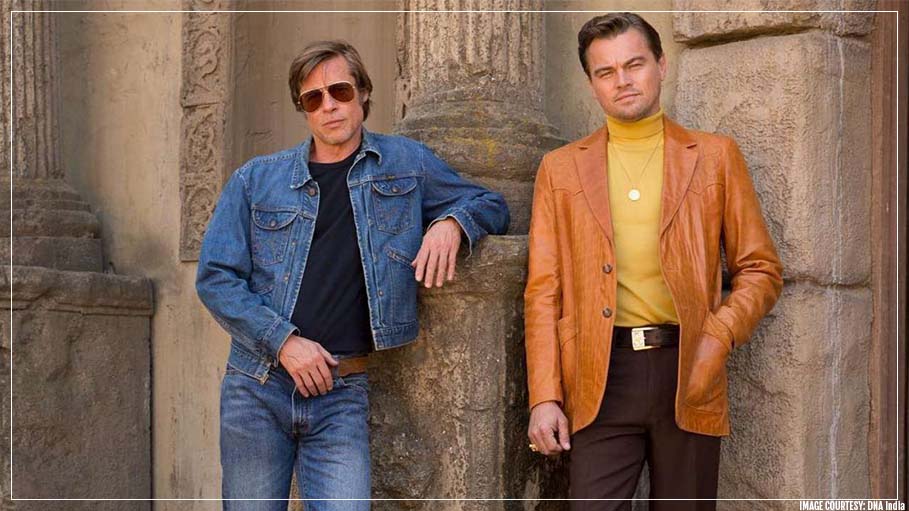 It's like a dream come true. Leonardo DiCaprio and Brad Pitt in Quentin Tarantino's period drama 'Once Upon a Time in Hollywood' will be depicting the era of 1969 that revolves around the dreadful killing of a young actress and model Sharon Tate. Leo has just shared the first look of the film.
Ever wondered how your favorite DiCaprio and Brad Pitt would look like in retro fashion? Well, here you go, fellas! The 'Titanic' star has shared on his Instagram account the first look of his upcoming film 'Once Upon a Time in Hollywood'. He captioned it, "First look. #OnceUponATimeInHollywood".
The period drama is centered on the infamous criminal mastermind Charles Manson's devious murders in the late 1960s. Leo and Pitt are playing the neighbors of Sharon Tate in the characters of former TV star Rick Dalton and Cliff Booth, Dalton's stunt double, respectively. At that time, both were trying their luck in Hollywood.
Rick Dalton and Cliff Booth
Margot Robbie has been confirmed to slip into the shoes of Sharon Tate, wife of director Roman Polanski. It was August 9, 1969, when she was murdered at her hilltop home in Benedict Canyon, and she was 8 1/2 months pregnant. Although the heinous crime was executed by Manson's followers, it was Charles Manson himself who schemed it all through.
Actress Sharon Tate
The American cult leader died on Sunday, 19th November at Kern County Hospital, at 8:13 pm. And, as per state prison officials, Manson died a natural death.
'Once Upon a Time in Hollywood' is Tarantino's one most ambitious project that also casts Al Pacino as Rick Dalton's agent on screen.
Set in the 'Hippie Hollywood' the star-studded movie is supposed to be "a unique take on the Manson Family murders".
'Once Upon a Time in Hollywood' will be opening in theaters on August 9, 2019, the day Manson murders complete its 50th year and the seductive actress Sharon Tate was killed.
Get our hottest stories delivered to your inbox.
Sign up for Scrabbl Newsletters to get personalized updates on top stories and viral hits.